product description page
French Crash Course : A No-bs, Seven-day Guide to Learning Basic French With Audio (Paperback) (Frederic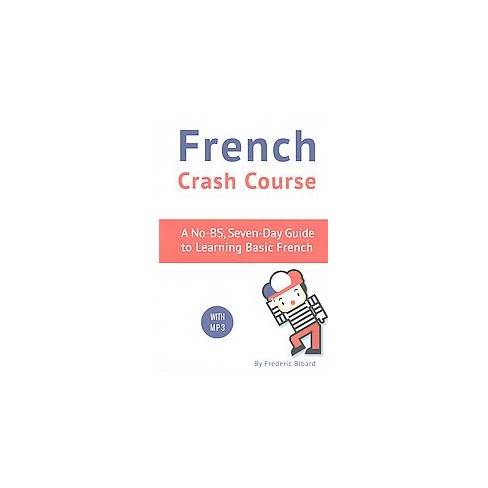 about this item
A No-BS, Seven-Day Guide to Learning Basic French
Learning French takes time. However, sometimes, time is not on your side. When a long route is simply not an option for you, a book that will teach you French in record time is the way to go.
The Only French Crash Course with Free Audio!!!
This book is the closest thing to a real crash course you will ever find. Featuring an innovative approach to learning French that involves structured daily lessons with exercises and immersion activities, this book also comes with FREE audio to help you practice your listening and pronunciation skills.
Learn Basic French in A Week
I'm sure you have heard all of this before. So, what makes this one different from the rest?
By utilizing the 80-20 principle (80 percent of your outcomes come from 20 percent of your inputs), this book speeds up language learning by focusing on the 20%, with French lessons and immersion techniques you need immediately to get by in a French-speaking environment.
It comes with FREE audio material to help you speak and pronounce French properly and improve your listening comprehension skills. It is theONLY book of its kind that offers both free audio anda low price point.
It provides you with seven days of high-impact French language lessons grouped into easy-to-follow daily grammar and vocabulary topics, exercises, and fun activities. Examples include: Le film du jour (Film of the day), La musique du jour (Music of the day), and L'activité du Jour (Activity of the day).
It does not over-promise. While it will not make you fluent in a short period of time, it will help to build a stable foundation for learners who want a strong start in learning French.
Here is a Sneak Peek of What You Will Learn in 7 Days:
Basic French grammar and pronunciation skills through fun exercises and activities.
Fool-proof tips for verb conjugations.
The vocabulary you need to interact with French speakers.
Listening and pronunciation skills through the free MP3.
Important tips and phrases to help you get around in a French-speaking environment; topics include Food and Dining, Shopping, Asking for Directions, Currency, Urban Culture, and more.
Fresh insights into French culture, plus fun immersion activities such as Film of the Day, Music of the Day, and Activity of the Day.
Perfect for Beginners with Little to No French Background
This book is perfect for anyone who does not have the time or the patience to go the long language-learning route. If you are:
Traveling (or relocating) to France or any French-speaking destination soon and need to learn the language before you go,
Someone who has studied French previously but need a refresher course,
Interested in learning something new quickly, or

Number of Pages: 145.0

Genre: Foreign Language Study

Sub-Genre: French

Format: Paperback

Publisher: Createspace Independent Pub

Author: Frederic Bibard

Language: English

Street Date: October 18, 2015

TCIN: 50510201

UPC: 9781518675911

Item Number (DPCI): 248-07-7584
---