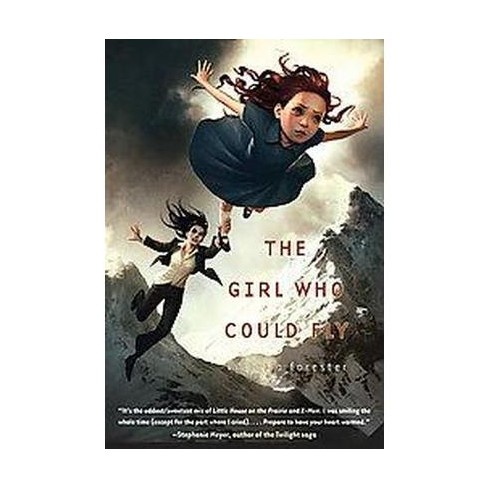 About this item
You just can't keep a good girl down . . . unless you use the proper methods.
Piper McCloud can fly. Just like that. Easy as pie.
Sure, she hasn't mastered reverse propulsion and her turns are kind of sloppy, but she's real good at loop-the-loops.
Problem is, the good folk of Lowland County are afraid of Piper. And her ma's at her wit's end. So it seems only fitting that she leave her parents' farm to attend a top-secret, maximum-security school for kids with exceptional abilities.
School is great at first with a bunch of new friends whose skills range from super-strength to super-genius. (Plus all the homemade apple pie she can eat!) But Piper is special, even among the special. And there are consequences.
Consequences too dire to talk about. Too crazy to consider. And too dangerous to ignore.
At turns exhilarating and terrifying, Victoria Forester's debut novel has been praised by Stephenie Meyer, author of the Twilight saga, as "the oddest/sweetest mix ofLittle House on the Prairie and X-Men...Prepare to have your heart warmed."The Girl Who Could Fly is an unforgettable story of defiance and courage about an irrepressible heroine who can, who will, who must . . . fly.
Praise for Victoria Forester and The Girl Who Could Fly:
"It's the oddest/sweetest mix of Little House on the Prairie and X-Men. I was smiling the whole time (except for the part where I cried). I gave it to my mom, and I'm reading it to my kids--it's absolutely multigenerational. Prepare to have your heart warmed." Stephenie Meyer, author of the Twilight saga
"In this terrific debut novel, readers meet Piper McCloud, the late-in-life daughter of farmers...The story soars, just like Piper, with enough loop-de-loops to keep kids uncertain about what will come next....Best of all are the book's strong, lightly wrapped messages about friendship and authenticity and the difference between doing well and doing good."--Booklist,Starred Review "Forester's disparate settings (down-home farm and futuristic ice-bunker institute) are unified by the rock-solid point of view and unpretentious diction… any child who has felt different will take strength from Piper's fight to be herself against the tide of family, church, and society."--The Horn Book Review
The Girl Who Could Fly is a 2009 Bank Street - Best Children's Book of the Year.
Piper McCloud lives with her normal ma and pa on a normal farm in normal Lowland County. But Piper isn't your normal girl. Ever since Piper was a baby she's been able to hover a few feet off the ground, and if the people of Lowland County knew she could fly, they would have something to say about it. So it only seems best that Piper be sent away to I.N.S.A.N.E., the top secret school for children with extraordinary abilities like hers. Her new friends have powers like telekinesis, X-ray vision, and the ability to create their own weather. Piper likes her new life at school, but soon, she realizes things aren't as they seem. Now, the school she was sent to for her own protection might be the most dangerous place she's ever been.
Number of Pages: 329
Genre: Juvenile Fiction
Sub-Genre: School + Education
Format: Paperback
Publisher: Feiwel & Friends
Age Range: 9-12 years
Author: Victoria Forester
Language: English
Street Date: February 2, 2010
TCIN: 12092005
UPC: 9780312602383
Item Number (DPCI): 248-35-9444