product description page
Global Governance and Transnationalizing Capitalist Hegemony : The Myth of the "Emerging Powers"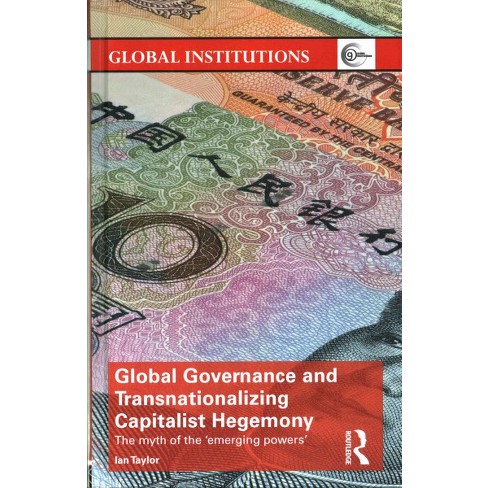 About this item
The book is a critique of the excited talk about how various emerging economies (often teleologically extended to them being "powers") are re-writing the rules of global governance and ushering in a new set of economic assumptions. Taylor argues that such arguments are abstractions that ignore both the transnationalising nature of the global political economy and the actual policy goals of the dominant elites within most emerging economies. Far from challenging the global order, these rivals in fact seek to integrate their economies more and more within the existing liberal global economy. Where disputations and arguments arise are at the problem-solving level of practical concerns, with resentment against Western dominance and arrogance usually manifested as diplomacy.
The book argues that in the current epoch of an increasingly integrated—"globalised"—world, the global capitalist order continues to be underpinned by liberal principles relating to economic governance. Despite the manifold flaw(s) in the model, free market ideologies remain dominant. Neoliberalism has emerged as the hegemonic political and economic project, with a transnationalising capitalist class increasingly central in the maintenance of a world order that is beneficial to their material class interests. This nascent bloc has been active in managing and re-ordering the global political economy in times of crisis.
Taylor considers the larger issue behind the emerging economies (or powers) debate: exactly what theoretical–analytical lens do we use to examine global developments? It deploys an adapted global capitalism perspective where the world is seen in terms of transnationalising social and class forces that exercise their interests utilising nation states and institutions. Looking at the largest emerging power, China, it shows how inter-state dynamics and even inter-elite tensions do exist, but that we must move beyond the surface phenomena that are most visible in such tension and conflict to get at the underlying essence of social and class forces in the global political economy.
Number of Pages: 232
Genre: Business + Money Management
Series Title: Global Institutions
Format: Hardcover
Publisher: Taylor & Francis
Author: Ian Taylor
Language: English
Street Date: December 13, 2016
TCIN: 52039430
UPC: 9781138219984
Item Number (DPCI): 248-40-0395