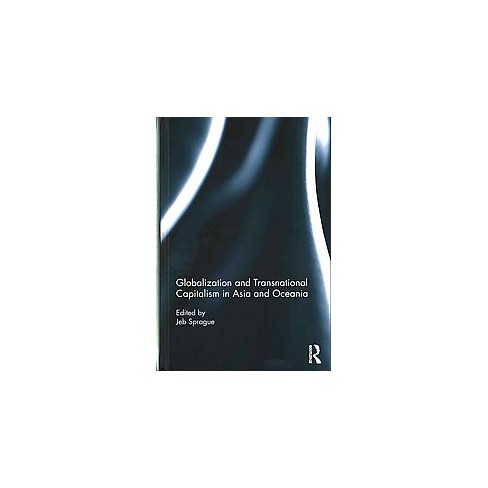 About this item
News headlines warn of rivalries and competing nations across Asia and the Pacific, even as powerful new cross-border relations form as never before. This book looks behind the Asia-Pacific curtain: at the new forms of social, economic, and political integration taking place through a global capitalism that is rife with contradictions, inequality, and crisis. We are moved beyond traditional conceptualizations of the inter-state system with its nation-state competition as the core organizing principle of world capitalism and the principal institutional framework that shapes the makeup of global social forces.
Political economists have long viewed nations as containers that hold within them social formations, yet these important studies examine and debate over how there is a growing transnationality of material (economic) relations in the global era, as well as an emerging transnationality of many social and class relations. How does transnational capitalist class fractions, new middle strata, and labor undergird globalization in Asia and Oceania? How have states and institutions become entwined with such processes? This book provides insight into a field of dynamic change.
Much has been made of the new so-called ?Asian century?, the rise of China in the global era, and the new foreign policy challenges this entails. Plenty have pointed to the intensification of trade and production in the region and to the internal national dilemmas and international conflicts and ties that exist.
Yet the rationale for this edited volume is that much of the theorizing on globalization (and, for this volume, as it pertains to Asia and Oceania) remains deeply impoverished and reflects the zombie language of Westphalian state centric approach. Through this traditional state centric approach social scientists have focused their attention on the development of phenomenon occurring within the borders of a single nation, or at times making comparisons between nations, or looking at international processes that occur back and forth between nation-states.
This book seeks however to place emphasis on the transnational dynamics of globalization. Whereas international processes occur across borders, transnational processes, in addition to this, occur through functional integration (to different degrees and through different ways). This can be seen most clearly in today?s networks of finance and production, of which Asia and Oceania are deeply integrated.
Number of Pages: 332
Genre: Business + Money Management, Political Science, Social Science
Sub-Genre: General, Sociology / General
Format: Hardcover
Publisher: Taylor & Francis
Language: English
Street Date: September 10, 2015
TCIN: 16961736
UPC: 9781138016224
Item Number (DPCI): 247-43-4478
$137.99
MSRP
Reg: $163.00 Save $25.01 (15% off)
Shipping
In stock
- free standard shipping with REDcard