product description page
Government Zero : No Borders, No Language, No Culture (Hardcover) (Michael Savage)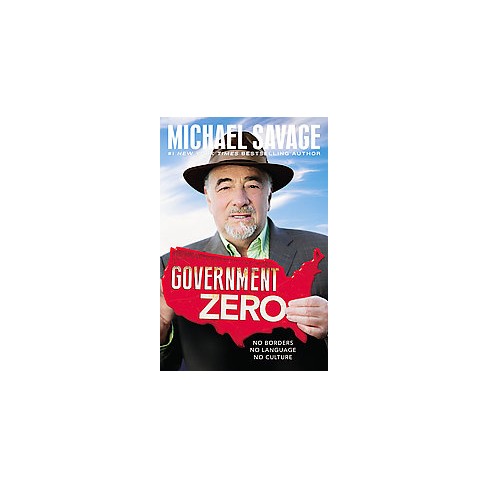 About this item
From bestselling author of Stop the Coming Civil War, Michael Savage reveals the massive dangers currently leading to the demise of our government.Michael Savage has been warning Americans for decades. In GOVERNMENT ZERO, Savage sounds the alarm about how progressives and radical Islamists are working towards similar ends: to destroy Western Civilization and remake it in their own respective images. These two dark forces are transforming our once-free republic into a socialist, Third World dictatorship ruled by Government Zero: absolute government and zero representation.Combining in-depth analysis with biting commentary, Savage cuts through mainstream media propaganda to reveal an all-out attack on our borders, language and culture by progressive and Islamist travelers who have hijacked public policy from national defense to immigration to public education.There is only one thing that can stop this terrifying agenda. Michael Savage has a plan. Get the inside story before it's too late.
From the New York Times bestselling author of Stop the Coming Civil War comes a new book about rebuilding a stronger America and saving the American Dream.
What happened to America? Savage believes there are crucial issues that have compromised our great nation and that citizens must recognize these problems in order to stand up and solve them. In Savage's words, "Our survival depends on this." In this book, Savage compiles 100 fundamental issues that America is facing today. Some key issues include our transformation into a welfare state, our inability to defeat Islamo-fascists, and our welcoming of illegal aliens. He says, "I pray that we elect people that can implement as many of these critical issues as possible for I know that if we do, our great nation will provide the American Dream to its hard working citizens and we will endure as the greatest nation the world has ever known."
Number of Pages: 358
Genre: Political Science
Format: Hardcover
Publisher: Grand Central Pub
Author: Michael Savage
Language: English
Street Date: October 27, 2015
TCIN: 23987129
UPC: 9781455536115
Item Number (DPCI): 247-50-5283