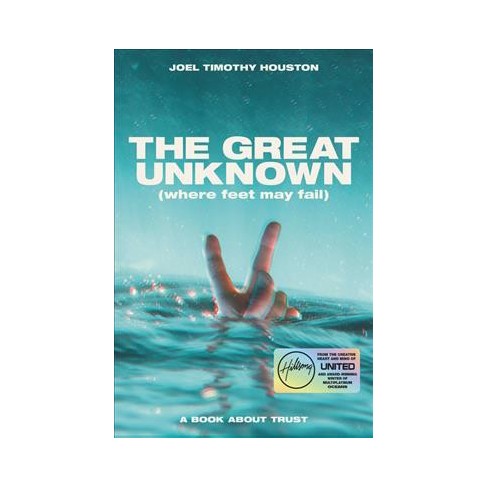 About this item
Joel Houston, the American Music and Billboard award-winning musician, songwriter, pastor of Hillsong NYC, and front-man with the world-renowned Hillsong United , chronicles in candid vulnerability some of the unexpected struggles and steps he navigated on his unlikely personal and spiritual journey in this poignant book based on the band's multi-platinum selling song, "Oceans (Where Feet May Fail)."
One of today's most influential Christian leaders, Joel Houston has been the pen behind dozens of the songs that have served as "the soundtrack of our faith," earning him numerous awards and propelling the worship band Hillsong United to the top of the charts in both Christian and mainstream culture, selling more than twenty million albums world-wide and filling arenas and stadiums across the earth.
Yet few of the many who sing the songs know just how intrinsic Houston's own personal and spiritual odyssey has been, giving shape and form to the very sound and words that have come to resonate with believers and unbelievers alike across the spectrum of culture.
Wrestling with the pressures of a platform he long tried to avoid, Joel reveals how stepping into his own fears and insecurities, and learning by way of failure and doubt have been the catalyst to his journey. From the suburbs of Sydney, to the streets of New York City, Joel discovers how the great unknown between where we find ourselves, and where we are headed is an ocean filled with hidden dangers and hidden wonders—and yet, how it's only in embracing the mystery, come hell or high water do we begin to understand our purpose and calling.
In this, the band's first book, Joel explores faith in a modern world, landing in the unlikeliest of places, at the end of every unexpected step. How the wonder of a childlike trust should never get old in the pursuit of spiritual maturity—how the beauty, truth and goodness of God is best revealed in the messy places—and how every fall and failure along the way is met and caught by a deeper understanding of a Redemptive God who has never failed, and won't start now.
In The Great Unknown: Where Feet May Fail, Houston shares his experiences in candid-vulnerability, drawing on the prayer so beautifully captured in the lyrics of "Oceans (Where Feet May Fail)":
Spirit lead me where my trust is without borders,
Let me walk upon the waters,
wherever You would call me,
Take me deeper than my feet could ever wander,
And my faith will be made stronger,
In the presence of my Savior.
Expanding on the poetry of his lyrics, Joel's use of imagery and storytelling has a way of tearing at the layers we were never meant to carry and speaking into the depths we were never meant to hide. His candid-vulnerability in sharing his own experiences, tried and failed, and how the process
Number of Pages: 224
Genre: Religion + Beliefs, Biography + Autobiography
Format: Hardcover
Publisher: HarperCollins
Author: Joel Timothy Houston
Language: English
Street Date: January 30, 2018
TCIN: 53026972
UPC: 9780062698698
Item Number (DPCI): 248-51-9920
$17.10
MSRP
Reg: $25.99 Save $8.89 (34% off)