product description page
Handbuch Der Gefahrlichen Guter : Gesamtwerk: Merkblatter 1-2900; Erlauterungen I Und II, Transport- Und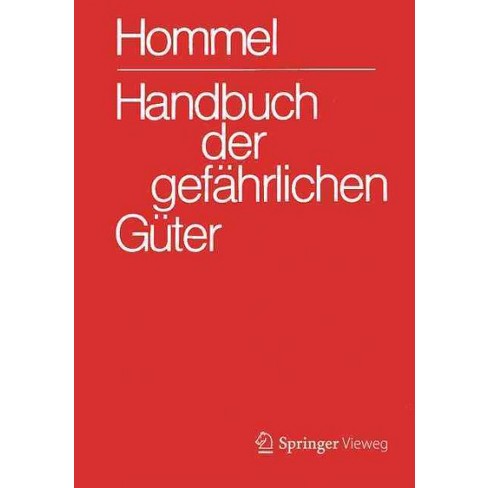 $2,307.54
MSRP
Reg: $2,429.00 Save $121.46 (5% off)
about this item
Der Hommel ist seit langen Jahren die Standardquelle für Gefahrgut-Information. Fast jede Substanz, fast jede für den Einsatz nötige Information finden Sie schnell, präzise und zuverlässig in diesem Nachschlagewerk. Das gibt Ihnen die Sicherheit, die Sie für Ihre Arbeit brauchen: Mit dem Hommel können Sie auch kritische Situationen in den Griff bekommen! Bei jedem Gefahrgut-Transport geht es um Sicherheits- und Haftungsfragen. Die beste Strategie: Risiken vermeiden und die richtigen Handlungsrichtlinien für die Maßnahmen z.B. nach Verkehrs- und Betriebsunfällen. "So steht's im Hommel": Wer sich dort informiert, ist im Ernstfall optimal auf den Einsatz vorbereitet und abgesichert. Das GHS (Globally Harmonized System of Classification, Labelling and Packaging of Chemicals) wurde komplett eingearbeitet. Für alle Gefahrgüter, die im Hommel enthalten sind wurden die GHS-Kennzeichnungen mit aufgenommen: Signalworte, Piktogramme, sowie die neuen Gefahrenhinweise (H-Statements) und Sicherheitshinweise (P-Statements).
Das Gesamtwerk besteht aus: Band 1: Merkblätter 1-414-, 8. Aufl. 2013, ISBN 978-3-642-34489-3, Band 2: Merkblätter 415-802, 6. Aufl. 2014, ISBN 978-3-642-41411-4, Band 3: Merkblätter 803-1205, 5. Aufl. 2015, ISBN 978-3-662-45248-6, Band 4: Merkblätter 1206-1612, 5. Aufl. 2016, ISBN 978-3-662-48713-6, Band 5: Merkblätter 1613-2071, 3. Aufl. 2011, ISBN 978-3-642-16597-9, Band 6: Merkblätter 2072-2502, 3. Aufl. 2012, ISBN 978-3-642-25051-4, Band 7: Merkblätter 2503-2900, 3. Aufl. 2017, ISBN 978-3-662-53648-3, Erläuterungen I, 29. Aufl. 2017, ISBN 978-3-662-53652-0, Erläuterungen II, 26. Aufl. 2017, ISBN 978-3-662-53651-3, Transport- und Gefahrenklassen Neu, 16. Aufl. 2017, ISBN 978-3-662-53650-6, Hommel interaktiv Update Einzelplatzversion 15.0 auf 16.0.
Der Band "Erläuterungen II: Gewässerverunreinigung" ist die aktualisierte Fortsetzung des früheren Bandes Erläuterungen II – Anhang 9, der nur in Verbindung mit dem Band Erläuterungen und Synonymliste abgegeben wird.
Genre: Science, Medical, Freedom + Security / Law Enforcement
Series Title: Gesamtwerk
Format: Paperback
Publisher: Springer Verlag
Author: Eckhard Baum & Herbert F. Bender & Albrecht Broemme & Ursula Gundert-Remy
Language: German
Street Date: February 2, 2017
TCIN: 52099269
UPC: 9783662537466
Item Number (DPCI): 248-41-0251
---