product description page
Hunted (Hardcover) (Karen Robards)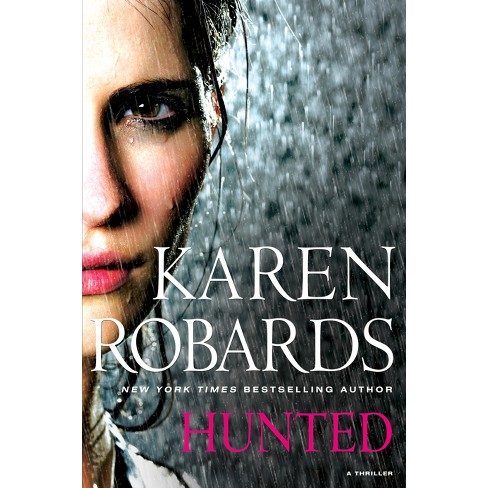 $19.50
MSRP
Reg: $26.00 Save $6.50 (25% off)
about this item
'Twas the night before Christmas . . . and dozens of rich, influential hostages are trapped inside a sprawling lakefront mansion in New Orleans. The perp? Detective Reed Ware, model cop turned outlaw. After receiving a panicked call from Hollis "Holly" Bayard, a teenage street tough with a penchant for amateur sleuthing who stumbles upon the scene of a drug-deal-turned- murder, Ware finds his and his friend's lives in dire danger. The crime Holly witnessed could be the biggest police cover-up this side of New Orleans—and no one's talking. Driven to desperate measures to uncover the truth, Ware stages a coup at a Christmas party for the New Orleans elite, including the mayor, the council chairman, the sheriff, and the superintendent of police, who just happens to be hostage negotiator Caroline Wallace's estranged father. Cool, calm, controlled. That's Caroline's reputation. But when she's brought in to talk Ware off the proverbial ledge, she realizes no amount of false promises is going to placate this man, who looks even hotter than he did years ago when seventeen-year-old Caroline tried to seduce him. It was his duty to protect her family then. Now it's her turn . . . if she can think fast enough over the pounding of her heart.When Caroline becomes wrapped up in the drama, it's clear the sizzling tension she shared with Ware never let up. And the harder she tries to defuse the situation, the more she begins to wonder whose side she's really on.
In New York Times bestselling author Karen Robards?s latest heart-pounding romantic suspense novel, a reckless former detective knows too much, and a hostage negotiator is forced to join him on the run for his life.
Caroline Wallace is one of New Orleans PD?s top hostage negotiators, and she?s never failed to get every hostage out alive. But this time, it?s different. This time, the hostages include her boss?the chief of police?and the mayor. And this time, she?s trying to negotiate with Reed Ware, a former co-worker who left the force disgraced, under investigation by Internal Affairs, and worst of all, considered to be volatile and extremely dangerous.
As police snipers arrive on the scene and manage to get a clear shot of Reed, Caroline knows she only has a few moments left to persuade the hot-headed, reckless (and extremely handsome) Reed to let the hostages go and turn himself in before anyone gets hurt. When the SWAT team runs out of patience and launches an attack, Reed takes Caroline hostage and manages to escape with her in the chaos. During the escape, Reed reveals to Caroline that he?s uncovered corruption at the highest levels of the police department and New Orleans city government, and those involved will stop at nothing to keep him from exposing what he knows?including murder.
Now, the normally cool, calm, by-the-book Caroline is forced to question everything she thought she knew about her job and her city and join Reed on the run?putting both her life?and her heart?in jeopardy.
Number of Pages: 375.0
Genre: Fiction + Literature Genres
Sub-Genre: Romance
Format: Hardcover
Publisher: Simon & Schuster
Author: Karen Robards
Language: English
Street Date: December 10, 2013
TCIN: 14898816
UPC: 9781451678710
Item Number (DPCI): 247-08-4140
---