product description page
Electronic Software Download
Hyrule Warriors: Legends - Nintendo 3DS Digital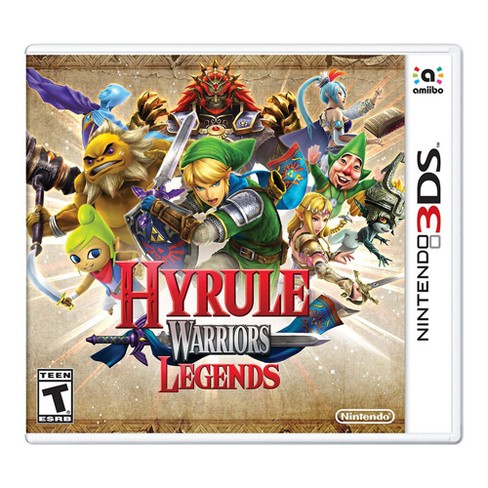 About this item
Highlights
Contains content from the original Hyrule Warriors™ game, released on the Wii U console

New characters and story elements based on The Legend of Zelda™: The Wind Waker

New character-switching feature lets you change and command characters on the fly

Play as fan-favorite characters like Tetra and the King Daphnes for the first time in the series!

Battle the fiercest Legend of Zelda™ enemies across Hyrule's most famous locales
Nintendo Hyrule Warriors Legends 3DS

Tetra and the Hyrule Warriors come to the Nintendo 3DS system

Cut down entire legions of enemies as fan-favorite Legend of Zelda™ characters using powerful moves as Hyrule Warriors comes to the Nintendo 3DS™ system. Control multiple characters to enhance your strategies and enjoy new story elements with playable characters from The Legend of Zelda™: The Wind Waker, such as Tetra, King Daphnes, and more.

War rages as the delicate balance of the Triforce is disrupted. The kingdom of Hyrule is once again being torn apart by a dark power, this time lead by Sorceress Cia. Now it's up to the legendary hero Link™ to face hordes of enemies and find the missing Princess Zelda™. Advance the story to unlock new playable characters, each with unique moves and weapon types. Collect Rupees and other useful items to upgrade weapons and craft badges, which you can use to bolster each warrior's abilities.

What is Electronic Software Download or Digital Code product?
Electronic Software Download or Delivered product is just like box software equivalent. This is a full version of the software, usually with the exact same End User License Agreement (license/use rights). The customer downloads the product directly to their computer from the Publisher site or a secure source endorsed by the Publisher rather than installing from a disk. The download link, instructions and license key are set to the customer via email, usually in 1-3 hours from purchase (deliveries can take up to 24 hours). Product keys are available if lost, and product can be re-installed if needed. For Services, the key that is sent is all that is needed to activate the service from the manufacturer's site. Email communication will come from our service provider at (noreply@esd.synnex.com).

To redeem your download code, you will to use a partner's website. Target is not responsible for the content, products or services on our partner website.
Model Compatibility: Nintendo 3DS
ESRB Content Description: Fantasy violence, suggestive themes
Electronics Condition: New
Video Game Genre: Action/adventure
Developer: Nintendo
IGN Support Element: Downloadable Content
Software Format: Download code in email
ESRB Age Rating: T - Teen
TCIN: 53134765
UPC: 045496680886
Item Number (DPCI): 207-13-0232
Email delivery
download link sent by email after purchase