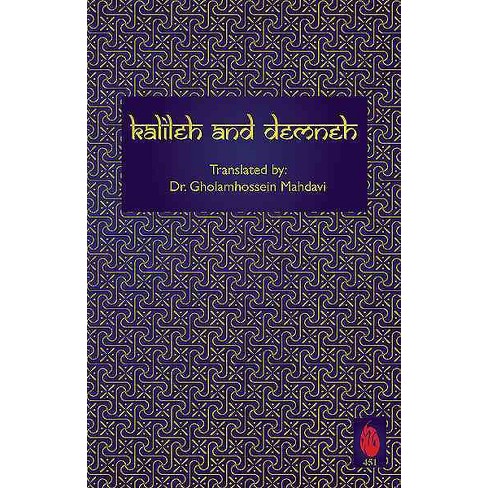 About this item
This version of Kalileh and Damneh is a translation from Farsi, which is the language of Persia (modern day Iran). Indeed this book has almost as many names, versions and tales about its own existence as some of the stories it contains. It, in turn, is based on the Arabic version of the work.Kalileh va Damneh came into being when the Persian emperor, Shah Khosrow Anooshirvan, in about 700AD sent his Vasir Borzuoe to Hindustan (India) to bring back the herb that bestowed eternal life. The Shah was distraught that none of his three sons were able to rule once he had gone. In desperation, he resorted to attempting to live forever. Borzue went to Hindustan and asked the king there for this herb. The king said that there was no such herb in his kingdom, but queried what the intention of attaining it was. So Borzue explained the Shah's distress, and the Hindi king said to Borzue that they didn't have a herb that could make him live forever, but that they did have something to make his kingdom last forever. And so Borzue was given the book the Panchatantram along with the game of chess. And he returned to Persia.Over the subsequent 500 years, the Islamic world spread, grew and prospered. In addition to the spread of Islam, this period encouraged learning, the search for knowledge, and the pursuit of wisdom – both worldly and spiritual.Kalileh and Damneh can be said to be a product of the mystic thought of this time, commonly known as 'Sufism'. At the outset, the stories seem simple and without great depth. Yet they are full of answers to the greatest challenge to existence – human nature. Kalileh and Damneh gives a window – or a mirror depending on the reader – to what was said to be the esoteric knowledge of the time, and yet over a 1,000 years later it is still relevant to the human condition.This work has traveled the world under different banners and different names. It left India as the Panchatantram, and came to Persia as the mirror for prince. It then went to Arabia as Kalileh va Damneh, and finally got to the West as the Fables of Bidpai, the Brothers Grimm or La Fontaine.
Number of Pages: 300 p. ;
Genre: Poetry
Sub-Genre: Middle Eastern
Format: Paperback
Publisher: Casemate Pub & Book Dist Llc
Language: English
Street Date: April 1, 2020
TCIN: 51858862
UPC: 9780734670021
Item Number (DPCI): 248-35-7807
Delivered on or shortly after release date
when you preorder online.