product description page
Karin Slaughter Collection : Beyond Reach / Fractured / Undone (Unabridged) (MP3-CD)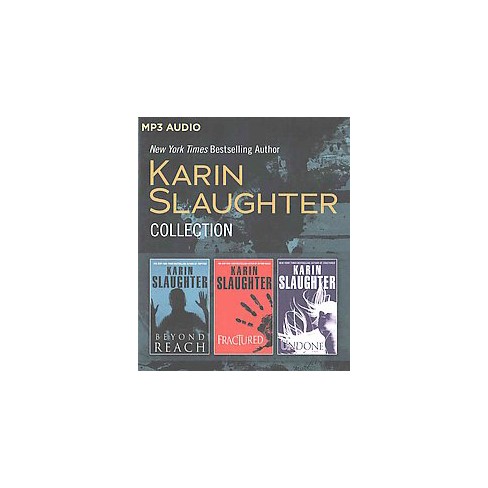 $17.99
MSRP
Reg: $19.99 Save $2.00 (10% off)
About this item
Beyond Reach: In a Georgia jail cell, Detective Lena Adams sits in stubborn silence, the only suspect in a murder that left a woman incinerated beyond recognition. A hundred miles away, Police Chief Jeffrey Tolliver receives a call that his young detective has been arrested. Jeffrey's wife, pediatrician and medical examiner Sara Linton, has little patience for Lena or her dramas; the last thing she needs is to see Jeffrey playing Lena's knight in shining armor. When Lena flees to the place where she grew up, the shadows of her past return her to an underground world of bigotry and rage. The man who raised her is slowly killing himself with drugs. The man who beguiled and beat her is reaching out from prison. Now only Jeffrey and Sara can free Lena from the web that has trapped her.
Fractured: With its gracious homes, Ansley Park is one of Atlanta's most desirable neighborhoods. But in one mansion, in a teenager's bedroom, a girl has been savagely murdered. And in the hallway, her horrified mother stands amid shattered glass, having killed her daughter's attacker with her bare hands. Detective Will Trent of the Georgia Bureau of Investigation is here only to do a political favor; the site belongs to the Atlanta police. But Trent soon sees something that the cops are missing, something in a matrix of forensic evidence, and in the eyes of the shell-shocked mother. Within minutes, Trent is taking over the case — and adding another one to it. He is sure that another teenage girl is missing, and that a killer is on the loose.
Undone: In the trauma center of Atlanta's busiest hospital, Sara Linton treats the city's poor, wounded, and unlucky — and finds refuge from the tragedy that rocked her life in rural Grant County. Then, in one instant, Sara is thrust into a frantic police investigation, coming face-to-face with a driven detective and his quiet female partner…
In the woods of suburban Atlanta, where Sara's patient was found, local police have set up their investigation. Detective Will Trent doesn't hesitate — he plunges through police lines, through the woods, and single-handedly exposes a hidden house of horror. Then he finds another victim.…
Wrestling the case away from the local police chief, Will and his partner, Faith Mitchell — a woman keeping secrets of her own — are called to a related investigation. Another woman has been snatched. And the killer's torture chamber has been found, but the killer is still at work.
Edition: Unabridged
Genre: Fiction + Literature Genres
Sub-Genre: General
Series Title: Karin Slaughter Collection
Format: Mp3_cd
Publisher: Brilliance Audio
Author: Karin Slaughter
Language: English
Street Date: June 21, 2016
TCIN: 51358690
UPC: 9781522610700
Item Number (DPCI): 248-19-5579