product description page
Learn C the Hard Way : Practical Exercises on the Computational Subjects You Keep Avoiding (Like C)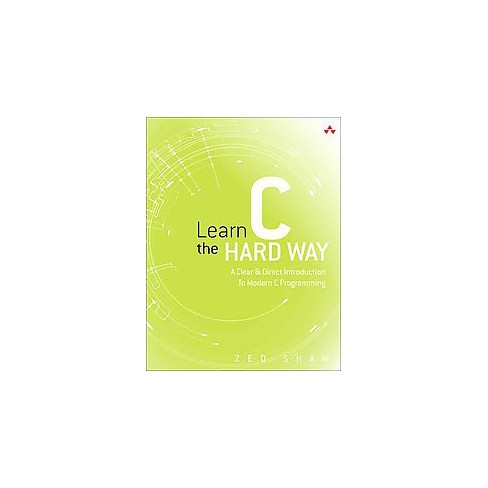 About this item
You Will Learn C!
Zed Shaw has perfected the world's best system for learning C. Follow it and you will succeed–just like the hundreds of thousands of programmers Zed has taught to date! You bring discipline, commitment, persistence, and experience withany programming language; the author supplies everything else.
In Learn C the Hard Way, you'll learn C by working through 52 brilliantly crafted exercises. Watch Zed Shaw's teaching video. Type his code precisely. (No copying and pasting!) Fix your mistakes. Watch the programs run. As you do, you'll learn what good modern C programs look like, how to think more effectively about code, and how to find and fix mistakes far more efficiently. Most importantly, you'll master rigorous defensive programming techniques, so you can useany language to create software that defends itself from malicious activity and defects. Shaw teaches all the key skills you need to start writing excellent C software:
Planning and attention to detail
Setting up a C environment
Basic syntax and idioms
Compilation, make files, and linkers
Operators, variables, and data types
Program control
Arrays and strings
Functions, pointers, and structs
Memory allocation
I/O and files
Libraries
Data structures, including linked lists, sort, and search
Stacks and queues
Debugging, defensive coding, and automated testing
Fixing stack overflows, illegal memory access, and more
It'll Be Hard At First. But Soon, You'll Just Get It–And That Will Feel Great!
This tutorial will reward you for every minute you put into it. Soon, you'll know one of the world's most powerful programming languages. You'll be a C programmer.
Watch Zed first! The accompanying DVD contains 5+ hours of passionate, powerful teaching to jumpstart your learning of each key skill:a complete C video course!
Need to learn C? Now you can! Forget old-fashioned C programming books that assume you're a computer hardware expert and teach frustrating, old-fashioned coding styles. If you know any language at all, Zed A. Shaw's Learn C the Hard Way can help you get started fast with modern C programming. This book/CD package is called "The Hard Way," but it's really quite easy: it just requires discipline, practice, and persistence. Shaw teaches how to write modern, clean, clear C code through dozens of brilliantly-crafted exercises, most on two pages. You simply read each exercise, type in its sample code precisely (no copy-and-paste!), and make the programs run. As you read, type, fix your mistakes, and watch the results, you learn how C works? what good modern C programs look like? how to read, write, and "see" code? how to spot crucial differences that change or break programs? all the essentials of C logic, I/O, variables, and functions? and the attention to detail that is indispensable to successful C programming. At first, yes, it can be difficult. But it gets easier. And Shaw offers plenty of extra help through 5+ full hours of CD-based teaching video. Nothing important comes without discipline, practice, and persistence. But, with this package, if you bring those qualities, you will master C? and you will reap the very real personal and career rewards that go with C programming expertise!
Number of Pages: 362
Genre: Computers + Internet
Sub-Genre: Programming Languages / C
Series Title: Zed Shaw's Hard Way
Format: Paperback
Publisher: Pearson P T R
Author: Zed A. Shaw
Language: English
Street Date: September 14, 2015
TCIN: 16164171
UPC: 9780321884923
Item Number (DPCI): 247-25-9997
Shipping
In stock
- free standard shipping with REDcard