product description page
Limits of Marriage : Why Getting Everyone Married Won't Solve All Our Problems (Paperback) (Gary R. Lee)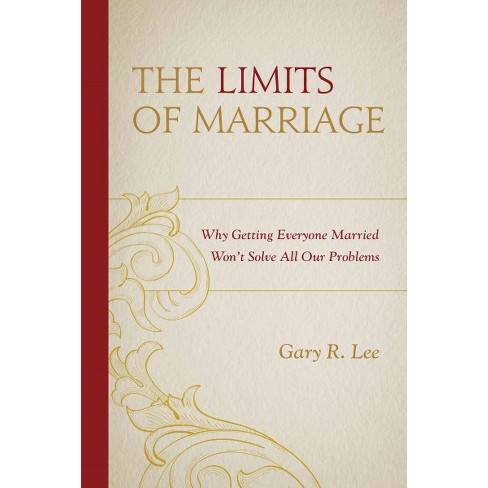 About this item
This book documents and explains the remarkable decline in the American marriage rate that began about 1970. This decline has occurred in spite of the fact that married people are better off than unmarried people in many ways. Many other attempts to explain the "retreat from marriage" blame it on culture change involving a devaluation of marriage, and/or on ignorance of the benefits of marriage among the unmarried population. In turn, because unmarried adults and single-parent families are poorer than others, poverty and its associated problems are attributed to the failure to marry.
The argument presented here is that the declining marriage rate is due to the deteriorating position of workers, particularly men, in the American economy. Not only have jobs disappeared and wages decreased, especially for the less-educated, but existing jobs have become more precarious. Less-educated workers can't count on having jobs in the future, and can't count on earning enough to support families if they have jobs because their wages have stagnated. In this economic environment, the flexibility to change partners becomes a survival strategy for the economically marginalized population, which has been increasing in size for the past four decades. Arrangements such as cohabitation allow for this flexibility; marriage does not.
This argument implies that marriage is not a realistic choice for many Americans. In fact, it is a choice that many people don't actually have. Marriages between economically marginal men and women would not eventuate in the benefits that middle-class people experience when they marry, and would eliminate an option they may need to survive in the face of unrelenting poverty. We won't convince these people that marriage would improve their lives, because in most cases it wouldn't be true. To return the marriage rate to its pre-1970 level, we need to address the economic factors that have caused the decline.
Number of Pages: 229
Genre: Social Science
Format: Paperback
Publisher: Rowman & Littlefield Pub Inc
Author: Gary R. Lee
Language: English
Street Date: March 27, 2017
TCIN: 52500677
UPC: 9781498512947
Item Number (DPCI): 248-46-3550