product description page
Made to Crave for Young Women : Satisfying Your Deepest Desires with God (Paperback) (Lysa TerKeurst)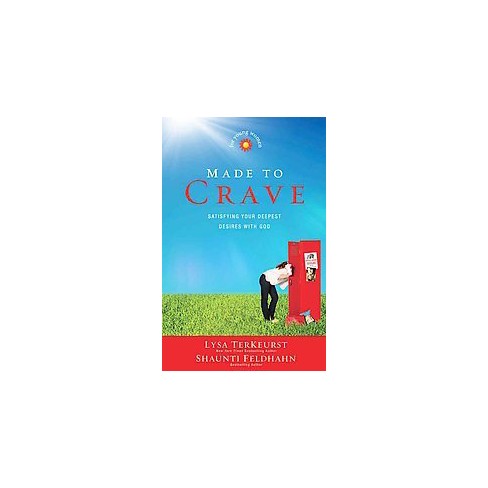 $11.04
MSRP
Reg: $12.99 Save $1.95 (15% off)
About this item
What do you crave to make you happy?
… every day is filled with things we want and crave. Things that will make us feel good at least for a moment. But what happens when that moment is gone and the need returns?
There's nothing wrong with wanting certain things, but God didn't create us to rely on those things to make us happy. He created us to crave Him, and a happiness that lasts.
In this teen adaptation of the bestselling Made to Crave, the deep emotional, physical, and material cravings you face are explored—desires that can turn into spending too much, over- or under-eating, needing a boyfriend, or more.
Through real-life stories and support from people who have been where you are, you will also discover how to truly crave God and the love and comfort He wants us to have, and how craving heavenly things can make the earthly cravings easier to overcome.
You were made to crave more than this world has to offer.
What's the last thing you really craved?Made to Crave is the missing link between a woman's desire to be healthy and the spiritual empowerment necessary to make that happen. The reality is we were made to crave.Craving isn't a bad thing. But we must realize God created us to crave more of him. Many of us have misplaced that craving by overindulging in physical pleasures instead of lasting spiritual satisfaction. If you are struggling with unhealthy eating habits, you can break the 'I'll start again Monday' cycle, and start feeling good about yourself today. Learn to stop beating yourself up over the numbers on the scale. Discover that your weight loss struggle isn't a curse but rather a blessing in the making, and replace justifications that lead to diet failure with empowering go-to scripts that lead to victory. You can reach your healthy weight goal -- and grow closer to God in the process.This is not a how-to book. This is not the latest and greatest dieting plan. This book is the necessary companion for you to use alongside whatever healthy lifestyle plan you choose. This is a book and Bible study to help you find the 'want to' in making healthy lifestyle choices.
Number of Pages: 235
Genre: Juvenile Nonfiction
Format: Paperback
Publisher: Harpercollins Christian Pub
Age Range: Teen
Author: Lysa TerKeurst
Language: English
Street Date: March 6, 2012
TCIN: 13777833
UPC: 9780310729983
Item Number (DPCI): 248-74-8618