product description page
Managing the Intergenerational Nursing Team (Paperback) (K. Lynn Wieck)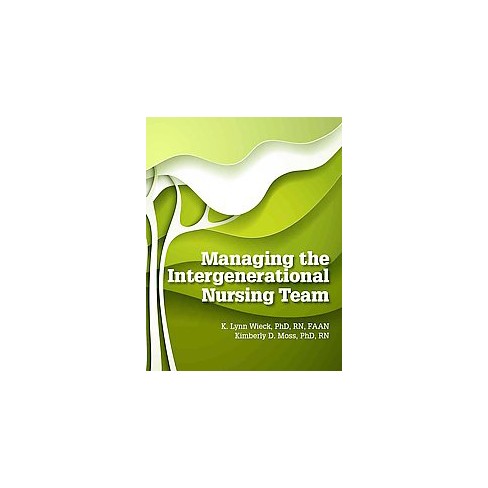 about this item
Managing the Intergenerational Nursing Team
K. Lynn Wieck, PhD, RN, FAANKimberly D. Moss, PhD, RN
Managing the Intergenerational Nursing Staff
is the nurse leader's go-to source for understanding and managing nursing teams that may include baby boomer, Generation X, and millennial members. You will find everything you need to know about the motivations, perspectives, and values of your diverse staff. The lively writing duo of a baby boomer and a millennial nurse provides an engaging resource packed with action plans, advice, and strategies for defusing intergenerational tension and improving communication and engagement. Chapters address dozens of generational values and priorities from each generation's perspective, offering nurse leaders keen insight into all the people they manage, regardless of age. Each of the core chapters opens with a scenario as it would be interpreted by staff from the
emerging workforce
(Gen X and millennials) versus the
aging workforce
(baby boomers). This helpful case study context makes it easy to apply the advice presented to the real-life nursing environment.
Benefits:
Action plans provide practical steps nurse leaders can take to improve team relations.
Quick references compare generational perspectives on pivotal chapter topics and summarize key management solutions to potential staff issues.
Table of Contents:IntroductionPart 1: A Foundation of Understanding
Chapter 1: Meet the GenerationsChapter 2: Leveraging Generational Strengths
Part 2: Considering the Individual
Chapter 3: Self-Confidence and EmpowermentChapter 4: MotivationChapter 5: Focus and AttentionChapter 6: PrivacyChapter 7: LoyaltyChapter 8: Health and Self-CareChapter 9: BalanceChapter 10: TrustChapter 11: FairnessChapter 12: RecognitionChapter 13: Change and FlexibilityChapter 14: Job Satisfaction and HappinessChapter 15: Reliability and AccountabilityChapter 16: TechnologyChapter 17: Learning PreferencesChapter 18: Professional Image
Part 3: Promoting Teamwork
Chapter 19: LeadershipChapter 20: Diversity, Tolerance, and StereotypesChapter 21: CollegialityChapter 22: RespectChapter 23: Social MediaChapter 24: CommunicationChapter 25: RulesChapter 26: ExperienceChapter 27: Competence and DelegationChapter 28: Teamwork and CollaborationChapter 29: Conflict ManagementChapter 30: Discipline
AfterwordContinuing Education:
If you would like to find out about the availability of nursing contact hours on this or any other HCPro nursing book, please visit our Continuing Education information page:
http://www.strategiesfornursemanagers.com/nursing_contact.cfm
Number of Pages: 150.0
Genre: Medical
Sub-Genre: Nursing / General
Format: Paperback
Publisher: Hcpro Inc
Author: K. Lynn Wieck
Language: English
Street Date: October 20, 2015
TCIN: 50628544
UPC: 9781556458378
Item Number (DPCI): 248-09-4118
---