product description page
Martial Virtues : Lessons in Wisdom, Courage, and Compassion from the World's Greatest Warriors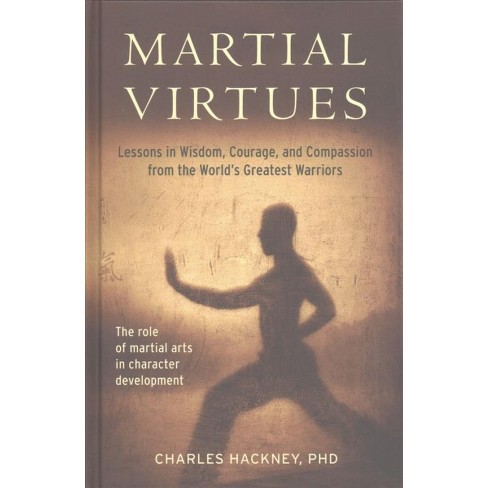 about this item
This martial arts book explores the role of martial philosophy and history in personal character development.

Martial Virtues explores the role of martial arts in character development. It focuses on the spiritual aspects of martial arts training, attempting to answer the question of what it means to be a good warrior.

In this ground-breaking analysis, Charles Hackney draws from the psychological literature on the development of positive character traits, and from the lives and experiences of admirable warriors of fact and fiction. He analyzes how the virtues of ancient and modern warriors can be developed by practicing the martial arts.

Using examples from the ancient Greeks to the samurai practitioners of bushido, from Confucius to Bruce Lee, Martial Virtues explores such qualities as courage, wisdom, justice and benevolence in turn, employing the lessons of modern psychology to understand how these virtues can be cultivated within ourselves and others.

You will learn what Bruce Lee and Sun Tzu have to say about wisdom, what Miyamoto Musashi has to say about audacity and courage, and what Yagyu Munenori has to say about justice. You will also learn the stories of many of history and literature's greatest warriors including: Aeneas and Hector of Troy; William the Marshal, called the greatest knight who ever lived; Kuo Chieh, the Chinese Robin Hood; the famous Shaolin master Tid Kiu Sam; the 300 Spartans that turned aside a Persian Army at Thermopylae; the 47 Ronin of Japan who revenged the unjust punishment of their master; Korean General Kim Yu-shin, and To******sugu Takamatsu, 33rd Grandmaster of Togakure Ryu Ninjutsu.
Number of Pages: 223.0
Genre: Sports + Recreation, Philosophy, History
Format: Hardcover
Publisher: Pgw
Author: Ph.D. Charles Hackney
Language: English
Street Date: May 16, 2017
TCIN: 51624658
UPC: 9780804848879
Item Number (DPCI): 248-26-5371
---