product description page
Negotiating the Nuclear Non-proliferation Treaty : Origins of the Nuclear Order (Hardcover)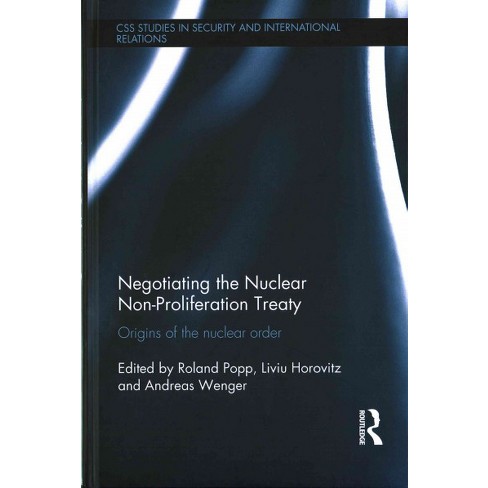 About this item
This volume offers a critical historical assessment of the negotiation of the NPT during the middle Cold War era and of the origins of the nonproliferation regime.
The 1968 Treaty on the Non-Proliferation of Nuclear Weapons (NPT) is widely regarded as the cornerstone of the broader nonproliferation regime aimed at forestalling the further spread of nuclear weapons and related technologies. Though it imposes restrictions on the principle of sovereign equality of states, the NPT has been signed by 190 states and was indefinitely extended in 1995, making it the most successful arms control treaty in history. Historical research on the origins of the NPT has mainly focused on the negotiations between the superpowers in the 1960s, the role of nonproliferation within the wider politics of détente, and especially on the central importance of the future nuclear status of the Federal Republic of Germany.There has been little research into the motivations and strategic calculi of the various middle and small powers towards joining the Non-Proliferation Treaty, and this volume fills that gap.
First, the book offers a critical stocktaking of the genesis of the wider nonproliferation regime in general and the creation of the NPT in particular. It critically analyzes how the understanding of the NPT and its role in the wider nonproliferation context has been shaped by interested parties from the very beginning, establishing a somewhat biased catechism that suggests how the treaty should be examined and understood. Second, it provides several country studies, based on newly declassified archival and previously inaccessible evidence. These studies analyze the underlying rationales of specific positions taken by states during the NPT's negotiation phase, and how governments other than the superpowers perceived the global threat of further nuclear proliferation and whether they saw the creation of a global agreement against the further spread of nuclear weapons as the most expedient way to forestall such a development. Third, the volume focuses on the origins of the specific legal and technical arrangements established in the course of the negotiation of the actual agreement. Some of the chapters investigate the specific circumstances and effects of these measures, while others trace the creation of institutions and technical means in support of the goal of nonproliferation, such as the choice of the International Atomic Energy Agency (IAEA) as the main instrument for verification, the expansion of the safeguards system, and the involvement of nuclear experts in the creation of the wider nonproliferation complex.
This book will be of much interest to students of nuclear proliferation, Cold War history, security studies and IR.
Number of Pages: 224
Genre: Political Science
Series Title: Css Studies in Security and International Relations
Format: Hardcover
Publisher: Taylor & Francis
Language: English
Street Date: September 28, 2016
TCIN: 51821881
UPC: 9781138690172
Item Number (DPCI): 248-34-7170
Shipping
In stock
- free standard shipping with REDcard