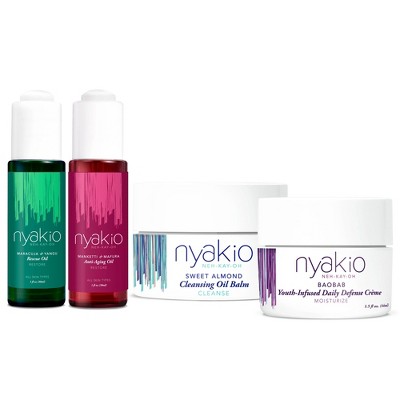 nyakio Skincare Uncover Global Beauty Secrets Collection
About the collection
About the collection: Beauty Secret Curator, Formulator & Storyteller

"As a young girl, I spent a lot of time in Africa with my family of medicine men, farmers and educators. My favorite memory is of my grandmother teaching my mother and me to crush coffee beans and rub them on our skin using a piece of sugarcane to remove dry skin. I discovered that memories like these are shared by women around the world. Cultivated global beauty secrets and traditions are brought to you through friends, family and travel for ageless beauty." - NYAKIO KAMOCHE GRIECO

Nyakio formulas proudly incorporate Fair Trade Shea Butter with carefully selected globally sourced ingredients inspired by secrets passed and family traditions.

Formulated without sulfates, phthalates, parabens, mineral oil, petrolatum, formaldehyde.