product description page
Orthopedic Management of the Hip and Pelvis Intel Education Study Access Code (Hardcover) (Scott W.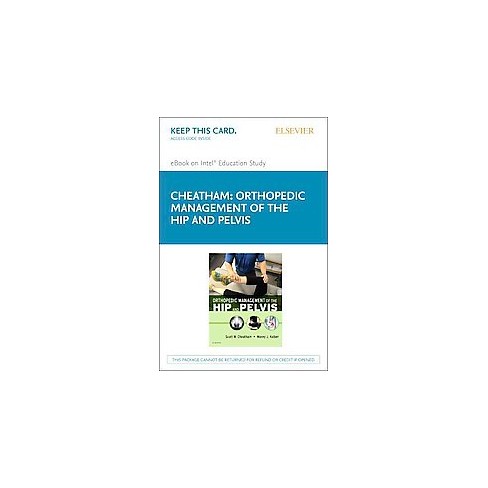 about this item
Provide effective treatment of hip and pelvic disorders! Orthopedic Management of the Hip and Pelvisoffers evidence-based information on the care of non-surgical and surgical patients with common pathologies and injuries. Comprehensive guidelines cover a wide range of topics, from anatomy and assessment to strains, tears, and disorders that affect groups such as females, children, dancers, and patients with arthritis. Full-color illustrations and real-life case studies demonstrate how concepts can be applied in clinical practice. Written by physical therapy and orthopedics experts Scott Cheatham and Morey Kolber, this is the first book in the market to focus solely on disorders of the hip and pelvis region.
Nearly 300 full-color photos and drawings
provide a detailed, realistic view of the anatomy and pathologies of the hip and pelvic region.
Case studies apply information to real-life patient scenarios.
Anatomy of Lumbopelvic Hip Complex chapter reviews the lumbar spine, pelvis and hip joint with emphasis on the anatomy and biomechanics of each region, providing the background needed to effectively examine and treat common hip and pelvic disorders.
Examination of the Hip and Pelvis chapter presents a systematic examination approach that focuses on the primary pathologies related to the pelvis and hip.
Hip Pathologies chapter discusses common extra-articular hip pathologies, including snapping hip syndrome, meralgia paresthetica, adductor related groin pain, greater trochanteric pain syndrome, and proximal hamstring injuries - facilitating more accurate diagnosis with information on patient profiles, the clinical exam, differential diagnosis, rehabilitation, and possible surgical interventions.
Acetabular Labral Tears and Femoral Acetabular Impingement chapter describes pathomechanical factors, common patient characteristics, and clinical findings relating to non-arthritic hip pain, discussing both conservative and surgical treatment along with considerations for postoperative rehabilitation.
Musculoskeletal Sources of Abdominal and Groin Pain chapter focuses on three of the most common dysfunctions leading to lower abdominal or groin pain - abdominal strains, inguinal hernias, and sports hernias/athletic pubalgia - with guidelines to anatomy, presentation, imaging, and treatment.
Hip Osteoarthrosis chapter helps you manage degenerative hip disorders with an overview of epidemiological risk factors, pathophysiology, differential diagnosis, and intervention options.
The Pediatric and Adolescent Hip chapter focuses on four early disorders of the hip - developmental dysplasia of the hip (DDH), congenital femoral deficiency (CFD), slipped capital femoral epiphysis (SCFE), and Legg-Calvé-Perthes disease (LCPD) - exploring the epidemi
Genre: Medical
Sub-Genre: Allied Health Services / Physical Therapy
Format: Hardcover
Publisher: Elsevier Science Health Science
Author: Scott W. Cheatham
Language: English
Street Date: December 21, 2015
TCIN: 50604468
UPC: 9780323294416
Item Number (DPCI): 248-08-9056
---