product description page
Pencil Drawing Techniques : Simple Start If You Are Absolute Zero in Drawing: 33 Astonishing Zentangle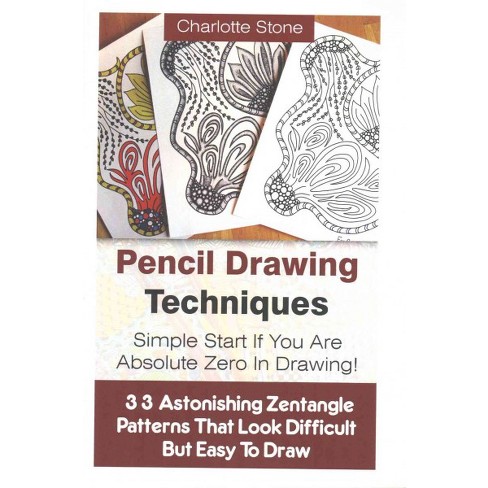 about this item
Pencil Drawing Techniques: Simple Start If You Are Absolute Zero In Drawing!33 Astonishing Zentangle Patterns That Look Difficult But Easy To Draw
There are few people on this planet that don't think that they can draw. Many of us want to be able to, but we feel like we aren't good enough, or that there is no way we can be able to ever draw as good as the people we see online. This book is going to change all of that. Using simple Zentangle techniques that are easy to follow and look amazing, this book is going to be your guide to becoming a better artist and being able to express yourself through your drawing.
No matter what your level is, whether you are a beginner, an intermediate, or an expert artist, this book has something for everyone. While it may be geared towards those that are beginners, everyone is able to learn from this book. Follow the simple guides that we have provided, and in a matter of hours you will be able to draw elaborate designs out of simple shapes. That is the beauty of this style of drawing, it is for everyone, and it embraces those that are self-expressive.
There is no way you can do it wrong, as these drawings are all done free hand, and out of your own mind. No matter what you are feeling, you need to learn how to express yourself in ways that others can see your emotion. While this is something that takes practice for most, you will be able to get a start on it, and soon will be able to do it on your own, without having to worry about whether or not you are doing it 'right'.
By the time you are at the end of this book, you will be able to:
See and feel what you are seeing
Put what you feel into pictures
Put what is in your mind down on paper
Express yourself in ways that other people can relate to
Embellish and absorb to pass on to others
And more!
Download your E book "Pencil Drawing Techniques: Simple Start If You Are Absolute Zero In Drawing! 33 Astonishing Zentangle Patterns That Look Difficult But Easy To Draw" by scrolling up and clicking "Buy Now with 1-Click" button!
Tags: Zentangle for beginners, Zentangle patterns, Zentangle Basics, Zentangle art for beginners, Zentangle, Drawing, How to Zentangle, Draw, How to Draw for Beginners, Sketching, Pencil Drawing, Zentangle Books, Zentangle Basics, Zentangle Untangled, Arts and Crafts, Creativity, Graphic Design, Mixed Media.
Number of Pages: 28.0
Genre: Art
Sub-Genre: Techniques / Pen + Ink Drawing
Format: Paperback
Publisher: Createspace Independent Pub
Author: Charlotte Stone
Language: English
Street Date: September 14, 2015
TCIN: 50777550
UPC: 9781517338374
Item Number (DPCI): 248-11-3762
---