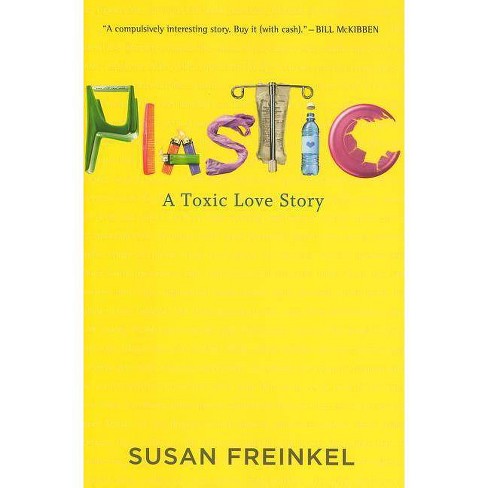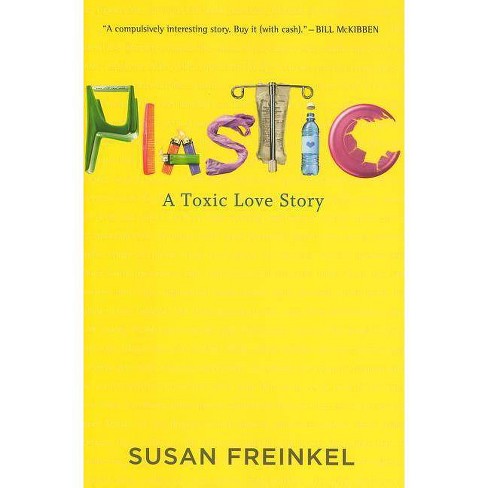 Shipping
Free standard shipping with RedCard
About this item
Specifications
Publisher: Houghton Mifflin
---
Street Date: April 18, 2011
---
TCIN: 77265108
---
UPC: 9780547152400
---
Item Number (DPCI): 247-53-3305
---
Description
"It turns out that plastic is not only an ongoing environmental peril, but a compulsively interesting story. This well-reported and lively history helps us see the last decades in a different light. Buy it (with cash)."
--Bill McKibben, author of
Eaarth,
founder 350.org"A must-read, and a fun-read, for anyone who wonders how our society became so plastics-saturated and who wants to do something about it." 
--Annie Leonard, author of
The Story of Stuff
"In a world glutted and fouled with fake plastic crap we never missed during nearly our entire history, Susan Freinkel's timely book on the subject is the real thing. No animals or children were harmed by its writing, I'm sure--but thanks to her diligence, a whole lot of them just might be saved."
--Alan Weisman, author of
The World Without Us
"Plastic is everywhere, and Susan Freinkel explains why. Plastic: A Toxic Love Story is gracefully written and deeply informative."
--Elizabeth Kolbert, author of Field Notes from a Catastrophe
"The first step to creating change is understanding, and the first step to understanding anything to do with plastic is reading Susan Freinkel's compelling, much-needed, and truly brilliant book."
--David de Rothschild,
Leader of the Plastiki Expedition "Who'd have thought that combs, Frisbees and lighters could have such secret histories and such disturbing futures? Susan Freinkel's page-turner brings together history, science and culture to help us understand the plastic world that we have wrought, and has become part of us. Although we should all worry that plastics will persist for centuries, Plastic deserves to endure for years to come."
--Raj Patel, author of
The Value of Nothing
"Susan Freinkel's book exponentially increased my desirous love and my hate for plastic. What a great read--rigorous, smart, inspiring, and as seductive as plastic itself."
--Karim Rashid, Designer"What is plastic, really? Where does it come from? How did my life become so permeated by synthetics without my even trying?" Surrounded by plastic and depressed by the political, environmental, and medical consequences of our dependence on it, Freinkel (The American Chestnut) chronicles our history with plastic, "from enraptured embrace to deep disenchantment," through eight household items including the comb, credit card, and soda bottle (celluloid, one of the first synthetics, transformed the comb from a luxury item to an affordable commodity and was once heralded for relieving the pressure on elephants and tortoises for their ivory and shells). She takes readers to factories in China, where women toil 60-hour weeks for $175 a month to make Frisbees; to preemie wards, where the lifesaving vinyl tubes that deliver food and oxygen to premature babies may cause altered thyroid function, allergies, and liver problems later in life. Freinkel's smart, well-written analysis of this love-hate relationship is likely to make plastic lovers take pause, plastic haters reluctantly realize its value, and all of us understand the importance of individual action, political will, and technological innovation in weaning us off our addiction to synthetics
.
(Apr.)
--
Publishers Weekly
"An informative treatise on our complicated and dependent relationship with plastic...Freinkel presents a balanced, well-researched investigation into a controversial and versatile human creation." --Kirkus"Susan Freinkel had me from the minute I finished reading about her attempt to try to live without plastic for a week...Ms. Freinkel has penned a fascinating--and at times extremely disturbing--book about material that has literally invaded and, as her research reveals, infected every aspect of modern life."--New York Journal of Books"I have rarely, if ever, come across a book that I would describe as "perfect." However, after finishing Plastic, I was convinced that the appellation might well be accurate, not only for American Chestnut, but possibly for Plastic as well." --James Arnett, The Brooklyn Rail
"Susan Freinkel's book, "Plastic: A Toxic Love Story" is evenhanded, thorough, riveting and often lyrical." --Cleveland Plain Dealer
"Evenhanded investigation."--Salon"It's impossible to read her book without developing an appreciation for and a concern about the role that plastic plays in our lives."--The Columbus Dispatch"Exhaustively researched and extremely readable, this eye-opening book has the potential, even, to influence a cultural change." --Kelly Roark, NewCity Lit"Susan Freinkel's book is an even-handed, thorough, riveting and often lyrical biography of plastics, also full of eccentric human players"--
Star Tribune
Recommended
---
From the manufacturer
No information loaded.
Guest Ratings & Reviews
No reviews yet! Be the first to help other guests.