product description page
Points of Church Law : And Other Writings Illustrative of the Law of the Church - (Paperback)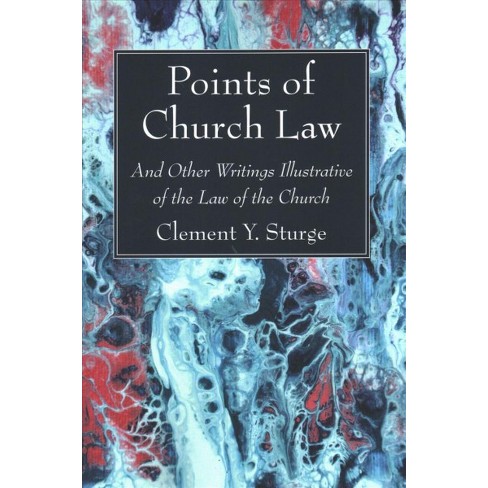 About this item
"A word of explanation is due for what may seem the temerity of reprinting and publishing in a connected form matters so diverse and incongruous as have been brought together in this little volume.
"The 'Points of Church Law' appeared, in answer to clerical correspondents, in the Guardian for the years 1900--1903. They deal, for the most part, with points of law in connection with parochial administration, which are continually arising, and causing doubt and difficulty to the clergy, churchwardens, and others in the performance of their duties. It is hoped that, collected under headings of the points that most frequently arise, they may be found serviceable to the clergy, and even to lawyers. They claim no higher merit than that of bringing together in a convenient form the principal authorities on each subject treated. The references to cases have been given in a more extended form than is usual, as the book is designed to meet the needs of persons who are unfamiliar with the abbreviations in use among lawyers.
"The summary of the arguments in Dr. Gore's case in 1903 is also a reprint from the Guardian. The case will, of course, be found more fully reported in the pages of the Law Reports, and the columns of the Times. But it was thought that, in a case so complicated and certain to become historical, there might be room for a more popular account compiled at the time with considerable care from an official copy of the shorthand notes. The arguments have been closely followed, but for references to the authorities cited in the case the reader is referred to the reports above mentioned."
--From the Preface
Genre: Religion + Beliefs
Format: Paperback
Publisher: Wipf & Stock Pub
Author: Clement Y. Sturge
Language: English
Street Date: February 13, 2018
TCIN: 53772873
UPC: 9781532642975
Item Number (DPCI): 248-03-0497