product description page
Primus : Over the Electric Grapevine--Insight into Primus and the World of Les Claypool (Hardcover)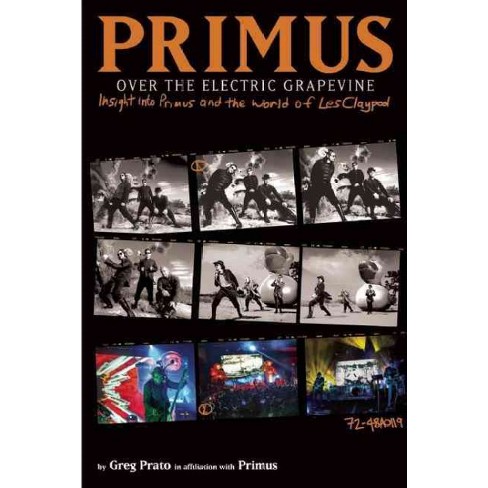 About this item
One of BookRiot's Must-Read Books from Indie Presses for 2014"Prato has curated a collection to attract the uninitiated as well as preach to the unwashed converted masses."--Examiner.com"It's a wild ride that's vividly captured in Greg Prato's excellent oral history,Primus: Over the Electric Grapevine."--Bass Player Magazine"A book about the highly strange San Franciscans Primus has been overdue for years, so Greg Prato's excellent oral history of the band is welcome--doubly so, given that the key bandmembers, Les Claypool, Larry Lalonde and Tim Alexander, are involved....Great stuff."--Record Collector Magazine"Esteemed journalist and rock historian Greg Prato brings his estimable literary skills in unwrapping the enigma of Primus....If you loved Primus before but maybe didn't understand everything they did, that will change after reading this. In fact, when you finish the last page here, race over to your Primus CD collection and re-listen to all their music with new and educated ears. Their music will never have sounded so good."--Curled Up With a Good Book"Almost as if you're sitting across from them at the bar as they reminisce about the past...this book was the most fun I've had reading a book all year. Go get it!"--Erlenmeyer's MindPraise for Primus:"They were real musicians' musicians...Primus had their own thing, for sure. Nobody really does that Primus thing--they have their own personality, which is something difficult to do."--Chad Smith, Red Hot Chili Peppers"Primitive, animated, dinosaur, Halloween, trailerfunk. I felt Les was a kindred spirit. Someone I could learn from and collaborate with. Quick, schooled, humble, with an amazing musical lexicon and down home as hell, with a bent sense of humor."--Tom WaitsUsually when the "alternative rock revolution" of the early 1990s is discussed, Nirvana'sNevermind is credited as the recording that led the charge. Yet there were several earlier albums that helped pave the way, including the Pixies'Doolittle, the Red Hot Chili Peppers' Mother's Milk, Jane's Addiction'sNothing's Shocking, and especially Primus's 1991 album Sailing the Seas of Cheese.This fascinating and beautifully curated oral history tells the tale of this truly one-of-a-kind band. Compiled from nearly fifty all-new interviews conducted by journalist/author Greg Prato--including Primus members past and present and many more fellow musicians--this book is sure to appeal to longtime fans of the band, as well as admirers of the musicians interviewed for the book.Interviewees include: Tim Alexander, Trey Anastasio (Phish), Matthew Bellamy (Muse), Les Claypool, Stewart Copeland (The Police), Chuck D (Public Enemy), Kirk Hammett (Metallica), Larry LaLonde, Geddy Lee (Rush), Mickey Melchiondo (We
Praise for Primus:

"They were real musicians' musicians...Primus had their own thing, for sure. Nobody really does that Primus thing--they have their own personality, which is something difficult to do."
--Chad Smith, Red Hot Chili Peppers

"Primitive, animated, dinosaur, Halloween, trailerfunk. I felt Les was a kindred spirit. Someone I could learn from and collaborate with. Quick, schooled, humble, with an amazing musical lexicon and down home as hell, with a bent sense of humor."
--Tom Waits

Usually when the "alternative rock revolution" of the early 1990s is discussed, Nirvana's Nevermind is credited as the recording that led the charge. Yet there were several earlier albums that helped pave the way, including the Pixies' Doolittle, the Red Hot Chili Peppers' Mother's Milk, Jane's Addiction's Nothing's Shocking, and especially Primus's 1991 album Sailing the Seas of Cheese.

This fascinating and beautifully curated oral history tells the tale of this truly one-of-a-kind band. Compiled from nearly fifty all-new interviews conducted by journalist/author Greg Prato--including Primus members past and present and many more fellow musicians--this book is sure to appeal to longtime fans of the band, as well as admirers of the musicians interviewed for the book.

Interviewees include: Tim Alexander, Trey Anastasio (Phish), Matthew Bellamy (Muse), Les Claypool, Stewart Copeland (The Police), Chuck D (Public Enemy), Kirk Hammett (Metallica), Larry LaLonde, Geddy Lee (Rush), Mickey Melchiondo (Ween), Tom Morello (Rage Against the Machine), Chad Smith (Red Hot Chili Peppers), Matt Stone (South Park), Tom Waits, and many more.

Number of Pages: 36616
Genre: Music, Biography + Autobiography
Sub-Genre: Entertainment + Performing Arts, Business Aspects, Genres + Styles / Rock
Format: Hardcover
Publisher: Consortium Book Sales & Dist
Author: Greg Prato
Language: English
Street Date: September 16, 2014
TCIN: 15734327
UPC: 9781617753220
Item Number (DPCI): 247-08-9050
Shipping
In stock
- free standard shipping with REDcard