product description page
Proofs of a Conspiracy : Against All the Religions and Governments of Europe, Carried on in the Secret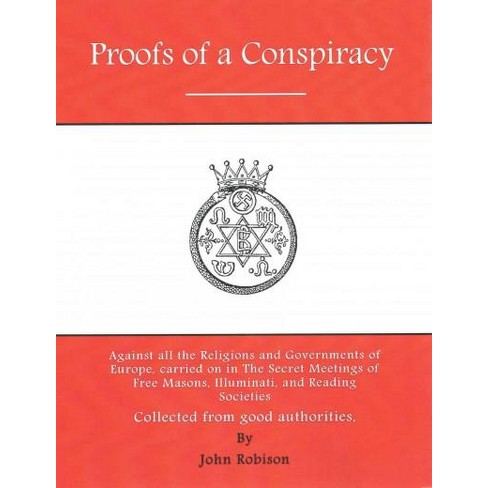 about this item
Proofs of a Conspiracy
Against all the Religions and Governments of Europe, carried on in The Secret Meetings of Free Masons, Illuminati, and Reading Societies
Collected from good authorities,
By John Robison
AN ASSOCIATION HAS BEEN FORMED for the express purpose of ROOTING OUT ALL THE RELIGIOUS ESTABLISHMENTS, AND OVERTURNING ALL THE EXISTING GOVERNMENTS OF EUROPE
John Robison (1739-1805) was a Scottish scientist, who late in life wrote the one of the definitive studies of the Bavarian Illuminati. He was a contemporary and collaborator with James Watt, with whom he worked on an early steam car, contributor to the 1797 Encylopedia Britannica, professor of philosophy at the University of Edinburgh, and inventor of the siren.
BEING AT a friend's house in the country during some part of the summer 1795, I there saw a volume of a German periodical work, called Religions Begebenheiten, i.e. Religious Occurrences; in which there was an account of the various schisms in the Fraternity of Free Masons, with frequent allusions to the origin and history of that celebrated association. This account interested me a good deal, because, in my early life, I had taken some part in the occupations (shall I call them) of Free Masonry; and having chiefly frequented the Lodges on the Continent, I had learned many doctrines, and seen many ceremonials, which have no place in the simple system of Free Masonry which obtains in this country. I had also remarked, that the whole was much more the object of reflection and thought than I could remember it to have been among my acquaintances at home. There, I had seen a Mason Lodge considered merely as a pretext for passing an hour or two in a fort of decent conviviality, not altogether void of some rational occupation. I had sometimes heard of differences of doctrines or of ceremonies, but in terms which marked them as mere frivolities. But, on the Continent, I found them matters of serious concern and debate. Such too is the contagion of example, that I could not hinder myself from thinking one opinion better founded, or one Ritual more apposite and significant, than another; and I even felt something like an anxiety for its being adopted, and a zeal for making it a general practice. I had been initiated in a very splendid Lodge at Liege, of which the Prince Bishop, his Trefonciers, and the chief Noblesse of the State, were members.
Number of Pages: 185.0
Genre: Body + Mind + Spirit
Sub-Genre: Mythical Civilizations
Format: Paperback
Publisher: Createspace Independent Pub
Author: John Robison
Language: English
Street Date: August 31, 2015
TCIN: 50289812
UPC: 9781517124922
Item Number (DPCI): 248-05-2615
---