product description page
Recht Haben Und Recht Bekommen Im Imperium Romanum : Das Gerichtswesen Der Romischen Kaiserzeit Und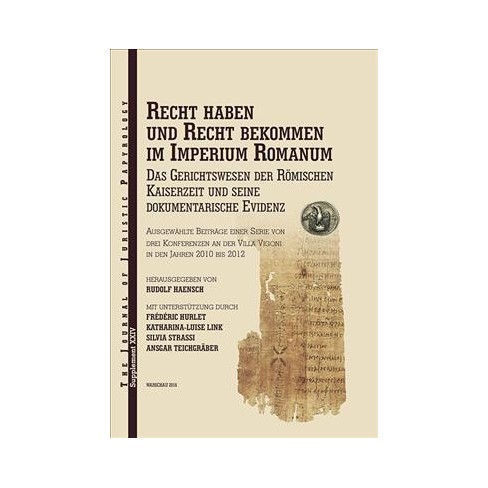 $74.10
MSRP
Reg: $78.00 Save $3.90 (5% off)
about this item
In front of the Justice and on the Sea, we are in the hands of God: The legal system of the imperial era in the light of the documentary evidences. Three tri-national conferences in the Villa Vigoni.

The scientific view of Roman jurisdiction is still dominated by the two major law compilations from Late Antiquity, the Codices Theodosianus and Iustinianus. Especially Modern Roman legal historians base their descriptions mostly upon these sources. However, these compilations only allow an insight into the legal system at the time of their promulgation, that is to say the end of the Vth and the VIth century AD. Even for this period, the insight is more about the intended than the actual reality, about the norm rather than its application and the problems occurring by applying Roman law. However, jurisdiction was an important element, if not the most important one, of Roman rule in Italy and the provinces; representatives of Roman power were in charge of judgments for all significant litigations. Therefore, if Rome's subjects got into contact with Roman governors or other representatives, it was mostly during litigation. The large amount of epigraphical and papyrological documents published during the last century provides much more detailed and authentic information on the reality of the legal system, its strengths and weaknesses, especially during the High Empire, than both codices. Unfortunately, until recently, this documentation has not been much used by legal historians and other researchers in Roman government.

Three conferences, which took place in the Villa Vigoni at Lake Como, aimed to initiate a detailed and comprehensive discussion of these sources by publishing new documents, providing overviews of the state of source material regarding different aspects of Roman jurisdiction and discussing these aspects in detailed studies. Specialists from Germany, Italy and France took part in these discussions according to the concept of tri-national conferences. The outcome of these meetings presented in this 800 pages volume offers a detailed and updated picture of the Roman and post-Roman administration of justice since the Principate till the Late Antiquity, studied both from the side of the central institutions and from the provincial milieu. The books is thus an indispensable tool for every historian of Antiquity, not only legal ones, but also focusing on institutional history of the Empire.

Number of Pages: 790.0
Genre: History, Foreign Language Study
Format: Hardcover
Publisher: David Brown Book Co
Language: English
Street Date: September 30, 2017
TCIN: 52068725
UPC: 9788393842537
Item Number (DPCI): 248-40-4013
---