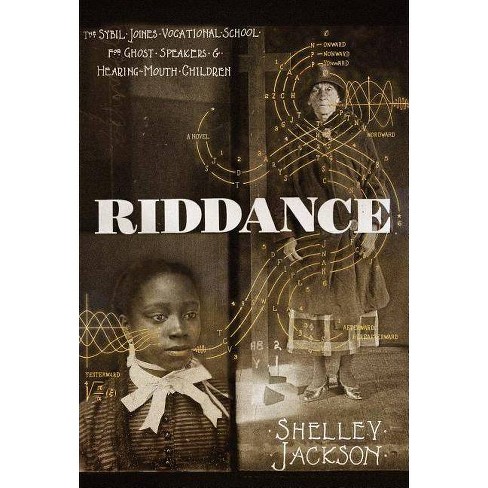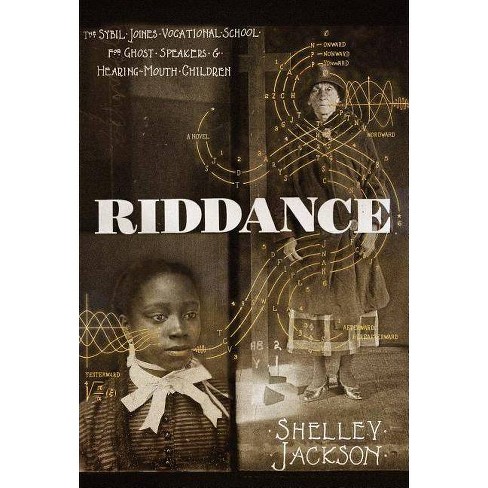 Shipping
Free standard shipping with RedCard
About this item
Specifications
Genre: Fiction + Literature Genres
---
Publisher: Black Balloon Publishing
---
Street Date: October 16, 2018
---
TCIN: 53615070
---
UPC: 9781936787999
---
Item Number (DPCI): 248-62-1148
---
Description
Praise for Riddance
Finalist for The Believer Book Award for Fiction
Named a Best Book of Fall by Vulture, New York Magazine, and more
"A ravishing novel charged with the idea of the incommunicable." --The New Yorker
"Polyphonic." -- New York
"The wildly creative Jackson . . . spins a fragmented, Gothic murder mystery." --Los Angeles Times
"Jackson's book is a brainy but ultimately tender mystery, spinning around a fascinatingly deluded headmistress who thinks stuttering children can channel the dead; one of her star student-cultists, and the question of who offed a very unlucky school inspector." --Vulture
"Jackson's experimental frame of poetic prose, documentation, and photographs, which describe the minutiae of how her characters experience the world around them, is carefully wrought, showing a deep love of language, both for herself and the world she's created." --Jenee Skinner, The Arkansas International
"Unsettling in the best way, Riddance is a lush, gothic novel . . . Spooky old sepia-toned photos and diagrams accompany an academic's notes in this compelling ghost story." --Maris Kreizman, The Cut
"Immersive and deliciously haunting, this is a novel that cannot be read without being deeply felt. Like the disembodied voices conjured by the 'hearing-mouth children' who attend Sybil Joines' Vocational School, Jackson's fictive vision will challenge you and make you examine language's power as well as its potential to heal and cause harm." --Shondaland
Spine-tingling. --Bustle
"Where to begin with Riddance . . . ? An exhumation of influences--19th century spiritualism, Moby-Dick, Jane Eyre, Dennis Cooper, H.P. Lovecraft--would be a start, but it wouldn't do justice to the author's incomparable inventiveness . . . It's a totally unique achievement, coincident with Jackson's status as a writer of the postmodern weird, but not dependent on it . . . Riddance enthralls and engages." --Popscure
"In Shelley Jackson's Riddance, ghosts speak in the space between sounds in a child's stutter. The mouth is the entrance and exit to the land of the dead; words and even objects from beyond the veil populate the boarding school where the children hone their abilities . . . The novel's language [is] alluring [and] reflects the unknown that lies beyond, around and within us." --Paste
"Shelley Jackson's illuminated novel delivers an original tale that will make you realize you're closer to ghosts than you once believed." --Frannie Jackson, Paste
"Every once in a while a book comes along that merits special attention. Shelley Jackson's Riddance; or, The Sybil Joines Vocational School for Ghost Speakers and Hearing-Mouth Children is one of those books. It's masterfully written, wildly entertaining, incredibly clever, and a creepily thrilling good read . . . That Jackson is a master of her craft should come as no news to anyone familiar with her work but what she has done in this new novel is create a premise as original as any in modern fiction and characters as memorable as any of those referenced in the novel (Jane Eyre and Ishmael among others). The novel's meditations on life after death or death within life, or life as death, will leave you haunted and questioning the very nature of human existence." --The Brooklyn Rail
"The works of Shelley Jackson frequently head beyond the surreal and into something uncategorizable and phantasmagorical. With this, her first novel in twelve years, Jackson tells the story of students at a school for those with speech impediments, who are utilized in a plan to contact the dead. We are suitably intrigued." --Vol. 1 Brooklyn
"Riddance is Jackson's first novel in twelve years, and it's as noisy, category-defying, and fantastically weird a book as a longtime Jackson fan might hope for . . . It is a big, exuberant, gleeful book, whimsical and inventive and stuffed full of wild leaps from the land of the dead to the land of the living--which, in Jackson's world, are not so very separate at all." --Tor.com
"Riddance is a physical artifact, a material object you need to hold in your hands to fully understand. Riddance defies the existing categories we have for understanding what writing is so Jackson can make space for a new argument about what writing can do . . . Reading Riddance is an experience in being haunted, not by ghosts per se, but by the growing sense that writing itself is a haunted enterprise. Riddance is haunted by undead histories, undead traumas, undead authors, and undead words that were never really our own, that illuminate why a book is not only written, but made. The parts may be undead, but Shelley Jackson has assembled them, made them through her writing, all come to life again." --Erin Bartnett, Electric Literature
"Sit down with a cup of tea, or maybe something stronger, and get ready to shiver delightfully as you learn about a headmistress obsessed with 'necrophysics.' Sybil Joines believes she can take children with speech impediments and teach them to communicate with the dead. Her story alone would make an excellent tale, but Jackson (Half Life) and designer Zachary Thomas Dodson have expanded it with facsimiles for each document that dial up the supernatural feel . . . A ghost story, a mystery, a manifesto, a work of art--Riddance is all of these at once." --Bethanne Patrick, Literary Hub
"Both Half Life and Riddance show Shelley Jackson to be a poised and evocative stylist, one of the reasons both of these quite long books remain pleasurable to read." --Daniel Green, Full Stop
"This clever, cacophonous novel of metaphysical gothic from Jackson (Half Life) teems with voices of the living and the dead . . . Full of Carrollian logic and whimsical grotesquerie, the tale . . . is an illuminating allegory of fiction writing, for 'the necrocosmos is made of language; we precipitate a world with every word we speak.' Joines is a remarkable creation in a wonderful book--an imperious, otherworldly, and damaged figure who, haunted by her childhood, devises and devotes her life to a haunted philosophy." --Publishers Weekly (starred review)
"Not only an incredible yarn but a delightfully strange, wondrously original, and dazzlingly immersive gothic love letter to storytelling." --Booklist
"Shelley Jackson is a writer of such extraordinary, uncanny power that the hair on the back of my neck stands up when I encounter her work. What an exhilarating, prickling, blistering book
Riddance
is! I made myself read it as slowly as possible in order to stay in as long as I could."
--Kelly Link, author of Get in Trouble: Stories
"Wow!
Riddance
is an extraordinarily inventive, spooky, fascinating, surprising book. On one level a mash-up of
Moby-Dick
and
Jane Eyre
; on another, an intricate literary puzzle; and at heart, a poignant investigation of what happens when we try to make the world a better place. It simply amazed me."
--Allegra Huston, author of Say My Name and Love Child: A Memoir of Family Lost and Found
"Thomas Edison considered building a device to speak with the dead. A century later, Shelley Jackson has. This book is a ghost portal. It is also a genius work of art; a lost history; a rollicking, wondrous, Borgesian library; and a haunting so gloriously conceived, reader, you will shudder."--
Samantha Hunt, PEN/Faulkner finalist for The Dark Dark
"
Riddance
is a book like no other, a murder mystery channeled back from the next life, in conversation with the great authors and characters of the 1800s--Melville, the Bront�s, Bartleby, and Jane Eyre. Shelley Jackson has created the book I have dreamt of, a book that does not contain magic, but that is actually magic. A story that spans the divide separating the living and the dead, but that proposes death not as static but adventure. When my time comes, I hope--like her heroine Sybil--to be a necronaut."--
Darcey Steinke, author of Sister Golden Hair
"You never know what Shelley Jackson is going to do next--you just know it will be something brilliant." --Tom McCarthy, author of Satin Island, short-listed for the 2015 Man Booker Prize
"A terrific piece of tragicomic fiction. Ostensibly about a 1919 murder at a vocational school for stammerers in Massachusetts, a school that doubles as a kind of spiritualism lab--young stammerers thought to be particularly adept at communicating with the dead--but more centrally about time and death, familiar targets of most fictionists, especially those of the crepuscular sort. Jackson herself channels a multitude of famous dead authors from Charlotte Bront� to Samuel Beckett, producing a metafictional style that is witty, imaginative, rich with stunning metaphors, and often playfully profound. The many asides--such as the 'Documentarian of the Dead, ' the forays into Principles of Necrophysics, the amazing stage show near the end of the novel--very nearly match the power of the central narrative, carried by the school's headmistress and her stenographer, but their stories do indeed provide the harrowing climax. The book has been brilliantly produced by Black Balloon Publishing." --Robert Coover, author of Huck Out West
Recommended
---
From the manufacturer
No information loaded.
Guest Ratings & Reviews
0

No reviews yet! Be the first to help other guests.