product description page
Song of Spider-Man : The Inside Story of the Most Controversial Musical in Broadway History (Hardcover)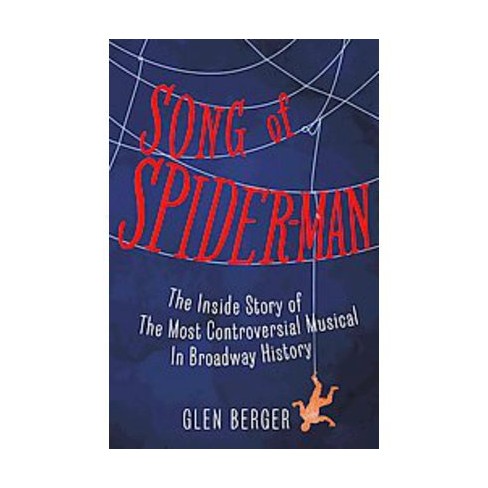 $21.25
MSRP
Reg: $25.00 Save $3.75 (15% off)
about this item
As one can imagine, writing a Broadway musical has its challenges. But it turns out there are challenges one can't imagine when collaborating with two rock legends and a superstar director to stage the biggest, most expensive production in theater history.Song of Spider-Man is playwright Glen Berger's story of a theatrical dream—or nightmare—come true. Renowned director Julie Taymor picked Berger to cowrite the book for a $25 million Spider-Man musical. Together—along with U2's Bono and Edge— they would shape a work that was technically daring and emotionally profound, with a story fueled by the hero's quest for love—and the villains' quest for revenge. Or at least, that's what they'd hoped for.But when charismatic producer Tony Adams died suddenly, the show began to lose its footing. Soon the budget was ballooning, financing was evaporating, and producers were jumping ship or getting demoted. And then came the injuries. Andthen came word-of- mouth about the show itself. What followed was a pageant of foul-ups, falling-outs, ever-more-harrowing mishaps, and a whole lot of malfunctioning spider legs. This "circus-rock-and-roll-drama," with its $65 million price tag, had become more of a spectacle than its creators ever wished for. During the show's unprecedented seven months of previews, the company's struggles to reach opening night inspired breathless tabloid coverage and garnered international notoriety.Through it all, Berger observed the chaos with his signature mix of big ambition and self-deprecating humor. Song of Spider-Man records the journey of this cast and crew as a hilarious memoir about friendship, collaboration, the foibles of hubris, and the power of art to remind us that we're alive.
From the show?s cowriter who saw it all firsthand, this is the epic story of the most expensive, ambitious, dangerous, and controversial Broadway musical of all-time: Spider-Man.
Never in the history of Broadway has there been anything like Spider-Man: Turn Off the Dark. Lampooned by reviewers, loved and loathed by audiences, and boldly envisioned by its producers, Spider-Man has forever made its mark in pop culture history.
Author Glen Berger was present at the creation, when visionary director Julie Taymor selected him to collaborate with her on the book of the musical. For seven years, Berger was an eyewitness to great artistic hopes and battles as Taymor sought to bring her vision to the stage, along with celebrated rock stars Bono and the Edge. But despite terrible reviews and public ridicule, Spider-Man went on to become one of the top ten grossing musicals in the history of Broadway?a feat inseparable from its creators? unassailable passion, immense efforts, and artistic ambition.
With a sharp eye for detail and candid sense of humor, Berger reveals every aspect?the highs and lows?of the production and in doing so, takes us inside the theatrical process in a way few authors can. The Song of Spider-Man is the ultimate fly-on-the-wall account of how Broadway works, how big musicals are made, and how great artists continue to dream, even in the midst of a nightmare.
Number of Pages: 370.0
Genre: Performing Arts, Biography + Autobiography
Sub-Genre: History
Format: Hardcover
Publisher: Simon & Schuster
Author: Glen Berger
Language: English
Street Date: November 5, 2013
TCIN: 16023421
UPC: 9781451684568
Item Number (DPCI): 247-09-9165
---