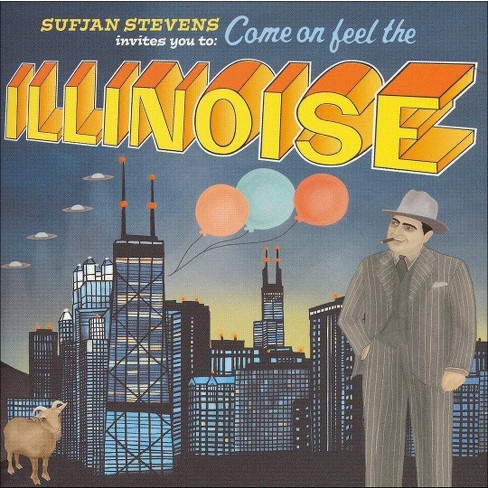 About this item
Spin (p.64) - Ranked #8 in Spin's "40 Best Albums Of 2005" - "[A] Chicago World's Fair of the ear -- a rebirth of wonder, discovery, and progress..."
Spin (p.105) - "[The album] sounds as informed by middle-American community theater, church choirs, and John Adams' American operas as any canonical 'folk rock' it may resemble." - Grade: A-
Entertainment Weekly (No. 829, p.71) - "...[F]inespun songs variously inspired by Carl Sandburg, John Wayne Gacy, Jr., and the 'Seer's' tower....ILLINOIS sounds quaint and even magical." - Grade: B+
Uncut (p.86) - 5 stars out of 5 - "ILLINOIS is an extraordinary achievement, all the more so as Stevens played most of the parts himself."
Magnet (p.52) - Ranked #5 in Magnet's "The 20 Best Albums Of 2005" - "[The album] continues his brave/insane quest to document the whole of our great nation's quilt of quirks..."
The Wire (p.41) - Included in The Wire's "2005 Rewind: 50 Records Of The Year."
Mojo (Publisher) (p.60) - Ranked #24 in Mojo's "The 50 Best Albums Of 2005" - "A boundless cornucopia utilising choir, woodwind and Vince Guaraldi-like piano..."
Mojo (Publisher) (p.98) - 3 stars out of 5 - "[W]hen focusing on life's minute joys or its mundane horror, Stevens' voice is as true and profound as an angel."
Disc 1
1. Concerning the UFO Sighting Near Highland, Illinois
2. Black Hawk War, Or, How to Demolish an Entire Civilization and ..., The
3. Come on! Feel the Illinoise!: Pt. 1: The World's Columbian Exposition
4. John Wayne Gacy, Jr.
5. Jacksonville
6. Short Reprise for Mary Todd, Who Went Insane, But for Very Good ..., A
7. Decatur, Or, Round of Applause for Your Stepmother!
8. One Last "Whoo-Hoo!" for the Pullman
9. Chicago
10. Casimir Pulaski Day
11. To the Workers of the Rock River Valley Region, I Have an Idea ...
12. Man of Metropolis Steals Our Hearts, The
13. Prairie Fire That Wanders About
14. Conjunction of Drones Simulating the Way in Which Sufjan Stevens ..., A
15. Predatory Wasp of the Palisades Is out to Get Us!, The
16. They Are Night Zombies!! They Are Neighbors!! They Have Come Back from
17. Let's Hear That String Part Again, Because I Don't Think They Heard It
18. In This Temple as in the Hearts of Man for Whom He Saved the Earth
19. Seer's Tower, The
20. Tallest Man, The Broadest Shoulders: Pt. 1: The Great Frontier/Pt. ..., The
21. Riffs and Variations on a Single Note for Jelly Roll, Earl Hines, ...
22. Out of Egypt, Into the Great Laugh of Mankind, And I Shake the ...

Musical Style: Indie Pop, Americana, Indie Rock
Sub-Genre: Alternative Country
Genre: Miscellaneous
Record label: Alliance Import
Musical Artist: Sufjan Stevens
Software Format: CD
Street Date: July 5, 2005
TCIN: 11422101
UPC: 656605892627
Item Number (DPCI): 244-03-3519
Shipping
In stock
- free standard shipping with REDcard