product description page
The Art of Hearing Heartbeats (Target Club Pick Nov 2012) (Paperback) by Jan-Philipp Sendker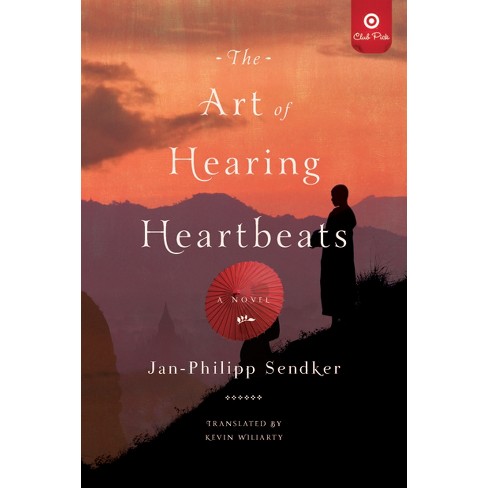 About this item
Dear Target Guest,There are magical moments in life, rare moments, that we all cherish until the day we die. For me, one of those moments happened on a gorgeous fall day in upstate New York. It was late afternoon and the sky was dark blue and cloudless. The leaves had turned and were about to drop. It had been unusually warm midday but you could smell the winter coming. My two and a half year old son and I were playing a game of tag on the lawn in front of our house. I would run after him and he would scream with joy every time I caught him. We finally fell down and started rolling around on the grass. Eventually, we were out of breath (me more than him) and he rested his small head on my chest. Suddenly, he said he was hearing a strange noise inside me.How does it sound? I asked.Boom-boom-boom he said.I laughed and told him that it was my heartbeat. My son seemed both puzzled and fascinated. For a while it became one of his favorite games: hearing dad's heartbeat. In the morning, he would come to our bed, snuggle and listen. He would tell me that my heart sounded different in the morning—that it was calmer and slower than in the afternoon after we had played. And I started to wonder: What if someone could hear so well, they could hear heartbeats from afar? I suppose the idea for my first novel was conceived on that gorgeous fall day. Soon after, all the other ideas in the story came to me. It was almost as if they had been waiting for me to write them down. I knew right away that the setting of the book could only be Burma (officially called Myanmar nowadays). I had been there many times as a foreign correspondent and my first trip had already made a tremendous impact on me. It wasn't just the beauty of the country: endless green rice paddies; golden pagodas glinting in the evening sun; children riding on beautiful water buffalos. It was the people who had impressed me the most. To me, they were incredibly gentle, spiritual, patient, humble and hospitable, despite the poverty and the difficult living conditions. Even though I didn't believe in astrology, I'd met an old astrologer who taught me an important lesson: that not all true things can be explained and not all things that can be explained are true. I also became friends with a book seller who treasured books so much that he dedicated his life and last cents to restoring and saving them from destruction . The Art of Hearting Hearbeats is a tale about the magical power of love against all odds. Writing this novel became an adventureous journey into an exotic, beautiful country, strange and familiar at the same time and I can only hope that reading it gives you the same experience. A few months ago, I had another one of those special, life-altering moments. I was driving home with my teenage daughter. My cell phone made the familiar pinging sound informing me that a new email had arrived. I asked her to check if it was anything important. No, she said calmly, it was just my US publisher, letting me know that The Art of Hearing Heartbeats was a Target Book Club pick. My daughter loves practical jokes. I stopped at a red light, read the email myself and only then got really excited. She looked at me like only teenagers do: What's the fuss, Dad? I told you so, her eyes seemed to say.I feel privileged and honored to have been chosen and my only hope is that the story of Tin Win and Mi Mi will touch you the same way it has so many readers around the world. Please feel free to let me know what you think. I would love to hear from you. Yours,Jan-Philipp Sendker
Only at Target, find the November, 2012, Club Pick "The Art of Hearing Heartbeats"

When a successful New York lawyer suddenly vanishes without a trace, his wife and only daughter are left in pained shock. That is, until they find a love letter he'd written many years ago to a woman in Burma. Intent on solving the mystery of his disappearance and piecing together her father's mysterious past, Julia decides to put her own budding legal career on hold to travel to Burma. In the small mountain village of Kalaw she is approached by a man who claims to know her father, and who also seems to have an uncanny knowledge of Julia herself. She meets him every afternoon and listens to incredible tales of her father's youth—of his childhood blindness, his education at a monastery, and, most tellingly, about his romantic relationship with a local girl. What Julia uncovers is a tale of unimaginable hardship, resilience, and passion that will forever change her own life.


Jan-Phillip Sendker, born in Hamburg in 1960, was the American correspondent for Stern from 1990 to 1995, and its Asian correspondent from 1995 to 199. The Art of Hearing Heartbeats marks his English language debut. He lives in Berlin with his family.
Number of Pages: 336
Genre: Fiction + Literature Genres
Format: Paperback
Publisher: Random House
Featured book lists: Target Club Picks
Author: Jan-Philipp Sendker
Language: English
Street Date: November 6, 2012
TCIN: 14240516
UPC: 9781590516096
Item Number (DPCI): 059-04-3796
$10.89
MSRP
Reg: $14.95 Save $4.06 (27% off)