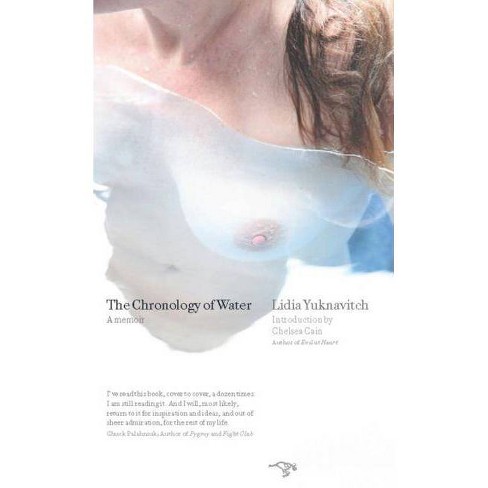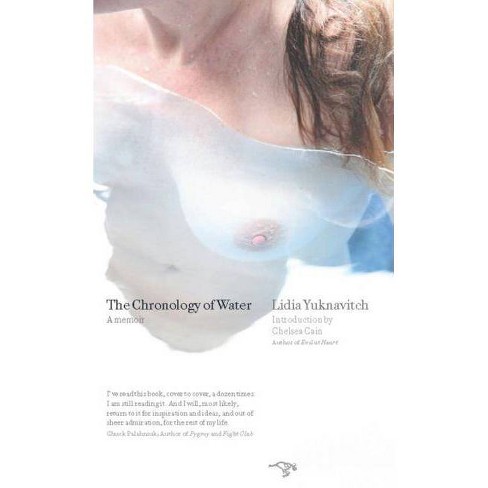 Shipping
Free standard shipping with RedCard
About this item
Specifications
Genre: Biography + Autobiography
---
Publisher: Hawthorne Books
---
Street Date: April 12, 2011
---
TCIN: 76939442
---
UPC: 9780979018831
---
Item Number (DPCI): 247-02-6113
---
Description
"I've read Ms. Yuknavitch's book The Chronology of Water, cover to cover, a dozen times. I am still reading it. And I will, most likely, return to it for inspiration and ideas, and out of sheer admiration, for the rest of my life. The book is extraordinary." --Chuck Palahniuk, Pygmy "I love this book and I am thankful that Lidia Yuknavitch has written it for me and for everyone else who has ever had to sometimes kind of work at staying alive. It's about the body, brain, and soul of a woman who has managed to scratch up through the slime and concrete and crap of life in order to resurrect herself. The kind of book Janis Joplin might have written if she had made it through the fire - raw, tough, pure, more full of love than you thought possible and sometimes even hilarious. This is the book Lidia Yuknavitch was put on the planet to write for us." --Rebecca Brown, author of The Gifts of the Body "The Chronology of Water's central metaphor works beautifully: we all keep our heads above water, look around, and enjoy our corporeal life despite all the reasons not to; beyond that, the book is immensely impressive to me on a human level: the narrator/speaker/protagonist/author emerges from a seriously hellish childhood and spooky adolescence into a middle age not of bliss, certainly, but of convincing engagement and satisfaction." --David Shields, author of Reality Hunger: A Manifesto "This intensely powerful memoir touches depths yet unheard of in contemporary writing. I read it at one sitting and wondered for days after about love, time, and truth. Can't get me any more excited than this." --Andrei Codrescu, author of The Poetry Lesson "Flooded with light and incandescent beauty, Lidia Yuknavitch's The Chronology of Water cuts through the heart of the reader. These fierce life stories gleam, fiery images passing just beneath the surface of the pages. You will feel rage, fear, release, and joy, and you will not be able to stop reading this deeply brave and human voice." --Diana Abu-Jaber, Origin: A Novel "Lidia Yuknavitch's memoir The Chronology of Water is a brutal beauty bomb and a true love song. Rich with story, alive with emotion, both merciful and utterly merciless, I am forever altered by every stunning page. This is the book I'm going to press into everyone's hands for years to come. This is the book I've been waiting to read all of my life." --Cheryl Strayed, author of Wild
This isn't a memoir 'about' addiction, abuse, or love: it's a triumphantly unrelenting look at a life buoyed by the power of the written word.
PUBLISHERS WEEKLY
I'm also convinced that this bold and highly unconventional book - hot, gritty, unrelenting in its push to dismantle the self and then, somehow, put the self back together again - gets not just under a reader's skin but seeps all the way into her bloodstream.
DEBRA GWARTNEY, THE OREGONIAN
Chosen as one of the 100 Great Nonfiction Books must-read works of narrative nonfiction and journalism.
THE ELECTRIC TYPEWRITER
Simply stated: She is important. Read. Her. Now.
MARGARET ELYSIA GARCIA, THE PLUMAS WEEKLY
Yuknavitch can write a really hot sex scene. It's super sexy, and it's never cheesy or over-the-top or too tame. It's perfect...Yuknavitch's memoir is one of the best books I've ever read.
CASEY REVIEWS, THE LESBRARY
I find Yuknavitch's frankness about the emotional and physical experience of being a woman (in sex, in athletic competition, in childbirth) surprising. Not because it offends my sensibilities, but because it affirms them.
DANIELLE DEULEN, ESSAY DAILY
The Chronology of Water... has lately achieved cult status. Lidia Yuknavitch...imparts a visceral power to the experience of lust, a power unmatched in any recent account I can think of.
CLAIRE DEDERER, THE ATLANTIC
Lidia Yuknavitch is my favorite new writer...It's so genius I'm not quite sure how she did it. The tone is a combination of high and low, with some of the writing literary and metaphorical, some conversational and shock-jockey, all of it fueled by rage and pain and love and art and transformation.
VALERIE STIVERS-ISAKOVA, HUFFINGTON POST
This isn't for everyone. Some will read and be exasperated or disgusted or disbelieving. I get that. I get that chaos and promiscuity and addiction are ugly, messy, and life is too short to waste reading about someone else's tragedy and self-destructive behavior. But something about this story-the goddamn gorgeous language, the raw power of its brutality-gave me so much comfort and solace. In Yuknavitch's word embrace, I felt the magic of self-acceptance and self-love, and the crazy-wonderful beauty of life.
JULIE CHRISTINE JOHNSON, CHALK THE SUN
Yuknavitch has emerged as a trailblazing literary voice that spans genres and dives deep into themes of gender, sexuality, art, violence, and transcendence. Her work is a refreshing alternative to the hero's journey, offering instead what she calls the "misfit's journey."
SULEIKA JAOUARD, LENNY
[The Chronology of Water] is about rage, ecstasy, abuse, appetite, bad decisions and grace. It is one of the most full-throated depictions of being a woman I have ever read.
SARAH HEPOLA Author of Blackout: Remembering the Things I Drank to Forget
Recommended
---
From the manufacturer
No information loaded.
Guest Ratings & Reviews
0

No reviews yet! Be the first to help other guests.