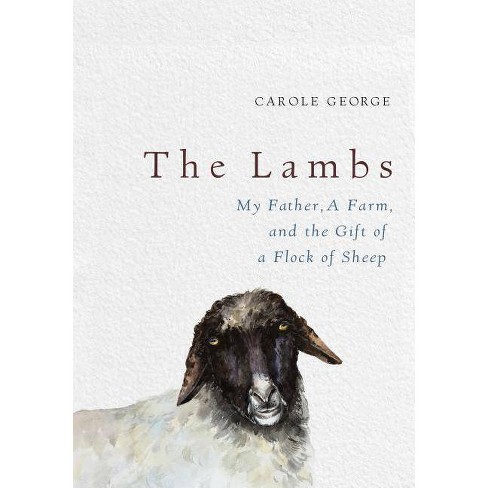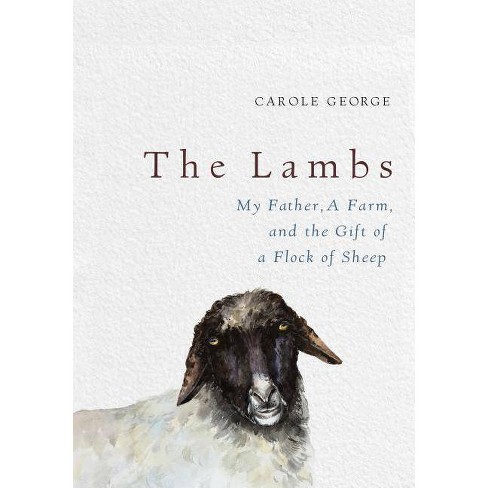 Shipping
Free standard shipping with RedCard
About this item
Specifications
Genre: Biography + Autobiography
---
Sub-Genre: Personal Memoirs
---
Publisher: Thomas Dunne Books
---
Street Date: April 24, 2018
---
TCIN: 53120863
---
UPC: 9781250113528
---
Item Number (DPCI): 248-54-9980
---
Description
"Just as our own lives matter to us, the life of each individual creature is important to it. We share the same experience of pain and pleasure. As we assume the concerns of others, either in practice or in thought, compassion will flourish within us. In her new book, The Lambs, Carole George shares the fulfillment she has experienced over years tending a flock of sheep. If we lack affection for other creatures, our intellectual superiority becomes meaningless and can even be detrimental. I hope that this book will inspire readers to become more compassionate toward the living beings deprived of the many privileges we humans enjoy."--His Holiness The Dalai Lama
"This is a thoughtful document that dispels any assumptions that sheep are "just dumb farm animals" who do nothing but follow. The Lambs is an enchanting book. We all know young lambs frolic in the spring fields: Now we learn about the fascinating social life of their elders. Please read this book."--Dr. Jane Goodall, DBE Founder of the Jane Goodall Institute & UN Messenger of Peace
"Smart, emotional, inquisitive, curious, playful, and loving, these wonderful [lambs], and Carole George's stories about her life with them, will at once educate, inspire, and surprise you."--Marc Bekoff, Professor Emeritus of Ecology and Evolutionary Biology at the University of Colorado, Boulder
"The Lambs is beautifully written, and right on target as an example of the natural--pastoral--world where we may achieve the fullness of human experience. When, in the 22nd century perhaps, we've settled down as a species and reached sustainability and much fuller self-knowledge, our descendants may have gravitated toward the equivalent of [Carole's] Virginia farm."--Edward O. Wilson, University Research Professor Emeritus, Harvard University
"We grant cats and dogs personalities and emotional lives, and do the same for charismatic animals such as apes and elephants, while conveniently leaving farm animals out of the picture. After reading Carole George's warm and charming account of her life with a small flock of Karakuls, you will never again look at sheep as an undifferentiated mass."--Frans B. M. de Waal, Ph. D., author of Are We Smart Enough to Know How Smart Animals Are?
"Compassionate, thoughtful, and utterly enchanting. A perfect red for anyone seeking escape from their digital lives and busy calendars for a quiet moment of reflection, a pastoral setting, a moment of poetry."--Booklist
"[The Lambs] is not just a testament to the power of human-animal connections. It is also a tender, joyfully eccentric recollection of how a woman rediscovered what was most important to her through a singular relationship with an unforgettable flock of sheep. A heartwarmingly compassionate memoir of self-discovery among cherished animal in 'a scrap of Virginia countryside.'"--Kirkus Reviews
"Both readers interested in secular spirituality and animal lovers will find this title moving."--Library Journal
"When Carole George found sheep, the sheep found her, and, in writing about what she learned, she helps modern readers find themselves. We live in isolated, digital bubbles, and her vision of finding one's home, being on a quest there, and discovering meaning in daily experience, is all the evidence we need to pass the right verdict on the excesses of our civilization and recover our lost values.
The sheep taught her how to communicate with other orders of creation, to see music in life, and to discover how the distant past in Samarkand meets 21st-century Virginia. Her lambs taught her that she had a gift to write, and her readers will delight in the way she uses this gift to illuminate the meaning and purpose of the human journey."--Father Laurence Freeman, OSB World Community for Christian Meditation
"This is a deeply spiritual book from an unexpected source, a former international tax lawyer who discovered the value of rootedness in a particular place, and through a quite unexpected influence, thirteen Karakul sheep. Whereas in their native Central Asian context the lambs are slaughtered in their millions for their pelts at a few days old, Carole George allowed them to grow naturally, with some of them reaching a full span of twelve years, during which time a real friendship and mutual respect developed. Each day would begin with the author and the sheep walking together round her small Virginia homestead, with the sheep's pace slowing down hers, so that she came to appreciate the poetry of the landscape as never before. Indeed, like Little Sparta, the Scottish garden of the artist-poet, Ian Hamilton Finlay, stones were soon being inscribed with significant, related lines of verse.
But it is the sheep who are throughout centre stage, with their individual characters fully described (whether playful, grumpy, affectionate or proud) and various stories told of their participating in tea-parties, concerts and sleeping arrangements: stories that never degenerate into the merely sentimental but rather acknowledge each of them as a unique gift that broadens the author's horizons. Not least does this happen in the encounter of each with death, which of necessity (given the number of health problems to which they are subject) is a theme that runs throughout the book. Their individual life-stories are intertwined with a moving account of an elderly father also approaching death. The result is a real sense of what it is to reverence the lives of all creatures, an awareness of what it means to let go, and yet at the same time carry in one's memories values that transfigure not only the departed but also those who remain.
A beautifully written book whose poetic, evocative style can be confidently recommended to all who are seeking something different out of where and how they live, and the animals with whom they seek to relate."--David Brown, FBA Author of God and Enchantment of Place
"In The Lambs, Carole George has given us as beautifully rendered and complete a picture of the aesthetic life and its spiritual implications as I have seen in many, many years. The result is a classic piece of work that will both delight the soul and instruct the mind."--Phyllis Tickle, Author of The Age of the Spirit and Emergence Christianity
"In this deeply moving, true-life story, Carole George highlights how the humility and calmness of her sheep brought peace and fulfillment into her human life. She demonstrates that respect for individuals of other species can open our eyes to forgotten values and sweep away the arrogance of speciesism."--Richard D. Ryder, Author of Victims of Science; Animal Revolution; The Political Animal; and Speciesism, Painism and Happiness.
"Carole George is a natural storyteller. What an unusual life unfolds here, and what a lovely human story, albeit with a large cast of quadrupeds. Musicians will smile and be amazed at how Wordsworth, Debussy songs on a mid-Atlantic American farm, and a flock of tame sheep all blend into a compelling tapestry of history that weaves on through the present into the future. I couldn't put it down."--Roy Howat, Pianist; Author of The Art of French Piano Music
"Carole George's beautiful and poignant book is as much about her scholarly, poetry-loving father as it is about her endearing pet sheep. In ten years time she learns the strengths and weaknesses of the breed she has chosen, develops a close relationship with some individuals in particular, and learns to lead a quiet life as the keeper of her flock, in tune with the rhythms of nature. In elegant, musical cadences she presents a quiet meditation on the beauty all around us and the fleeting but precious opportunity to share our lives with other souls. Scenes of her playing the piano surrounded by a captivated audience of sheep and her father's touching relationship with his favorite sheep, Satie, are unforgettable."--Bob Tarte, Author of Enslaved by Ducks, Fowl Weather, Kitty Cornered and Feather Brained
"The Lambs is the unusual story of a small flock of sheep, originally bred for meat, who are allowed to live out long natural lives on a farm in Virginia. They grow from young lambs into mature individuals with distinct characters, showing how thoughtful care affects animals. Carole George skillfully demonstrates the depth of the relationship that can develop between farm animals and their caretaker. Not only do the sheep thrive, their gentle company completely transforms the author's life."--Gene Baur, Chief Executive, Farm Sanctuary
"This enchanting memoir shimmers with joy in prose that makes it a work to be savored. George's book is one to be read many times, and it's definitely a work to be shared with friends."--Best Friends Magazine
Recommended
---
From the manufacturer
No information loaded.
Guest Ratings & Reviews
No reviews yet! Be the first to help other guests.