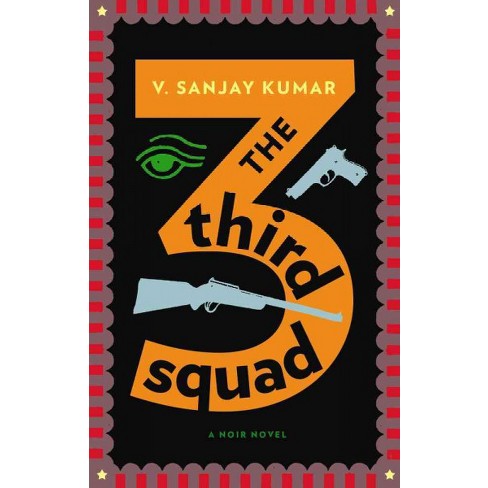 About this item
"
The Third Squad
ends with an emotional wallop, making it stand out among crime novels. It has the chiaroscuro effects of classic noir, but also the philosophical depth of highbrow literary fiction...Mumbai teems with lurid intrigue in this smart and affecting work of postmodern noir."--
Shelf Awareness for Readers
, Starred review
"Kumar evokes [Mumbai] with lyrical prose."
--Publishers Weekly
Included in Publishers Weekly's Crime Fiction feature on police corruption and brutality.
"A melancholy cop's obsessions are just the tip of the iceberg as he leads a two-fisted team determined to clean up Mumbai's mean streets...Kumar's style, blunt but often by turns poetic and droll, is arresting...As unusual as it is compelling, this entry lays the groundwork for an entertaining series."
--Kirkus Reviews
"[A] gripping thriller...Kumar has created some thoroughly intriguing characters...but the most fascinating of Kumar's characters is Mumbai itself--enormous, crowded, hyperactive, roiling, stunningly rich and grindingly poor, and teeming with almost unfathomable energy. International-crime fans should flock to this one."
--Booklist
"Kumar does a masterful job building the story's tension level as Karan draws closer and closer to his final confrontation with his superiors in the Indian Police Service."--Book Chase
The Third Squad is an arresting, ripped-from-the-headlines noir novel that deftly explores how in recent decades, to ostensibly combat the rising tide of criminality in Mumbai's underworld, the Indian Police Service has carried out many hundreds of extrajudicial assassinations of suspected criminals. Karan, an expert sharpshooter in an elite branch of the Indian police dispensed with dishing out this peculiar blend of vigilante justice, has a difficult choice to make: should he continue to blindly follow orders from his superiors, regardless of their moral standing, or should he take matters into his own hands and do what he believes to be right?
Belonging to a hit squad whose members all fall somewhere along the autism spectrum, Karan, who has been diagnosed with mild Asperger's syndrome, is notorious for his ruthless precision and efficiency in carrying out these assassinations, yet he remains aloof and distant. Gradually, his impenetrable façade begins to crack, and Karan's emotional and psychological depth reveals itself as he is forced to make decisions where the stakes are literally life-and-death. Also at play is the looming specter of the city of Mumbai itself, seemingly at the cusp of a neoliberal era of enlightenment and progress, yet still trapped under the ineluctable burden of old Bombay history, which can never quite be forgotten or suppressed.
Dark and gritty, raw and fast-paced, and never sentimental, The Third Squad distills the best aspects of classic American noir writing into
Number of Pages: 284
Genre: Fiction + Literature Genres
Format: Paperback
Publisher: Consortium Book Sales & Dist
Author: V. Sanjay Kumar
Language: English
Street Date: March 7, 2017
TCIN: 52240875
UPC: 9781617754975
Item Number (DPCI): 248-44-3226
$10.84
MSRP
Reg: $15.95 Save $5.11 (32% off)