product description page
Urban Neighborhoods in a New Era : Revitalization Politics in the Postindustrial City (Paperback)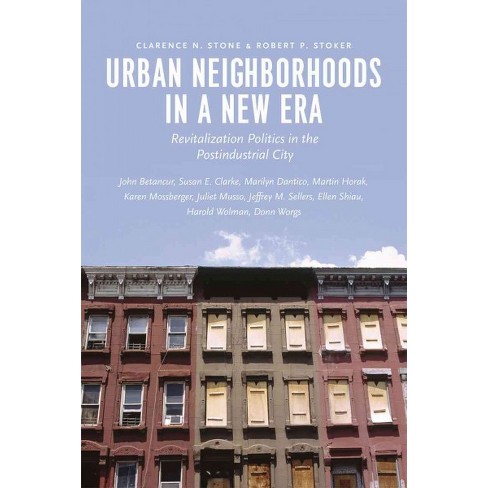 About this item
Faced with the loss of their industrial base, American cities in the past have focused on fostering economic growth especially in downtown areas, with neighborhoods by contrast being virtually ignored. This situation is starting to change, and the purpose of In a New Era is to re-assess the place neighborhoods hold not only in contemporary urban politics, but in urban research as well. Running through much of this research is a narrative of failure" in which neighborhood concerns are consistently marginalized in the face of their structural disadvantages. Focusing on distressed neighborhoods in different types of North American citiesBaltimore, Chicago, Denver, Los Angeles, Phoenix, and TorontoClarence N. Stone, Robert P. Stoker, and their coauthors uncover the emergence of new trends in city-level policies and politics. When cities were in the early stage of transition away from the industrial era, pro-growth coalitions placed economic development in a privileged position and downplayed neighborhood concerns. Today this once-entrenched policy pattern is breaking up in different ways across cities as key players are beginning to treat economic development and neighborhood improvement as complementary goals. With organized business interests becoming less dominant, often more cooperative philanthropic foundations and the educational and medical sectors have become more prominent urban actors. While structural inequality certainly is still a factor, it has been, and can be, mitigated through strategically designed and institutionalized relationships. New policy practicessuch as community benefits agreements and comprehensive community initiativesmay well signal a new era in which neighborhood concerns are being integrated and institutionalized into local policymaking.
For decades, North American cities racked by deindustrialization and population loss have followed one primary path in their attempts at revitalization: a focus on economic growth in downtown and business areas. Neighborhoods, meanwhile, have often been left severely underserved. There are, however, signs of change. This collection of studies by a distinguished group of political scientists and urban planning scholars offers a rich analysis of the scope, potential, and ramifications of a shift still in progress. Focusing on neighborhoods in six cities?Baltimore, Chicago, Denver, Los Angeles, Phoenix, and Toronto?the contributors show how key players, including politicians and philanthropic organizations, are beginning to see economic growth and neighborhood improvement as complementary goals. The heads of universities and hospitals in central locations also find themselves facing freshly understood realities, adding to the fluidity of a new political landscape even as structural inequalities exert a continuing influence.

While not denying the hurdles that community revitalization still faces, the contributors ultimately put forth a strong case that a more hospitable local milieu can be created for making neighborhood policy. In examining the course of experiences from an earlier period of redevelopment to the present postindustrial city, this book opens a window on a complex process of political change and possibility for reform.
Number of Pages: 294
Genre: Political Science, Social Science
Sub-Genre: Sociology / Urban, Public Policy / City Planning + Urban Development, Government / Local
Format: Paperback
Publisher: Univ of Chicago Pr
Author: Clarence N. Stone & Robert P. Stoker
Language: English
Street Date: September 18, 2015
TCIN: 46769590
UPC: 9780226289014
Item Number (DPCI): 247-51-8789