product description page
VirZOOM Virtual Reality Game System – Folding VR Bike Controller and VirZOOM Arcade Games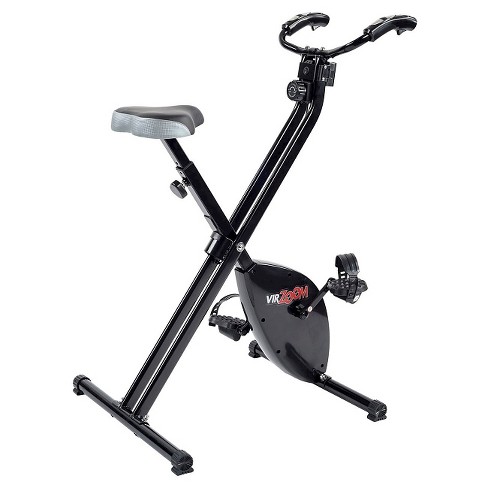 About this item
Highlights
Integrated speed and direction sensors. The faster you pedal in the real world, the faster you move in the virtual world.

Includes VirZOOM Arcade: Games that keep you motivated to move. Be the car in the race, the tank in battle, the Pegasus flying through the air!

Controller equipped with 10 gameplay buttons and triggers on the handlebars for gameplay. Heartrate sensors on handles & 8 tension control resistance settings (manual but communicated to game)

Free Unity SDK to create your own games and PC Gamepad Emulator to play existing VR Games optimized for the VirZOOM Bike-Controller.

24" X 26" footprint when in use, bike folds to half-size for storage, weighs 39 lbs, supports player heights from 4'4" to 6'2" comfortably, and up to 260 lbs.

Compatible with PlayStation VR, Oculus Rift and HTC Vive – VR Headset Sold Separately.
What's included:
•VirZOOM Folding X Bike Controller included
•VirZOOM Arcade Games included
•VR Headset sold separately
•Compatible with PlayStation VR, Oculus Rift and HTC Vive – Mobile VR support 2017

VirZOOM Folding X-Bike Controller:
•Integrated speed and direction sensors. The faster you pedal in the real world, the faster you move in the virtual world.
•Controller equipped with 10 gameplay buttons and triggers on the handlebars
•Wireless: low energy Bluetooth connectivity
•24" X 26" footprint when in use
•Bike folds up for storage
•Bike Weighs 39 lbs
•8 tension control resistance settings
•Heartrate sensors
•Supports player heights from 4'4" to 6'2" comfortably
•Weight limit: 260 lbs
•1 Year Limited Warranty on Frame, 90-day Limited Warranty on components
•Operates with low noise levels

VirZOOM Arcade:
•Ships with 5 Exercise Games – each with multiple levels
•New games and evolution of existing content on a monthly basis.
•Five Workout Modes: Quick-play, Timed, Custom, Award Challenge and Hot Seat
•Online multiplayer gameplay
•Challenges and leaderboards

VirZOOM Arcade currently includes:
•Cowboy: You're a horseback riding sheriff out to lasso Wild Pete and his gang of horse thieves!
•Racecar: You're in the cockpit of a race car on multiple exciting tracks. Make good use of your mirrors and gears to stay ahead!
•Pegasus: You're a winged Pegasus in a giant beautiful canyon. Don't forget to eat apples for energy.
•Tank: You're a T-90 tank in a wintery rugged landscape against other online players and AI bots.
•Chopper: You're an attack helicopter, shooting and surviving being shot by turrets while picking up fuel cells.

Free Strava Integration:
•Track your distance, heart rate, power output and average speed
•Set personal goals
•Challenge other users

Free PC Controller Emulator:
•Optimize existing PC based VR games and play them on your VirZOOM Controller
•Map existing game controls to your VirZOOM controller
•Currently compatibly with Vive and Oculus games launched from SteamVR – Oculus Home compatibility coming soon
•Emulator requires per-game configuration files, which users can set up and share

Free Unity Software Developers Kit
•Create your own VirZOOM games!
•Initially available for Unity 5.4
•Provides access to: pedaling speed, direction and resistance, 8 action buttons, 2 triggers and user heart rate
•Includes VirZOOM patent pending software motion controls which translates player lean and pedaling into comfortable VR locomotion
Power yourself through exciting VirZOOM exercise games on the VirZOOM game system! The VirZOOM controller is a folding VR bike with integrated sensors that measure your pedaling speed - the faster you pedal in the real world, the faster you move in the virtual world. Steer by leaning your body to the left and right. Action buttons, triggers and d-pad on the handlebars allow for advanced game-play. Play VirZOOM arcade included with your VirZOOM bike-controller - You can now be the car in the race, the tank in battle, the Pegasus flying through the air! Say goodbye to your boring workout.VirZOOM Arcade is free to play on the VirZOOM gaming system. VirZOOM includes 5 VR exercise games with continuously updating content on a monthly basis included for free! Current games include Cowboy, Racecar, Pegasus, Tank and Chopper. Play in any workout modes: Multiplayer, Quick-play, Timed, Custom, Award Challenge or Hot Seat. You can even challenge any of your friends in online multiplayer mode or compete on the VirZOOM online leaderboards.VirZOOM is compatible with the PlayStationVR, HTC Vive and Oculus Rift VR headsets with mobile VR support coming soon. You can optimize existing PC based VR games with the PC Controller Emulator and play them on your VirZOOM controller. Map existing game controls to your VirZOOM bike and enjoy them on the move. The game emulator is currently compatible with Vive and Oculus games launched from SteamVR. The emulator requires per-game configuration files which users can set up and share.You can even create your own VirZOOM games with the Free Unity Software Developers Kit. Initially available with Unity 5.4, the SDK provides access to pedaling speed, direction, resistance, user heart rate and 10 gameplay buttons and triggers. VirZOOM also includes free Strava integration. Track your distance, heart rate, power output and average speed.PLAYED ON PLAYSTATION VR, OCULUS RIFT, AND HTC VIVE - VR HEADSET SOLD SEPARATELY
Weight: 39 pounds
Model Compatibility: HTC Vive, PlayStation VR, Oculus Rift
Features: Gaming System Accessory: Wireless Connectivity, Bluetooth capability, Console Stand
Primary gaming use: Pc gaming, console gaming
Street Date: November 20, 2016
TCIN: 51390480
UPC: 855829006029
Item Number (DPCI): 207-00-0409