product description page
What to Expect When Your Wife is Expanding : A Reassuring Month-by-Month Guide for the Father-to-Be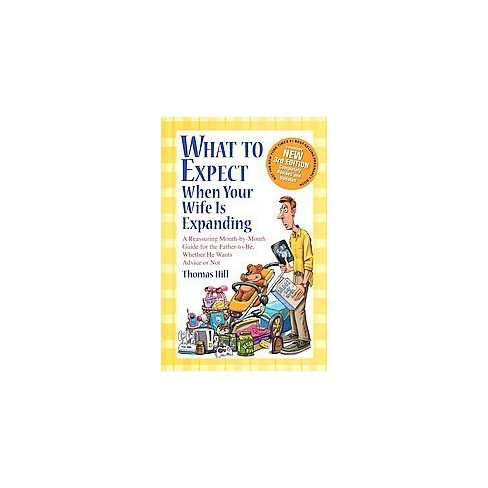 About this item
The third edition of the best, funniest father's guide to having a baby is now thoroughly revised and updated, but it's still packed with information, advice, and attitude distinctively for guys. Originally conceived as a little parody, just something funny and helpful for the expectant man, the book has grown into an on-going grass roots classic as a staple gift for every Dad-to-be, passed knowingly from one generation of first-time papas to the next. With this light-hearted, month-by-month instruction manual on the care and nurture of a pregnant wife?the main role of expectant dads?he'll handle all the important milestones and topics: what not to say during the three phases of labor; what to buy, how many and when; maintaining work-life balance; maintaining work-life-wife balance.New features include:·The Minefield: The Wrong Gifts for Your Pregnant Wife·Social Media Pregnancy Etiquette: Status Update!·Eight Reasons Why Not to Pick Out Maternity Clothes·Hi-Tech Toys: Can You Buy Them Yet?·Why Watching Teen-Pregnancy Reality TV Does Not Replace Childbirth Class·Vanishing Twin SyndromeThe latest trends!·Festive gender-reveal parties. (Really!)·Updated Baby Name Guide, including twitter hash tags.·Cloth Diapers: The Debate is Back!·Home Ovulation Predictors·When Piercings and Tattoos Are a Problem
The third edition of the best, funniest father's guide to having a baby is now thoroughly revised and updated, but it's still packed with information, advice, and attitude distinctively for guys. Originally conceived as a little parody, just something funny and helpful for the expectant man, the book has grown into an on-going grass roots classic as a staple gift for every Dad-to-be, passed knowingly from one generation of first-time papas to the next. 
With this light-hearted, month-by-month instruction manual on the care and nurture of a pregnant wife?the main role of expectant dads?he'll handle all the important milestones and topics: what not to say during the three phases of labor; what to buy, how many and when; maintaining work-life balance; maintaining work-life-wife balance.
New features include:
·The Minefield: The Wrong Gifts for Your Pregnant Wife
·Social Media Pregnancy Etiquette:  Status Update!
·Eight Reasons Why Not to Pick Out Maternity Clothes
·Hi-Tech Toys: Can You Buy Them Yet?
·Why Watching Teen-Pregnancy Reality TV Does Not Replace Childbirth Class
·Vanishing Twin Syndrome
The latest trends!
·Festive gender-reveal parties. (Really!)
·Updated Baby Name Guide, including twitter hash tags.
·Cloth Diapers:  The Debate is Back!
·Home Ovulation Predictors
·When Piercings and Tattoos Are a Problem
Number of Pages: 158
Genre: Humor, Family + Relationships
Sub-Genre: Marriage, Parenting / Fatherhood, Topic / Family
Format: Paperback
Publisher: Andrews McMeel Pub
Author: Thomas Hill
Language: English
Street Date: May 1, 2012
TCIN: 14082589
UPC: 9781449418465
Item Number (DPCI): 248-80-2820