When Less Becomes More - by Emily Ley (Hardcover)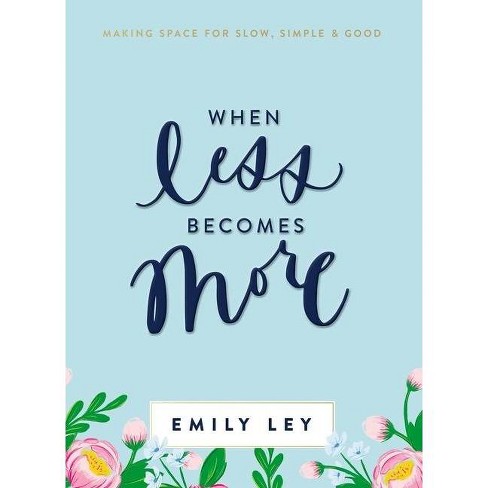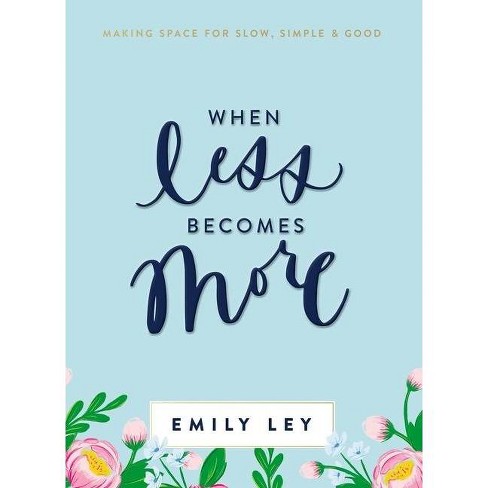 $12.55
When purchased online
About this item
Specifications
Suggested Age: 22 Years and Up
Sub-Genre: Motivational & Inspirational
Street Date: November 12, 2019
TCIN: 76453243
UPC: 191907167054
Item Number (DPCI): 059-01-2837
Origin: Made in the USA
Description
In her newest book, bestselling author and founder of Simplified(R) Emily Ley brings a revolutionary exploration of how to live a life of more in a world that often overwhelms to the point of burnout. Emily empathizes with readers in the throes of exhaustion and provides tools for nourishing their spirits and achieving a life where less becomes more.
Statistics don't lie. People today are more fatigued, burned out, and overwhelmed than ever. Smartphones constantly ping and alert and demand our attention. And social media can eat up hours of our days with mindless scrolling and tapping while leaving many feeling empty and lonely. Add to that family commitments, work that is accessible around the clock, and overscheduling, and you have a life that can feel unmanageable and frantic . . . even running on empty.
Emily Ley, author of bestselling Grace, Not Perfection and A Simplified Life, is here to tell you that there's more--so much more. In this book, Emily Ley takes readers on a journey out of that empty place and shows them how to fill their wells with the nourishment that only true connection can provide. She also presents some radical concepts that push against the tethers of modern life, with the promise that more of the good stuff comes when we say yes to less of what keeps us empty:
Less rush, more rhythm
Less great, more good
Less fake, more real
Less noise, more singing
Less outside world, more inside family
Less correction, more conversation
Less talking at, more dreaming with
Less stuff, more treasures
Less chasing, more cherishing
Less activities, more traditions
Getting to more might require some outside-the-box changes, some unraveling of the patterns readers have adopted, some reworking of the day-to-day so that they can build a life based on their core values instead of slipping into a life dictated by society or what's "normal." Because we weren't made for normal. We were made for more--for a life of fullness, dreaming, and lasting joy.
If the item details above aren't accurate or complete, we want to know about it.
Shipping details
Estimated ship dimensions: 1 inches length x 1 inches width x 1 inches height
Estimated ship weight: 1 pounds
We regret that this item cannot be shipped to PO Boxes.
This item cannot be shipped to the following locations: United States Minor Outlying Islands, American Samoa (see also separate entry under AS), Puerto Rico (see also separate entry under PR), Northern Mariana Islands, Virgin Islands, U.S., APO/FPO, Guam (see also separate entry under GU)
Return details
This item can be returned to any Target store or Target.com.
This item must be returned within 30 days of the date it was purchased in store, shipped, delivered by a Shipt shopper, or made ready for pickup.
5.0 out of 5 stars with 38 reviews
100% would recommend
36 recommendations
Must read message
simplyelliott
-
3 years ago
,

Verified purchaser
In addition to her planners, her first two books are treasures. Grace Not Perfection spoke to me deeply on a soul level & A Simplified Life provided the tactical tidbits to get me on the path to a slower pace. But man, When Less Becomes More pulled me from the tip of the iceberg and soaked through to my bones. Maybe it's because she dedicated it to her daughter. Or maybe it's because as women we are so uniquely tasked with finding the fine line between this life of connectedness and overwhelm to one of simple and good. Emily's words resonate deeply with a message that is so incredibly needed in this world. What I love the most is that she moves into a place of genuine questioning about just how to achieve a life of slow, simple, and good. She does not claim to have all the answers, she acknowledges her access to resources and privilege as well as her success, but she doesn't she stop there - she orients us to the Gospel and the reality that God wants us to be so much more than what we think is "perfect" and that we were made for so much more. Truly a delightful read, and one I can't wait to pass along to my own daughter. *I was provided an advanced copy of this book from the publisher, however all opinions are my own.
Loved it!
When Less Becomes More is what we all need. Emily beautifully discusses modern day burnout like no one else. She makes no claims at being an expert, but is in the trenches with us. Mothering, working, doing all the things. She will speak to your soul and leave you wanting more. As I made my way through each chapter, I could feel my own anxiety lesson. Not only was it amazing to read her experiences and realize that I wasn't alone in my daily struggles, but the way she broke it down by sections helped me identify where I could make changes in my life to slow down and stop the seemingly unending hamster wheel marathon. It's a book you will want to read and reread for years to come.
Must read!
Emily Ley does it again with a fantastic book! When Less Becomes More is for any woman that is feeling overwhelmed or run down- Emily's words are heart warming and easily applied to real life to help us make space for what is important. The book itself is beautiful and the words inside even more beautiful. I highly recommend to anyone in any season of life (student, young professional, mother, etc.) as this book is a treasure!
You are not alone
Reading When Less Become More felt more like a conversation with Emily Ley rather than the reading of another self-help book. The layout of the text makes for an easy read and the photos are beautiful. It is so refreshing to know that I am not the only one who struggles with feeling overwhelmed. We are all made for more.
Lovely, inspiring, actionable
What an amazing and needed message! It is so freeing to have permission to do life differently, to realize we have choices to create the life we truly want and to be reminded that things and hustle just don't deliver at the end of the day. I appreciated the practical tips and inspired by her words. Good read!!
Exactly what every woman needs to read!
Wow so powerful and so relevant to the times we are living in! Emily says exactly how so many of us have been feeling but always feel like we are the only ones. I loved reading this book and the message that it sends was so heart-felt. Read this book and get ready for a soul refresh!!
Less Really is More
This book along with anything Emily Ley writes is a constant reminder that less really is more. So much of our lives are filled with constantly being busy and always on the go. Even as someone without kids I found so many ways to find this book applicable in my life. I'm so encouraged to say "no," work to slow down my life, and really embrace the things that mean the most to me instead of all the things I "have to do." If you're busy and constantly feeling overwhelmed - give this book a read. I think it will bless your soul and give you permission to have less of all the things and more of only the things that truly matter.
(no review title)
This book is fantastically written, and such a beautiful book! But it goes more than surface-deep! You will feel encouraged & heard as you read this book, and you will find that so many others are having similar struggles & stresses that you are! Emily is so raw & real, and I love how she isn't afraid to say it like it is, call it all out on the table, so that we can MAKE A CHANGE! We don't have to live like this!!! Thank you, Emily, for this book & for the heart behind your entire company!! You are making this world a better place one woman at a time!
You were made for more
Single or married, mother or not, young or old, this book is for every woman. This book was really written for women in any stage of life. She talks about her life which may not match your own stage but the wisdom behind her words is there for everyone. Emily encourages you to look at your life and your circumstance and see where you can say no to the hustle in order to make room for what matters. She reminds us that we were made for more than just a busy life. This is a book I'll read again and again. It's a book I'll give to some of the women in my life and it's a book I'll share with my daughters when they, too, need to step off the hamster wheel and make room for the good stuff.
You don't have to do everything to have a beautiful life!
Emily nailed it again. I love how practical and beautiful her books are. She combines personal examples, practical tips, and beautiful photos in a book that while refreshing, the book challenges you to say no to striving for the perfect life and encourages creating a life that is good and beautiful. The message that life doesn't have to be lived at a frantic pace and there is beauty in the slow and simple, is one I'm slowly building into my own. Emily reminds you that you can make the changes that will allow you to get your life back and just because you have the opportunity to do something, doesn't mean you HAVE to do everything.
When Less Becomes More helps me to slow down and find balance!
When Less Becomes More is not just for the Mammas, it is for women! As women we sometimes can be running it seems like just for the sake of running and this book is helping me to take time to slow down and be present! I want to live a simpler life and Emily has written these beautiful words to guide us and helps us to remember that we can have the things we want whether it is career, family, friends, children, etc in life but not have to be feeling like we are holding on the end of freight train never catching up and overwhelmed! This is a beautiful book from the cover, colors, photography, and most importantly the words of an empowered, strong, leader who owns her own business and has a family with children reminding us that we can fight for what we want and for who we are while not running and trying to hold on the fast moving freight train that can be life! I plan to read this book multiple times to make sure I hear the message, if you feel hurried and overwhelmed I believe this book can help you slow down and find balance! Thank you Emily for your words and the vulnerability that you shared with all of us!
A must read!
I am a huge fan of Emily Ley and this book will change the way you look at your life! So beautifully written, this book will resonate with every woman, no matter what season of life you are in. We all deserve to live the slow, simple, and good life, and less is truly more.
Read This Book
Read this book if you are living life the best you know how - trying to do and be all the great things you feel you should be. Read this book if you are a working mom smothered by all you need to be at work and at home and in your community. Read this book if you are a stay at home mom feeling inadequate and unaccomplished, yet still overwhelmed by all that you need to do and all that you aren't. Read this book if you have ever felt your chest grow heavy with the weight of life - for no discernible reason - just life. Read this book if you are living life to the full, but somehow you still wonder if there's more to it. Read this book if your soul is weary of the pace of this world and your mind is frantic with just trying to keep up. Wherever you are in life right now - read this book. In When Less Becomes More Emily shares wisdom that is so down to earth and practical, yet so counterintuitive to how the world works today. She shares her experiences with living life to its fullest - the best life, right? She bares her soul and shares how the fullest life wasn't satisfying and it left her soul feeling empty. The way she writes is so relatable and humble. You'll hold this book in your hand and listen to her words, feeling like you are listening to a friend over coffee across your kitchen table. She writes to women of all walks of life who are burdened and straining under the weight of what we have told ourselves we need to be. She doesn't write from a perspective of correcting you for doing it wrong. Rather, she shares what she has learned and things she's still learning and growing in today. When you sit down to read this book, you will find yourself emphatically nodding your head at the things she points out that are draining our souls. She calls out the constant noise, busyness, hustle, and connection we all find in our lives. She shares ways to quiet the noise, make margin in our lives, and savor the good in life. The book is an easy read and you will walk away feeling empowered to make changes in your life to live life more purposefully. She gives a refreshing perspective on how to simplify life for yourself, your kids, your family as a whole. She approaches topics like anxiety and discontent that will make you feel as if you have an ally through your struggles. You are not alone. You are one of many struggling the same way in this modern lifestyle we've created. Grab a copy of this book, make yourself a coffee, and sit down to read. Open your heart to hear what Emily Ley is sharing and feel the weight of fast and big and great lift from your shoulders as you read about making room for slow, simple, and good.
A Book You Will Keep Coming Back To
This book is essential for all women no matter what season of life you are in! There is so much incredible content in this book that you will keep coming back to it for years to come. If I were try to highlight my favorite parts, the entire book would be highlighted as I can take value in each word Emily chose. Emily writes directly from her heart and this book captures how she has felt and refuses to feel moving forward. We can all learn how less becomes more when we truly reflect on how busy and crazy our world has become. Please purchase this book for yourself and then pass it on to another friend so we can spread the good life to other women.
(no review title)
A must-read for any woman looking to break free from a too-busy life! Emily's vulnerability in sharing her story of becoming--and then unbecoming--so busy that she was missing the best parts of life is sure to strike a chord with every reader, but especially with mothers. This is so much more than another book about minimalism. It is a true deep dive into the thoughts and decisions that leave us mentally exhausted and unable to enjoy the simplest moments of life. The hallmark workbook-style pages with journal prompts and beautiful photography that you'll see in all of Emily's books are icing on the cake.
Lean In
In this third book from Emily Ley, I was challenged to lean into, rather than fight against, the seasons of life. Instead of choosing the hurried, the convenient, or the escape, this book leads us to discover the everyday good, to say no to that which doesn't serve us, and to truly engage in soul care. Every woman who desires a life that is not stretched to maximum capacity should read this book!
So much goodness in these pages
The emotion and prayerful consideration behind the words and sentiments expressed throughout this book can truly be felt as Emily shares her experiences and heartfelt advice on topics that I find to be extremely relatable as a working mother, wife and friend. This book is thought provoking and offers inspiration to conquer the societal pressures of living a social media worthy life and overcoming overwhelm. Emily shares about living at a slower pace and stripping away the excess to focus on what really matters so we can experience the everyday moments of goodness—the types of moments we often miss because we are too busy with our well-intentioned efforts towards trying to do it all. This book has started to change my thinking and I'm already incorporating the advice into different aspects of my life. I am looking forward to sharing this book with friends because I know it will impact them, too.
(no review title)
Apittman
-
4 years ago
,

Verified purchaser
In Emily Ley's latest Book, "When Less Becomes More", she strips down many areas of our lives as women, not just mothers, and how we can get back to the slow, intentional, and good way of life. There is a portion of the book where she talks about how a woman of 100 years ago wasn't living life with her hair on fire, with 1,000 dings, chirps, posts, and notifications flying at her. We, as women of today can get back to that more simple way of living, and really focus in on what is important. Women today are facing burn out and it's turning into an epidemic! No one said we ever had to do it all and be all the things the world seems to fly at us constantly. We were made for more! This book needs to be in every women's hands today!
LOVE this book!
Emily Ley brings forward a book that's been on her heart for a while. She looks to address that overwhelming feeling of needing to be more and do more. We don't have to live like that, nor do we need to. Ley gives us permission to live a life that not everyone will understand and to love every second of it. I loved this book. Ley has created a company that is just so satisfying. I think that this book is a message we all need. Life is hectic and crazy, but we don't have to let it be. We can find joy right where we are with what we have. Let's retrain our mind to remember that less really is more!
(no review title)
I was excited to be chosen for the launch team for When Less Becomes More and to pre-read it before launch day. I have been a fan of Emily's books and planners for a couple of years now and credit her in part for the changes I have made in my life during that time. In line with her other books, Emily speaks to women who are tired of striving for perfection-- a life that is just exhausting and unobtainable. Social media, faith, parenting, and comparison are just a few of the concepts that she writes about. There are so many parts of the books that just hit me as areas that I need to work on. One of the lines of the book is: "Could it be that good things actually add up to a life that is pretty great." I had to let that sink in. It's not that we haven't all been told that it's the little moments, but boy did that hit me. Emily's writing style is relaxed and personal; sprinkled with stories from her life and those of her friends. I enjoy the journaling questions and the pictures of her family; those pictures make it seem like you know her personally. For some, this may be a turn-off, but I find it adds depth to her words and allow you to see life from her perspective. Knowing that she wrote this book for her daughter gives you another glimpse into the heart of the book. While there may not be any revolutionary new concepts outlined in Emily's book, the gentle reminders to focus on good, not great, to protect our spaces with what truly matters and to slow the rat race of life gives us permission to refocus our hearts. As with Emily's other books, they are ones to reread periodically to recenter and refocus when life seems out of control.