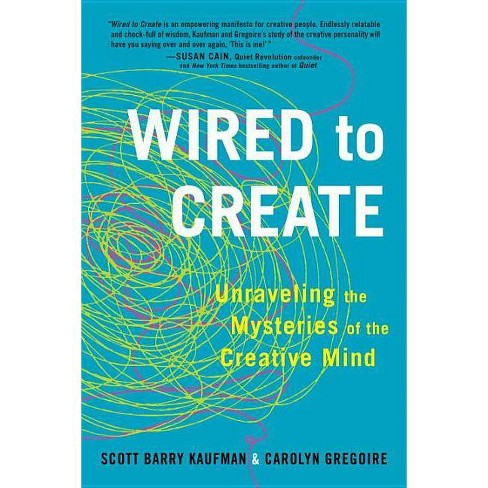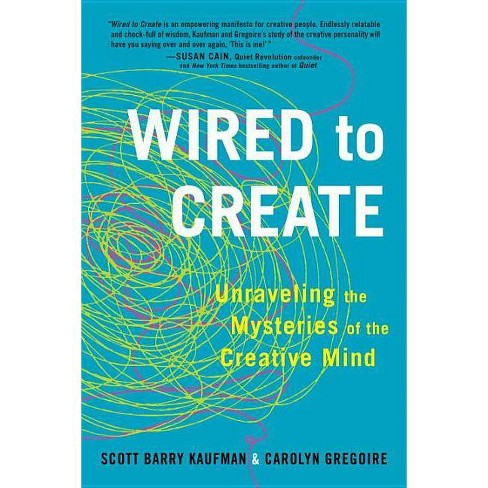 Shipping
Free standard shipping with RedCard
About this item
Specifications
Publisher: Tarcherperigee
---
Author: Scott Barry Kaufman & Carolyn Gregoire
---
Street Date: December 27, 2016
---
TCIN: 52038764
---
UPC: 9780399175664
---
Item Number (DPCI): 248-40-0054
---
Description
"Wired to Create is an empowering manifesto for creative people. Endlessly relatable and chock-full of wisdom, Kaufman and Gregoire's study of the creative personality will have you saying over and over again, 'This is Me!'"
--Susan Cain, Quiet Revolution co-founder and New York Times bestselling author of Quiet
"Together, [Kaufman and Gregoire] have created a satisfying overview of creativity research that is likely to provide nuggets of wisdom to even the most seasoned creative spirit. Readers looking for tips on how to increase creativity will find plenty here."
--The New York Times
"With cutting-edge science and timeless wisdom, Carolyn Gregoire and Scott Barry Kaufman shine a light on the habits, practices and techniques that can help us tap into our deepest creativity."
--Arianna Huffington, New York Times-bestselling author of Thrive
"Scott Barry Kaufman has just written the go-to book on creativity and genius. With Carolyn Gregoire, he puts together the newest scientific findings from the brain, from mental life and from the messy world of emotion to whiz us to the cutting edge of the highest human accomplishments."
--Martin Seligman, Director, Positive Psychology Center, University of Pennsylvania
"A lively, intimate glimpse into the creative mind from one of the most creative psychologists I know. Don't miss it."
--Angela Duckworth, bestselling author of Grit
"There are numerous books telling readers what they can do to become more creative. For the most part, the suggestions are made up: They have no basis in scientific fact. This book is unusual and perhaps unique not only in explaining what creativity is, but also in showing scientifically how people can unlock and develop their creative talents. If you are interested in unleashing your own creativity, you will want to read this book!"
--Robert J. Sternberg, author of Successful Intelligence
"
Wired to Create
is an exquisite tour through the science of that most prized but often frustratingly ineffable qualtity: creativity. By weaving research through portraits of the lives of great creators, Kaufman and Gregoire bring creativity into our grasp, and provide a rubric for how each of us can have more of it in our lives."

--David Epstein, New York Times bestselling author of The Sports Gene

"Through science and storytelling, Kaufman and Gregoire reveal the inner workings of the creative mind. It all adds up to a fascinating and instructive read."
--Robert Greene, New York Times bestselling author of Mastery
"One of my favorite thinkers and one of my favorite writers came together to write a book about of one of my favorite topics: creativity. There is so much here, start now."
--Ryan Holiday, author of The Obstacle Is The Way
"
Wired to Create
is the state of the science on the personalities behind innovative ideas. It cleans up the messy minds of creative people."
--Adam Grant, Wharton professor and New York Times bestselling author of Give and Take
"
Wired to Create
looks to be the place to go for a highly synthetic, readable account of personal creativity and the psychological behaviors known to support it. Understanding our 'messy minds, ' as Kaufman and Gregoire help us do, may very well be the first step to enhancing creative potential--in ourselves and in our children."
--Michele Root-Bernstein, author of Inventing Imaginary Worlds and co-author of Sparks of Genius
"At last there is a book on creativity that is both accessible, engaging, and highly readable that does not sacrifice scientific rigor in the name of communication. Filled with stories and anecdotes, this is a must-read."
--James C. Kaufman, author of Creativity 101
"This book will create a shift in the approach to creativity; how it is fostered in childhood and continued throughout our lives. It is a fascinating read and an important scientific contribution on how creative people use the whole brain, and find ways to deal with the joy and struggles of living creatively."
--Bo Stjerne Thomsen, Ph.D., Director, Research & Learning, the LEGO Foundation
"The mysteries of creativity have been unearthed by two eminent thinkers. Readers will be rewarded with cutting-edge science, great stories, and new insights into the multiple roads that lead to one of the most valuable human endeavors."
--Dr. Todd B. Kashdan, Professor of Psychology at George Mason University and author of The Upside of Your Dark Side
"Wired to Create
is both broadly entertaining and deeply informative. Few books on creativity integrate the two so well!
--Dean Keith Simonton, Editor, The Wiley Handbook of Genius
"Scott Barry Kaufman is the leading researcher who I'm watching for the next paradigm on how the creative mind works. This very well-crafted book, written with Carolyn Gregoire, lays the foundation."
--Peter Sims, Co-Founder & President, Silicon Guild, Inc. and author of Little Bets: How Breakthrough Ideas Emerge from Small Discoveries
"This book brings a very fresh perspective to a field that has, inexplicably, been struggling to 'create' new ideas for several decades. With scientifically based research on imagination, daydreaming, intuition, and mindfulness, it opens up new avenues of thinking about this critical human capacity. It is a must read for both scientists and anyone else interested in the 'inner world' of creativity."
--Rex E. Jung, Ph.D., editor of the forthcoming
Cambridge Handbook of the Neuroscience of Creativity
"More than ever we need creativity in our lives and to answer the pressing challenges of our times. Scott Barry Kaufman and Carolyn Gregoire paint a brilliant portrait of the many faces of creativity: a fusion of seemingly contradictory mental states that can be limpid and messy, wise and crazy, exhilarating and painful, spontaneous and yet arising from sustained training. Fascinating all the way."
--Matthieu Ricard, humanitarian and Buddhist monk, author of Altruism
"Groundbreaking creativity scholar Scott Barry Kaufman and talented science journalist Carolyn Gregoire shed light on one of the most mysterious phenomena of the human psyche: creativity.
Wired to Create
is a page-turner that masterfully blends cutting-edge research with historic and contemporary real-world examples of artists and geniuses, inspiring the readers to get in touch with her own inventive spirit."
--Emma Seppälä, Ph.D., author of
The Happiness Track: How to Apply the Science of Happiness to Accelerate Your Success
and Science Director, Stanford Center for Compassion and Altruism Research and Education
"This guide is well-documented, never pedantic, and always educational and inspiring."
--Publishers Weekly
"Comprehensive and well-researched...adds to the seminal texts on creativity."
--
World Futures
Recommended
---
From the manufacturer
No information loaded.
Guest Ratings & Reviews
No reviews yet! Be the first to help other guests.