product description page
Wood Pallet Projects for Beginners : 15 DIY Household Hacks to Reuse Wood Pallets and Decorate Your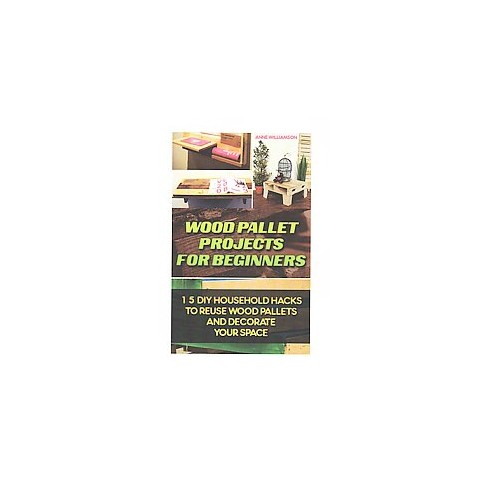 about this item
Getting Your FREE Bonus
Download this book, read it to the end and see "BONUS: Your FREE Gift" chapter after the conclusion.
Wood Pallet Projects for Beginners15 DIY Household Hacks to Reuse Wood Pallets and Decorate Your Space
Are you interested in learning how to create beautiful pieces of art and functional, decorative pieces for your home from wood?
Did you know you can use wood pallets to make these amazing, personal touches?
Wood pallets are everywhere! They're used by transportation companies to ship products across the globe, the country, and even locally. But what happens to a wood pallet once it's been used by a company and dropped off? Well, the company who's received the shipment will have to either recycle the pallet at a cost to them or they might reuse it. If you're savvy with a few manufacturing business owners, you can obtain wood pallets for free to create functional pieces of art out of!
In this book, I'm going to teach you how to create the following projects from wood pallets:
Wood Pallet Wall
Wine Rack
Planter
Decorative Tray
Electronics Shelf
Bike Rack
Herb Trough
Spice Rack
Compost Bin
Desktop Planter
See Thru Birdhouse
Spoon Shelf
Wine Box
Bat Box
Raised Bed Garden
What's the best part about all of these projects? They're very simple to create! With just a few tools and some street smarts when it comes to assembling wood, you can create just about anything you want with wood pallet pieces! So go ahead! Scroll up and grab a copy of this eBook with fifteen wood pallet projects today!
Download your E book "Wood Pallet Projects for Beginners: 15 DIY Household Hacks to Reuse Wood Pallets and Decorate Your Space" by scrolling up and clicking "Buy Now with 1-Click" button!
Tags: DIY wood pallet projects, DIY pallete projects, DIY upcycle, pallete furniture, Simple Organizing, Hacks and organizing, DIY Household Hacks
Genre: House + Home
Sub-Genre: Design + Construction
Format: Paperback
Publisher: Createspace Independent Pub
Author: Anne Williamson
Language: English
Street Date: November 1, 2015
TCIN: 51213436
UPC: 9781518878060
Item Number (DPCI): 248-17-7357
---