check out the season's
hottest toys & gifts.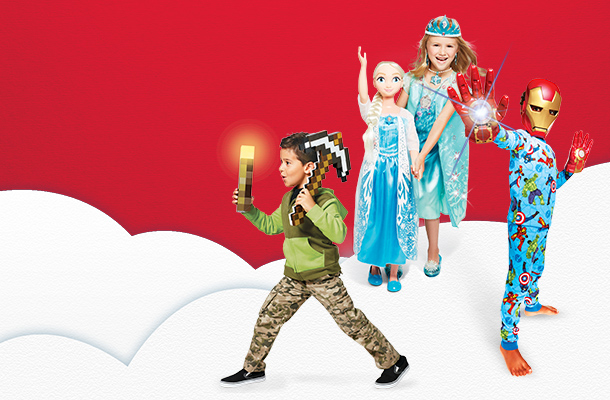 dress-up duds for the characters they love.
Let's pretend your little ones could be anyone in the whole wide world. Anyone. We don't know who they'd be, but whoever it is, we're pretty sure Target has kids' costumes for it. Our getups run the gamut from pretty princesses…or is it princi?…to rad racecar drivers, superheroes, police officers and doctors. And what goes better with a cute little white coat than a top-notch toy doctor play set? But we realize not everyone wants to be a doctor. For those who prefer a nice set of cooking utensils to surgical instruments, we have a delectable selection of toy kitchens—along with entire playhouses. Fun, fun and more fun. Moving on now to escapes for the outdoorsy types, you'll find all sorts of play tents in all sizes, adorned with all their favorite characters. Lots of toy gardening sets, too, for little green thumbs. The gardening sets are super fun. Plus, what a great way to teach your kids about the importance of fresh produce in their diet. Okay, that concludes our public service announcement for today. But seriously, Target has pretend play fun for techies, too: There's spy gear like night vision goggles and fingerprint kits, and toy cell phones for chatty little Cathys and Charlies to practice their communication skills. So, to sum it all up, Target has a whole lot of pretend play and dress up fun for every kind of imagination. Imagine that.