it's here. it's here. it's here.
big savings on TVs, Nikon Coolpix L340,
Beats Solo 2 headphones & Parrot Bebop drones.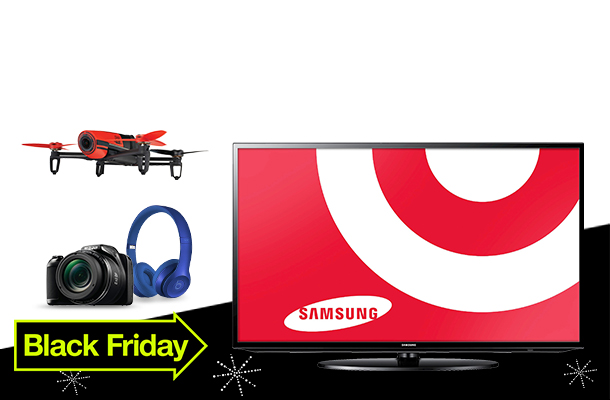 Tech savvy or not, electronics are a necessity. It's difficult to imagine a world without electronics. Be it for comfortable living, education, entertainment, communication or home improvement, we rely on electronics. Target brings the world of electronics to your doorstep. You can find everything from home theater systems, cell phones and audio players to air conditioners and HDTVs right here. Whether you are in the mood for information, infotainment or sheer entertainment, the world of connected electronics has it all. Be it for your home, or office, our stylish and slim LCD computer monitors are the perfect choice. While you are away or on-the-go, stay connected with your family and friends anywhere anytime with our laptops, tablets and smartphones. Do you like hiking, camping or trekking? Planning a road trip? Target offers you latest in-car units and handheld GPS systems to help you stay right the track. Don't forget to pick up one of our point-and-shoot cameras, DSLR cameras or digital camcorders. So, when you leave your adventure behind, you'll take the memories along with you. Love to stay indoors? It doesn't mean that you have to miss out on all the fun. Take your pick from one of the latest gaming consoles, you'll know what real entertainment is. Whether you are a hardcore gamer or a casual one, we have the latest collection of Xbox One, PlayStation 4 and PlayStation 3 games to help you get your game on. Prefer reading? Our eReaders will let you access to the largest collection of books online.