so you.
show off all the
things that make a
house your home.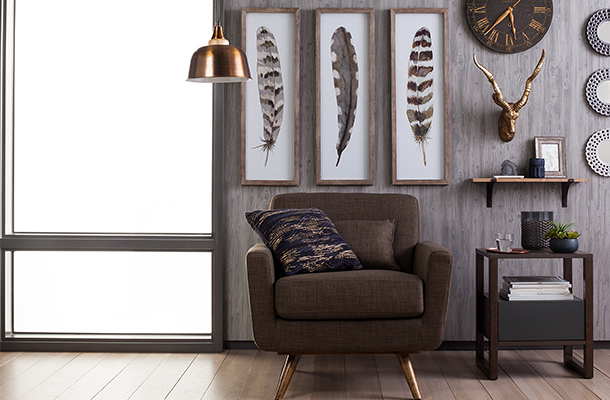 Some people say that walls have ears but with a little help, they'll do all the talking instead! Spice up your space with contemporary paintings and framed art or add a fun touch with décor posters and murals. We also have wall clocks, wall frames, shelving and lights for decking up the interior space.
Got kids at home? Then go for our cartoon-character inspired wall decals. Your kids will love the cute pictures and have a great time showing them off to their friends. And the best part is that they go on easy and come off clean.
Do you know that you can create the right mood in a room with a few lights and a mirror? Place a sconce or two in corners or near an entrance and use a mirror to add the illusion of space and reflect light. Turn the lights up to create a bright and lively atmosphere. In a romantic mood? Just reach for the dimmer.
Bring neglected corners into the limelight with decorative shelves that hug the curves and maximize space. Classic shelves, floating shelves, corner shelves, wall cube sets – we've got all you need to display your collection of books, media or showpieces. On a budget? No worries. We have stuff priced just perfect to fit your wallet and your style.
Whatever be the need or the mood, there's surely something for you at Target. Spruce up the walls with these incredible wall art items that say, "You're home."