by Maria Yee Design Studio. elegant, handcrafted furniture for urban living.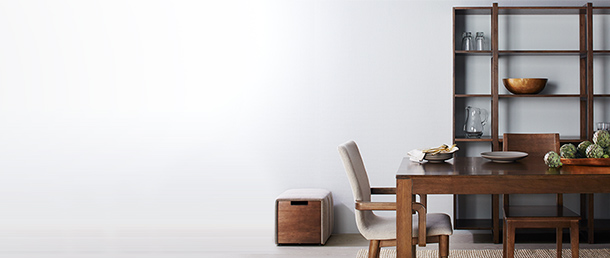 tables in all shapes & sizes.
Finding just the right kitchen and dining room furniture can be a big task. That's why at Target, we have kitchen furniture and dining room furniture that's stylish, functional and truly versatile, to make decorating fun and easy.
Islands are a great way to add some extra storage and work space to your kitchen. If your kitchen is a tad too cozy for an island, no worries. We've got portable kitchen furniture, like carts, in various sizes to suit any space. Once you're done with the food preparation, just roll the cart into an unused corner. If you've got extra cutlery, dishes and kitchen utensils, store them neatly out of sight in a convenient, pantry storage cabinet.
We've got plenty of styles and a variety of sizes of dining room sets for you to choose from. From rustic bistro sets to elegant banquet table sets and casual kitchen tables, you'll find the perfect table to suit your kitchen or dining room. Contemporary, glass dining tables, classic, wooden tables, sleek metal tables – we've got them all. Match them with coordinating chairs or tall counter stools.
Do you love a glass of wine with dinner? Simply set up a wine bar in your kitchen, dining or living room. Browse through our selection of bars and wine racks to choose one that fits your décor.
When it comes to cooking or serving food, having the right items in the correct configuration in your kitchen and dining room is what makes the experience enjoyable. At Target, we give you the very best of everything, so you can cook in comfort and serve in style.