lovely layers.
light sheers + bright colors
create a fresh, spring style.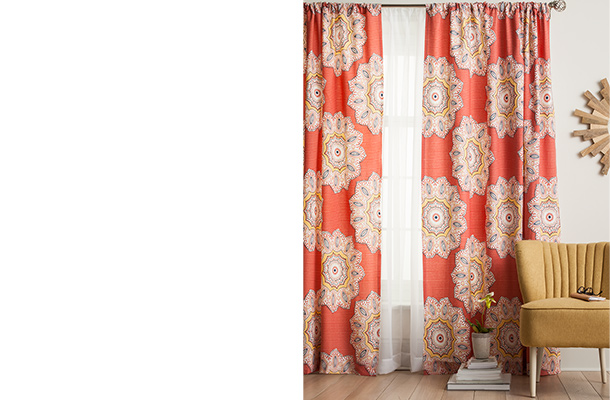 Functional and beautiful, the right window treatments can enhance an already-stunning view. f supremely subtle to brilliantly bold - curtains, shades and blinds are double-duty décor, allowing you to fine-tune the amount of light you want with the privacy you need. f delicate sheers to vibrant curtain panels, Target's selection of window dressings includes a wowing array of drapery just right for every style. Be sure to check out our exclusive Threshold curtain collection. Fresh, lovely and perfectly priced, this inspired home décor brand sets an invigorating scene for each new season. Another way a great set of drapes can save the day? Blackout curtains can help your home stay cooler in the summer, warmer in the winter and provide much needed protection against the noisy hustle & bustle outside. Like to keep it neat? Blinds and shades are a great way to do just that. Sleek & modern, window blinds make it easy to let the right amount of light into any room and are available in many décor-complimenting colors and styles. Roller shades are simple & elegant. Roman shades give your room the softness of drapery with the customizable privacy of a roller. And many styles offer blackout privacy protection lining that also increases your home's energy efficiency. Top off your new window treatment with a chic valance. These short curtains cover the top of your window and stylishly conceal fixtures and curtain rods, giving your room a totally tops look. Window film is another privacy option especially awesome for kitchens, bathrooms and other sun-drenched areas where keeping the light shining is key. Design-wise, window film decals are available in everything f funky patterns & colorful tiles to all kinds of nature-inspired themes. Hang time. Need a little help to make sure you order the right size? Check out our handy guide that'll make measuring for your favorite window treatments a breeze.