top brands in kitchen.
introducing free shipping on all orders of $50 or more.*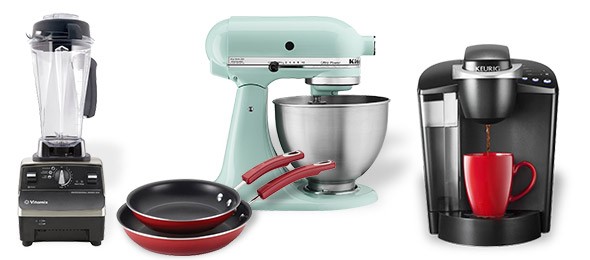 Need a hand in the kitchen? Target's wide range of kitchen essentials is here to make "cooking time" a fun and hassle-free affair.
It all starts with the coffee. The perfect cup of coffee can make mornings beautiful and with the coffee, tea and espresso makers at Target from high-quality brands like Mr. Coffee, Nespresso and Keurig, every morning will be a delight.
You've shown your knack for making good coffee, now show your friends that your talent doesn't end there - impress them with a pizza made by yours truly! A simple recipe and the high-quality pizza pans at the cookware section will see you through.
When it comes to celebrations, whether it's Easter, Christmas or just a day when you'd like to get your hands dirty with some flour and butter, the bakeware collection is your nook of treasures. Make those scrumptious cupcakes you have been ogling on Pinterest with the handy Calphalon cupcake pans and add your personal touch of icing beauty with the creative decorating tool sets.
It doesn't stop with cupcakes! Looking for a new family activity? Have a fun cookie-making session with the children. You can pick the Halloween themed cookie-cutters or a set of triangles and circles to teach them about shapes.
A ton of cooking and baking activities leads to happy stomachs and also, messy kitchens. Well, Target has got you covered there as well. Versatile and featuring creative designs, the storage & organization options at Target serve as good a purpose in decorating the kitchen as they are in stowing food and spices.
Now go ahead and give your kitchen a Target treat!