new Monopoly
80th Anniversary Edition.
pass go & celebrate this timeless family favorite.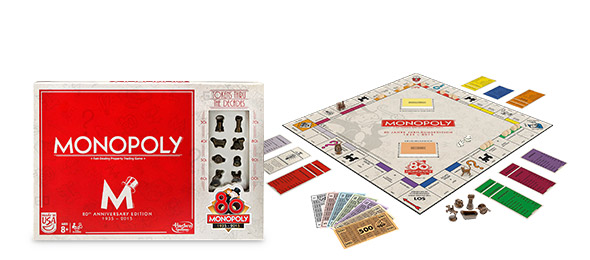 Feel like playing a game? Yay, so do we! You pick. Oh, you don't know what you're in the mood for? Target has oodles to choose from, so we'll try to narrow it down. Let's see… How about one of the classic board games like Scrabble? Or, if you're not in a spelling mood, maybe you'd like to test your economic strategy with Monopoly? We're up for a round—but we get to be the dog. Those games take a lot of thinking, though, and maybe you'd rather play something a little lighter and more fast-paced. How about dice games? Or wait, maybe card games. We have Apples to Apples, Uno, Scattegories and more, including matching games with cards about cats, dogs and even dinosaurs. And for those who like their fun to buzz, beep and blink, we have electronic games galore. There's Catchphrase, poker, solitaire, Loopz, and there's other stuff way too big to fit in your hands—stuff like air hockey tables and electronic basketball hoops. But some of those things you can play by yourself or with just one other person, and maybe you want to have a bunch of people over. That calls for party games! And while you have your friends' attention, why not show off your hocus pocus skills with one of our magic sets? But maybe you're not feeling that social after all, and you wouldn't mind some quiet alone time. For that, we recommend one of our over 250 puzzles. You'll love 'em to pieces.