originally posted on dunkinathome.com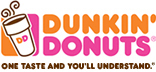 (This is reviewing it after having it in-store, freshly brewed) I know its a dark roast and all, but this definitely ain't what it used to be. First sip burned my throat! And I don't mean hot, I think the acidity is just through the roof. Quite bitter too, but i think the burning sensation from what is now room temp coffee is a bit strange. Drinking it black, bit of sugar. I think watering it down more might help, or trying milk with it. But as a standalone dark roast, it is definitely some kind of motor oil. Wouldn't recommend, unless you like gasoline. (That's really not an exaggeration.) However despite that, It is still something I can take a sip from, so it might be right up the alley of some others. But it definitely cannot replace the bold, smooth flavor the previous dark roast had. I appreciated that one, because I find the regular blend quite bland. As a replacement? No. as something new for hardcore motor oil drinkers? Possibly!
1 reply from Consumer Care team - 9 months ago
We are sorry to hear of your experience with our product and it is not the quality we would expect. We do appreciate your feedback and we have forwarded your review to the appropriate team. We are reaching out to you via email and hope to connect with you soon to learn more.