Sponsored
Rhythms of Renewal - by Rebekah Lyons (Hardcover)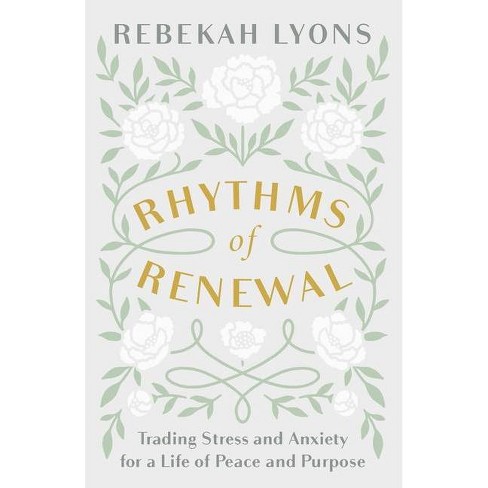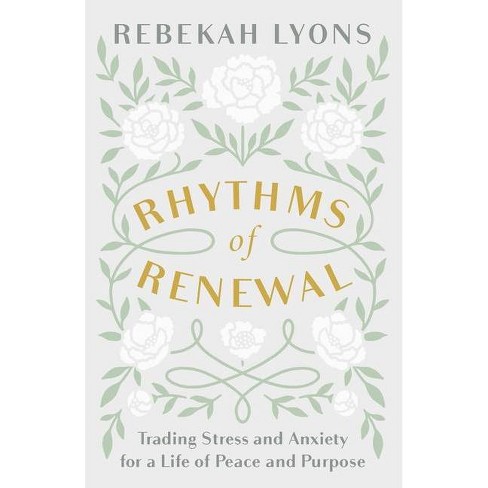 $13.4 when purchased online
About this item
Description
About the Book
Daily struggles with anxiety and stress make it difficult to receive God's peace. Lyons helps Christians walk through four rhythms to the vibrant lives they were meant to live. By learning to rest, renew, connect, and create, readers will find mindful habits that quiet inner chaos and make space for peace.
Book Synopsis
Daily struggles with anxiety and stress make it difficult to receive God's peace. Rhythms of Renewal will help you trade your anxiety for the vibrant life you were meant to live through four profound rhythms: rest, restore, connect, and create. With encouraging stories and practical steps, Rebekah Lyons will help you begin an intentional, lifelong journey toward sustained emotional, relational, and spiritual health.
Rhythms of Renewal is your guide to daily rescue and a way forward into the peace your soul longs for. Over 100,000 copies sold!
As a society, we are in the throes of a collective panic attack. Anxiety and loneliness are on the rise, with 77% of our population experiencing physical symptoms of stress on a regular basis. We feel pressure chasing careers, security, and keeping up. We worry about health, politics, and many other complexities we can't control. Eventually we find our minds spinning, trying to cope or manage a low hum of anxiety, unlike ever before.
But it doesn't have to stay this way.
Rebekah draws from her own battle with depression and anxiety and shares a pathway to establish four life-giving rhythms that quiet inner chaos and make room for a flourishing life. By taking time to rest, restore, connect, and create, you will discover how to:
Take charge of your emotional health and inspire your loved ones to do the same
Overcome anxiety by establishing daily habits that keep you mentally and physically strong
Find joy through restored relationships in your family and community
Walk in confidence with the unique gifts you have to offer the world
Review Quotes
'[a] wise account to offer readers help and hope in the midst of what she calls society's 'collective panic attack.''--Publishers Weekly starred review
Dimensions (Overall): 8.5 Inches (H) x 5.9 Inch (W) x 1.2 Inch (D)
Suggested Age: 22 Years and Up
Genre: Religion + Beliefs
Sub-Genre: Christian Life
Book theme: Personal Growth
Street Date: November 5, 2019
TCIN: 76452963
UPC: 9780310356141
Item Number (DPCI): 059-01-6218
Origin: Made in the USA
If the item details above aren't accurate or complete, we want to know about it.
Shipping details
Estimated ship dimensions: 1 inches length x 5.9 inches width x 8.5 inches height
Estimated ship weight: 0.85 pounds
We regret that this item cannot be shipped to PO Boxes.
This item cannot be shipped to the following locations: United States Minor Outlying Islands, American Samoa (see also separate entry under AS), Puerto Rico (see also separate entry under PR), Northern Mariana Islands, Virgin Islands, U.S., APO/FPO, Guam (see also separate entry under GU)
Return details
This item can be returned to any Target store or Target.com.
This item must be returned within 30 days of the date it was purchased in store, shipped, delivered by a Shipt shopper, or made ready for pickup.
Frequently bought together
5.0 out of 5 stars with 66 reviews
100% would recommend
63 recommendations
(no review title)
SJP
-
4 years ago
,

Verified purchaser
Love this book and shipping was super quick despite COVID! It was recommended to me through a church small group and it has not disappointed.
This book is one you need
Thumbs up graphic, would recommend
Each chapter tells how to establish rhythms, or habits for living, in practical ways. For instance, if you feel like anxiety is overcoming you confidence, Rebekah says to take care of something, as simple as raising a few chickens, because having responsibilities remind you that you are needed and have an impact on those around you. "When we succeed, we are filled with new confidence." I have now reread several chapters in the areas like I need better rhythms in. Buy this book and you'll be so thankful you did.
(no review title)
Thumbs up graphic, would recommend
This book is such an easy read. I feel like Rebekah is just sharing her life with its struggles and victories over a cup of tea with me. It's not only very practical and backed with research, but it presents it in an inviting and encouraging manner. I really appreciate the "Reflection Questions" that Rebekah has included. They give you a chance to pray and think through how the chapter applies to you and how adjustments in your thinking and activity can be made. She has so many great insights and wisdom in this area that I plan to go back over the areas that I highlighted the first time. I think anyone who struggles with stress or anxiety, no matter how small, would find it helpful as they build on these four rhythms in their life.
This book is a game changer for anyone struggling with stress and anxiety!
Thumbs up graphic, would recommend
"I just can't do it anymore; I am so overwhelmed." If you have uttered these words run…don't walk…and pick up a copy of Rhythms of Renewal: Trading Stress and Anxiety for a Life of Peace and Purpose. Lyons powerfully shares four practical rhythms (Rest, Restore, Connect and Create) that will makeover your stress-filled soul; igniting your soul with peace and purpose! Each short, easy-to-read chapter is filled with practical nuggets of truth that will have you shouting, "YES! THIS!!! This is what I need!" As a working mom, wife, speaker and health coach my tank was Empty; and I was running on fumes. I championed the message, "You can't pour from an empty cup" but had failed to give myself permission to rest. I allowed myself to step out of the necessary rhythms for peace. Moments into the book Rebekah writes: "We don't have to run to earn rest; we run fueled by a posture of rest!" The day before receiving my copy, I had googled "pastoral burnout." Now, I am journaling and dreaming with more peace and passion that I have in many years. This book is a game changer!
(no review title)
Thumbs up graphic, would recommend
Timely and desperately needed! Rebekah's writing is engaging and captivating. She weaves humor and tenderness in her vulnerable writing that's packed full of truth and grace.
Healthy patterns for a joyous life
Thumbs up graphic, would recommend
Rhythms of Renewal by Rebekah Lyons was such a timely read for me. As a mom of six with only two left at home and being called back home after several years of working outside of the home, I felt at a loss for what was next. Even though I know better, I placed my worth on my position and productivity. I realized via reading this book that what is next for me is learning how to better incorporate these rhythms of renewal (rest, restore, connect, and create) into my daily life so that I can be an truly healthy person physically, emotionally, relationally, and spiritually. My previous rhythms were leading to burnout. I realize I need to fill my cup so I can joyfully and lovingly pour into others and these rhythms have given me practical steps to do so. I think I needed "permission" to rest and take care of myself well. Rebekah has a way of telling you like it is with gentleness and love - her heart for the reader is huge! "It is never too late to re-establish what you want your life to be about." Amen! I am on my way to healthier patterns.
Intentional practices that are already renewing me
Thumbs up graphic, would recommend
"Rebekah's book, "Rhythms of Renewal" came at just the right time for me – a time where I needed to be reminded of rhythms, intentional practices that calm my spirit, lead me to Jesus and help me to be intentional about life and joy! In her book, she writes about four main rhythms, "Rest", "Restore", "Connect" and "Create". In each of those rhythms, she talks through personal stories and presents practical ways to incorporate them into your life. Incorporating these things into my life is already making a difference! For example, there's a chapter titled "Making a Memory – Imaginative Play" and in it Rebekah says, "Our hearts need space to feel, create, embrace, and love—none of which can be placed on a to-do list. These priorities only come when we make time for exploration, fun, and unexpected life to happen." Yes, yes, yes! This chapter and another one reminded me of the importance of letting go of control, and my to-do list, and being purposeful about engaging again with what God has placed around me. I'm already feeling the joy that comes from letting go – playing and laughing again! Rebekah's book provides practical ways and intentional questions, and I'm sure that because of that it will be a book that you and I come back to many times. This is a book that will make you want to get in a comfy place, listen to a friend (Rebekah) tell you about her experiences and then explore with the Lord how / whether to incorporate that rhythm into your life as well. "With a little intention and a lot of perseverance, stress and anxiety can be transformed into peace and purpose" (Rebekah Lyons, Rhythms of Renewal)."
This book is for you!
Thumbs up graphic, would recommend
Rhythms of Renewal focuses on 4 rhythms: rest, restore, connect, and create. I was really struck by how everything in our lives fits into one of these four. Sometimes, we may find that instead of leaning into these rhythms, were leaning into mayhem and stress. Just as we are all unique beings, we each have different strengths when it comes to these rhythms. This book is so necessary in today's culture of "louder" and "more." If you're tired of the chaos, and ready for a change, this book is for you.
Must Read!
Thumbs up graphic, would recommend
This is an amazing book! This is so needed by everyone! Learning how to rest and restore to be a better human being is a must for this season and time. God has worked through Rebekah to give us the tools we need to quiet the storms around us. Thank you Rebekah for being open to God's gifts and sharing them with the world. Get this book, you will not regret it!
(no review title)
Thumbs up graphic, would recommend
This book offers hope to a world living in chaos and anxiety. Rebekah encourages us that "It's never too late to re-establish what you want your life to be about." Which the book then guides you how to walk out each of the four rhythms in practical ways. Each rhythm is brought to life through several ways to put this into practice today. Rebekah offers great personal insight as well as meaning prompts to help me think through this in my own life. I loved being able to read about ways my family can put rest, restoration, connection, and creativity into place immediately in our life. This book has met a need my soul has to be deeper connected to God and who he created me to be. I will spend the next season putting into practice how to live out these rhythms to bring joy, serenity, abundance, and balance to my life.
A Must Read Book!
Thumbs up graphic, would recommend
Rebekah Lyons has given us a gift in her newest book, Rhythms of Renewal: Trading Stress and Anxiety for a Life of Peace and Purpose". With her beautiful writing style of vulnerability and humility, Rebekah shares her struggle with us facing a setback of another panic attack after years of experiencing God's deliverance in that area of her life. Overwhelmed with discouragement, she cries out to God and others for help to reclaim the peace and rest that she once had. This book is a detailed account of how God answered those prayers. Through hard work, study, and a heart open to God's Word, Rebekah shares 4 principles that can lead us to a life of peace and purpose. I LOVED this book! Rebekah is the real deal. She doesn't only teach God's ways, she practices (and keeps on practicing!) what she teaches. That's why this book is so powerful. Her chapters on pursuing quiet, morning routines, and sabbath have been life changing to me already. Buy this book, read this book, apply these principles to your life, and share it with all of your friends! Your life will be richer because of it.
Rest, Restore, Connect, Create
Thumbs up graphic, would recommend
Have you ever struggled with stress, fear or anxiety? Do you, like me, know the terror of a panic attack? We are not alone! Author Rebekah Lyons has walked this journey, too. In her newest book--Rhythms of Renewal—she invites us to explore the God-given rhythms of rest, restoration, connection and creativity to help us learn ways to trade our stress and anxiety for a life of peace and purpose. Rebekah grabbed me from page one. I was right there with her on that Saturday in October, when the panic returned. And I was there when, later that day, she reflected. "In his mercy, God gently whispered a response: You can focus on the fact that fear came knocking, or you can focus on the fact that I always make a way of escape." I so needed this reminder—God always makes a way. Her stories are honest and vulnerable. She understands anxiety and fear first hand. The strategies she offers in this book are both spiritual and practical-- from getting quiet and keeping Sabbath, to getting sleep and exercise, to leaning into friendship, and learning to take risks and dream again. The rhythms are both inward (allowing Jesus to fill us with peace) and outward (allowing us to pour that peace into others.) This book is for the person looking for practical and spiritual ways to move past fear and anxiety, the person who needs to be reminded how to rest, restore, connect, and create. Let Rebekah be your kind guide as you discover or rediscover God's rhythms of renewal. Highly recommend!
(no review title)
Thumbs up graphic, would recommend
"Rhythms of Renewal is the book you need to help you get out of that cycle of anxiety and despair that's so pervasive in our society today. Through practical tips, relatable stories, and based on the Word of God, Rebekah gets real about the things we need to do to maintain a life of peace. And it's not about 'doing' per se, but there are things we need to be aware of and take action on, so we can rest and restore our bodies, and to be able to connect with those around us and create an atmosphere of peace. The chapters are short, but you can really take your time to answer the discussion questions and dig deep. Some sections may be more provoking than others, but personally, each one is hitting on what I'm going through right now! I love the quote on page 31, "it's never too late to re-establish what you want your life to be about." I want my life to have peace and purpose!! So no matter if you are a teen or an older adult, this book is a timely and God-given beacon of light! "
Rhythms of Renewal
Thumbs up graphic, would recommend
"Rhythms of Renewal" by Rebekah Lyons came at a perfect time for me. The book is very straightforward and outlines practical insight to living each day intentionally all while operating from a place of rest. The chapters are short and the reflection questions are very helpful for journaling. There is practical advice in every passage and I kept a highlighter handy throughout as phrases such as "We don't have to run to earn rest; we are fueled by a posture of rest" all but jumped off the page. One thing I love about the book is that Rebecca acknowledges the importance of rest and solitude, but also gives permission to live and "seek adventure" as well. As always, the book is honest and candid and contains a wealth of biblical references. I especially love how open Rebekah is about her struggle with anxiety and doesn't offer a "self-help" program to conquer the struggle, but a rhythm to thrive in spite of the struggle and in turn keep the anxiety at bay. As a new mom of twins-I have never really operated intentionally, especially in the past year. I have been in "survival mode" for what it seems like ages, but this book helped me make practical changes going forward that have already made a profound difference in my life. I would recommend it to any and every person looking to let go of the constant cycle of burnout. A great read.
Must read - life changing
Thumbs up graphic, would recommend
This book is fantastic! I am such a fan of Rebekah Lyons. I felt like I was receiving personal counseling sessions with Rebekah as I examined parts of my life that need renewal. The chapter on hugs got me - and I am not even a huggie kind of person. Reading Rhythms of Renewal has lead me to take more steps towards healing and creating space. Rebekah interwove her experiences with research and scripture. The read was fast and life changing for me. I probably should write book reviews more but had to for this one because of the impact I believe it can have on so many people!
Can I give a book more than five stars?
Thumbs up graphic, would recommend
This book is a must read for anyone struggling with anxiety. Rebekah offers up practical tools that are accessible for anyone through the categories of rest, recovery, connect and create. She dives deep into anxiety in her own life and offers true hope to anyone suffering from it. This is more than just a book on anxiety. It spoke to the depths of my soul. Rebekah has gone through it and she understands. I have begun implementing her ideas and am seeing progress in my personal life. This isn't a magic pill that will make everything perfect, but it is an incredible tool (the best I've come across) that will help people with all levels of anxiety work toward a healthier and more peaceful life. Huge thank you to Rebekah for sharing so much incredible insight and helping me and so many others around the world who feel stuck in the grips of anxiety!
THANK YOU REBEKAH!!
Thumbs up graphic, would recommend
This book is INCREDIBLE!!! Rebekah has written her story and provides real steps of how live in a new rhythm!! She has put into words so many feelings and thoughts I have had! She makes you feel like she is right there sitting with you telling you her story over a cup of coffee! She truly understands where I am and is helping me walk through this season! She is real, thoughtful, and practical!! She goes into each area of life and helps you evaluate where you are and where you ACTUALLY WANT to be. The scriptures, real life stories, and advice is perfect in this season of two young ones at home ( or season of Pull-ups and play dates). Rebekah has been there and wants to help!You will not want to miss out on this book!
Relapse Recovery Handbook Gold!!
Thumbs up graphic, would recommend
I honestly knew of Rebekah and had read her previous book so I picked up this book for that reason. But boy oh boy, the reason I continued to read it is because I need it. Even though I am a young single female, I still have 100% of my days scheduled out because of all the responsibilities I have. I struggled with anxiety years ago and felt guilty when I would feel it's presence again. But Rebekah speaks to the relapse that happens and reminds us God knew that as long as we live here on earth we would be tempted to fear which is why scripture reminds us over and over again not to listen to that fear. The practical steps are written out so clearly that it did not take much extra time to enforce them into my daily life and I am so grateful for these road rails now in place to not be surprised again. If you know what scripture says and what others say how not to fear but struggle with living it out consistently, stop looking and add this to your cart. While the bible should be our first go-to instruction manual, this is a quality supplement to add.
The tool you need!
Thumbs up graphic, would recommend
In this fast-paced life, we need to create a rhythm of renewal. Without this continual renewal, burn out can hit us hard. Rebekah Lyons' new book "Rhythms of Renewal" is the perfect tool to show us how to find this rhythm. Through resting and restoring, connecting and creating, Rebekah gives the reader many practical tools for how to intentionally enter into this rhythm of renewal. Reading Rebekah's book has given me numerous practical ways that I can find renewal in my daily life. I encourage you to read this book too. May it be a tool for you to seek renewal as well.
Must read for anyone feeling overwhelmed or dealing with anxiety!
Thumbs up graphic, would recommend
I just finished the book and I can't say enough good things about it! Rebekah shares her experience with anxiety and panic attacks and how four critical life rhythms helped her find hope and healing. The stories are so relatable, and every chapter contains practical and realistic ideas you can put into practice right away. Each chapter also shares the science behind why each of the practices are some important and helpful. As I read Rhythms of Renewal I found myself laughing, crying, and nodding in agreement SO many times! Rebekah is a beautiful storyteller and her words were a truthful salve to my soul at a time when it was very tender. It has encouraged me to take the time to really rest, restore, connect, and create. If you are looking for a book to guide you as you deal with anxiety or the day to day stress of life, look no further. This will appeal to men and women, Christians and those seeking something more than what this world has to offer, high schoolers and beyond. I loved this book so much I have already purchased copies as gifts for my mom, my sister, and several of my friends!