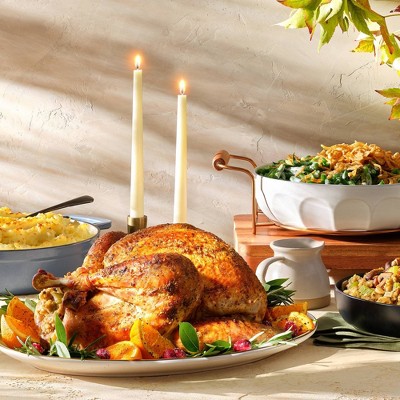 Thanksgiving Dinner for $25
About the collection
The dinner for 4 includes:

Potatoes
Cranberry sauce
Stuffing
Gravy
10 lb. turkey
Cream of mushroom soup
Green beans
Final meal prices vary and are dependent upon size of turkey
Not available in Alaska or Hawaii

For an additional $10, add these to make dinner even better:

Sprinkle Good & Gather™ Salt Free Garlic & Herb Seasoning on the turkey
before cooking to add a tasty blend of herbs & spices.

Round out your stuffing with sauteed chopped mushrooms to make it hearty
& add more umami flavor.

Don't forget the crispy onions to top your green bean casserole. Try our
Good & Gather™ Garlic Parm Crispy Onion Strings for even more yummy flavor.