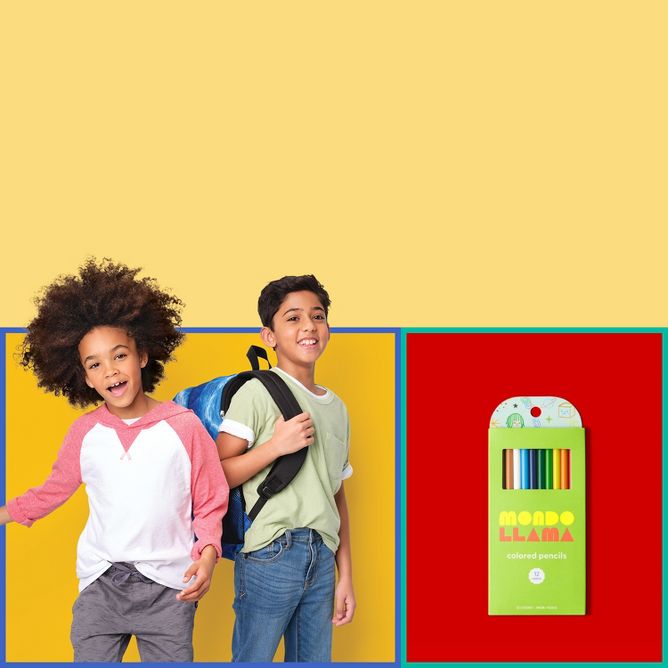 Easily find everything they'll need

Enjoy free 2-day shipping on orders over $35, or get it today with always-free Order Pickup.
Ready for School
As summer comes to a close, kids gear up to go back to school again. It could be your kid's first day at kindergarten or their first day at high school. Kids always feel excited and nervous to get back to school. Therefore it's important that they prepare themselves properly. Among the many tasks to be done, one of the most important is shopping for school supplies. Getting your kids ready for the classroom doesn't have to be a daunting task. With the right tools and prep your child can feel confident and be organized from day one.
The first step to prepare kids back to school is to make a list of things to do as well things which they would need when they go back to school. Let's begin with school supplies and things to buy. Create a list of essential supplies, from highlighters and colored pencils to spiral notebooks and construction paper, there are many items that your child would need once they are back in school. Be sure to include the basics, such as pens, folders, pencils, and paper, as well as any specialized materials required by your child's teacher. A cool and sturdy backpack is also essential for carrying books, accessories and other school supplies. While many schools would like to continue to provide basic learning supplies, you may want to give your kids the best you can. So along with the regular backpacks and other learning essentials it is also necessary to stay ahead of the curve with essential items like a functional water bottle, an umbrella, a creative craft kit or personal care kits and more.
Pencil Cases and Organizers - Keeping school supplies organized is crucial for a successful school year. A pencil case is a great way to store pencils, pens, highlighters and other small items. A spacious and durable case with a good zipper or lock is essential. Look for a pencil case with compartments or pockets to keep items separate and easily accessible. Choose a pencil case with a compact design that fits easily in a backpack, desk or locker. While a pencil case with a zipper is easy to use, the snap and close lid ensures that items stay neatly contained. The size and shape of a pencil case allows a pencil case to be a versatile storage solution. Keep your kid's accessories neat and organized. Consider purchasing an organizer for your child's desk or locker to keep all supplies in one place.
Spiral Notebooks and Binders - Back-to-school supplies like binders, tab dividers, desk caddies, trays and pencil holders help your kid with their assignments and also lets them stay focused and organized wherever they are. Note-taking is an important part of learning, and spiral notebooks are a great way to keep track of class notes and assignments. Choose notebooks with durable covers and perforated pages for easy tear-out. Binders are also an excellent organizational tool. They allow students to keep multiple subjects in one place and offer the flexibility to add or remove pages as needed.
Art Supplies: Crayons, Colored Pencils, Markers, and More - While you're committed to starting the school year right with the best back-to-school supplies, you'll probably want to brush up on art and craft supplies. Art classes are an essential part of many school curriculums, and having the right art supplies is crucial. Crayons, colored pencils, markers, and construction paper are all must-haves for creative projects. Consider purchasing a set of washable markers for younger children to minimize messes.
Colorful back-to-school supplies can be used in the classroom, at home or a hybrid of both. Kids would love and be excited about finishing their projects, expressing their feelings and moving ahead. Plus, they can use these craft supplies for making festive crafts and more.
Folders and Dividers - Durable and stackable folders and dividers are a great way of keeping assignments and papers organized. It is important for staying on track throughout the school year. Folders are a great way for keeping all your papers separated by subject or category. Look for folders with pockets to keep loose papers secure. Dividers are also helpful for keeping large binders organized. Choose a binder and divider with clear pockets on the cover and spine as this makes it easy to create custom labels so that your kid can quickly identify what's inside.
Glue Sticks and Tape - Whether its school or home glue sticks and tape are essential supplies for art and craft classroom projects and assignments. Look for non-toxic options for younger children. Your kids would also like and appreciate a pack of washable glue sticks. Washable glue sticks are not messy and help in keeping your kids hands neat and clean. Consider purchasing a tape dispenser for your child's desk to make using tape easier and more efficient.
In Conclusion - Shopping for school supplies doesn't have to be a stressful experience, make it easy and fun by creating a list of essential supplies, keeping items organized, and selecting the right materials for your child's needs, you can help your child feel confident and ready for the new school year. Don't forget to involve your child in the process and have fun with it!