Sponsored
The Happiness Plan - by Susan Mallery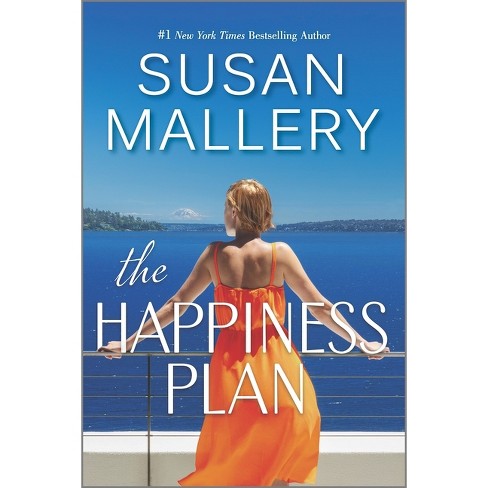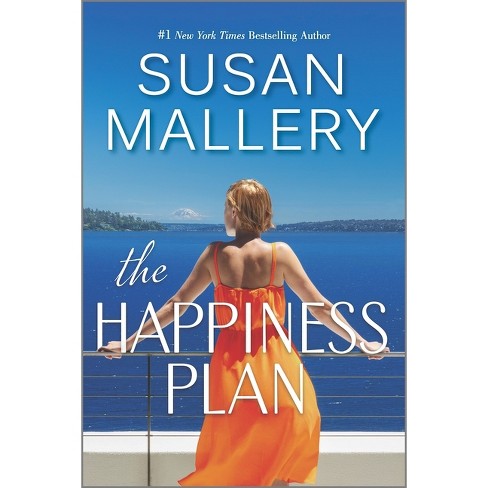 $9.89 when purchased online
About this item
Description
Book Synopsis
Three women search for joy in #1 New York Times bestselling author Susan Mallery's new novel of hope, heartache, and the power of friendship.
Heather is happy . . . ish. She has a successful business, a cute but contemptuous cat, and best friends Daphne and Tori who know where she's broken and love her anyway. So why does she feel crushed when her ex gets serious about someone new? No problem, she has a plan. More connections will hold her together while her world falls apart, so she finally reaches out to the stranger who might be her dad.
Daphne isn't having an emotional affair, despite what her husband believes.
He
started the rift in their marriage when he said they weren't ready for a baby. They used to be the closest couple she knew. Can they find their way back to one another before it's too late?
When Tori forms an inconvenient crush on Daphne's brother-in-law, she suppresses her feelings. Until her apartment floods, and she moves in with the dog-loving doctor. If things go wrong, she could lose her friends. . . but if they go right, she could lose her heart.
Suggested Age: 22 Years and Up
Genre: Fiction + Literature Genres
Street Date: June 20, 2023
TCIN: 87610994
UPC: 9780778333555
Item Number (DPCI): 059-04-6958
Origin: Made in the USA
If the item details above aren't accurate or complete, we want to know about it.
Shipping details
Estimated ship dimensions: 0.88 inches length x 5.31 inches width x 8 inches height
Estimated ship weight: 0.62 pounds
We regret that this item cannot be shipped to PO Boxes.
This item cannot be shipped to the following locations: United States Minor Outlying Islands, American Samoa (see also separate entry under AS), Puerto Rico (see also separate entry under PR), Northern Mariana Islands, Virgin Islands, U.S., APO/FPO, Guam (see also separate entry under GU)
Return details
This item can be returned to any Target store or Target.com.
This item must be returned within 30 days of the date it was purchased in store, shipped, delivered by a Shipt shopper, or made ready for pickup.
4.8 out of 5 stars with 19 reviews
100% would recommend
19 recommendations
Love me some Susan Mallery
Thumbs up graphic, would recommend
Three women and the men who love them or want to love them! I enjoyed this book and the interaction between the men and women. Friends, family, and looking for or keeping their forever partner. As Ms. Mallery weaves her story, it is believable, current, with just enough angst to keep rooting for them all. No matter what happens between the characters, Susan Mallery always gives us a happy ending. I DEPEND on that!
Awesome Summer Read
Thumbs up graphic, would recommend
Susan Mallery does it again! Another awesome beach read that had me feeling all the feels. From accusations of an extramarital affair, problems accepting an ex moving on, to complex friendships anything can happen. This book had me laughing out loud, crying and yelling at the characters to wake up and pay attention. There were even some mentions of Blackberry Island which is an awesome series by Susan Mallery.
Happy is good!
Thumbs up graphic, would recommend
This was a great follow up to Sister's By Choice. I was happy to see Heather get her own story and saw how life played out for her and the people around her.
Fantasic Summer Read
Thumbs up graphic, would recommend
Momof2cuteboys
-
5 months ago
The Happiness Plan was a fantastic book you will not want to put down! The book follows 3 besties. All with very relatable story lines. I laughed and cried through out the book. You need to add this to your summer reading list!
Friendship is about friends; it's not selfship
Thumbs up graphic, would recommend
Susan Mallery does a wonderful job of bringing family drama to life, if real life had a happy ending. You can always count on her characters to pull together in the end and overcome whatever she throws at them. And there are always lots of cuddly creatures to make the sad times better.
Great Beach Read!
Thumbs up graphic, would recommend
Bananacake
-
5 months ago
I always enjoy Susan Mallery books and I look forward to reading a new one.I love them because they are happy and a hea is always guaranteed. This book made me happy and I enjoyed all the characters. I did think that several of the characters needed to see a therapist to deal with their issues. Great book, I think this book would be a great beach read.
Good book with good story lines
Thumbs up graphic, would recommend
AvidBookReader
-
5 months ago
I really enjoyed this book. I love books that have children and animals in them, especially cats and dogs, so this one was right up my alley. I also like books with multiple story lines. I am envious of the characters as I have never had such a close group of friends. They were great at supporting each other. I was able to identify most with Heather with regards to her childhood and mother, but not nearly as much with Daphne as I never ever had any desire to have children like many women do, and I believe a big part of that that was because of my mother. She was so afraid of being like her mother – just like me. I found Heather's mother to be extremely irritating. She was very whiny, selfish and only interested in what others could do for her. She basically never had a job. She was verbally abusive too. The part that hit home for me the most was when the mother said, "You're dead to me. I never want to hear from you again. You hear me? You ruined my life. You're ungrateful and horrible and I'm sorry you were born. You want to cut yourself off from me? Fine. It's done." Boy, haven't I heard those words before. My first thought was: Right back at ya! However, for some reason, everyone enabled her! Why should she do anything for herself if everyone caved and did it for her: paying her bills, buying her condo, etc. I'm surprised they did not spoon feed her. She certainly knew how to guilt them and pull their chains. She could not even make a phone call to a repairman? "I never know what to say to those people." Then Heather thinks "Yes, she could insist her mother deal with her own dishwasher problems, but to what end? Amber was never going to change." Why should she? Treat her like a baby and she will act like one! So Heather called for her. Jeez! Then again, that is a sign of a good book if it stirs up my emotions. I enjoyed reading about how the characters handled their own personal situations. The story lines kept my interest during the whole book. I even enjoyed the male characters, especially Grant. This was a great book and I will recommend it to my book-reading friends. I received a complimentary copy of this book from Susan Mallery for review purposes. This did not sway my opinion in any way.
Friendship
Thumbs up graphic, would recommend
I really liked this story about friends with a twist of romance. This is how friendships work. Friends have each others backs thru thick & thin. Marriages go thru ups and downs and endure to the end. I recommend this book.
Each finding their own happiness
Thumbs up graphic, would recommend
Heather, Daphne, and Tori have been best friends forever. Each has their own story, yet their friends group is the same. They have three male friends, Brody, Campbell, and Grant, who add much to the story as well. I loved their friendship, their ups and downs, how they share and get each other through life's ups and downs. This story is awesome, heartwarming, and truly Susan Mallery. She always leaves feeling that no matter what life throws at you, with friends, you can make it through anything. I received a copy of this book as part of her review crew, but the opinions are my own. A definite read for those that love a good story with ups, downs, tension, love, and friendship.
Exceptional Read
Thumbs up graphic, would recommend
Another exceptional novel by Susan Mallery! This book is one you won't want to put down! I didn't want the story to end! It keeps you wanting more as you read what Heather, Tori, and Daphne go through and how important friendship is to them! You feel their pain and heartache and then joy when they are dealing with different events in their lives. When you finish the book it leaves you wanting more! Each book Susan Mallery writes gets better and better!
Friendships, love, and self growth!
Thumbs up graphic, would recommend
Tigress Dana
-
6 months ago
I always start off saying Susan Mallery has been one of my favorite authors since college! She always makes her main characters so lifelike and relatable. This time I swear Heather was me! She is independent, suppers herself, has trouble letting people in, and loves and cares for cats/kittens! Once she locates the father she never knew she is able to start seeing she needs some reflection and personal growth to allow people into her life and heart. Her mom has always only used her for money and Heather believes everyone will do that. But finding the dad she never knew and becoming a part of his family she sees not everyone is like her mom! Daphne has to admit that some of her marriage problems are because of her actions and not only her husband's actions so that they can try to come back together. And Tori seems to have it all, a best friend loving beside her, a scheduled life that works for her until she's standing in her condo and the sprinkler system accidentally goes off ruining everything in the building. Causing her very scheduled life to upend and her to have to live with her best friend (who just happens to be an attractive doctor). This book is not only about romance but also friendship, reflection, and growth. I didn't want it to end! Great pool or beach ride!
Amazing Book about Relationships
Thumbs up graphic, would recommend
Wow! My reaction to this book is just go get it and read it for yourself because it is amazing! There are three female protagonists, all searching for happy and fulfilled lives but not really knowing how they expect to find it. Heather has a successful business but is afraid of love, even though she really does have deep feelings for Campbell but she is terrified of commitment. Tori is happily involved in a non-couple relationship with Grant and her walls come tumbling down (literally and figuratively) when she has to share a house with him after their condos flood. Finally, there is Daphne, a mom, a lawyer and a stepmom who is doing a good job of juggling all of her responsibilities, but what she really wants is her own baby with her husband Brody. All of the characters are friends which makes for some very interesting dynamics and advice giving. I thoroughly enjoyed the interactions between the characters and really enjoyed reading about Heather's coping strategies (hint: it involves kittens). The characters were so realistic that I wanted to shake a few of them to get them to move away from the familiar and take a chance on love. I also wanted to kick Heather's mom Amber to the moon and just let her stay there because she is thoroughly annoying and needy in a not so pleasant way. Like I said, the characters are completely realistic and present a fascinating character study of young women learning to be independent career women as well as capable of developing a lasting relationship. The plot moves smoothly and although it is plenty complicated with lots of the most intriguing kind of drama, it is easy to follow and laugh-aloud funny at times. The author knows how to tell a story that is captivating while also sparkling with romance. The end result is a powerful story that is delightfully readable. With characters that are rich and relatable and a plot that is brilliantly compelling, this is a book not to be missed. Because who doesn't need a "happiness plan"? Disclaimer Disclosure of Material Connection: I received a complimentary copy of this book from the publisher via Netgalley. I also received a hard copy from the author as part of her review team. I was not required by anyone to write a positive review, and all opinions expressed are my own. I am disclosing this in accordance with the Federal Trade Commission's 16 CFR, Part 255, "Guidelines Concerning the Use of Testimonials and Endorsements in Advertising."
Another great read
Thumbs up graphic, would recommend
The book is about 3 friends and the relationships they have with family and friends. All 3 women have issues in some way with their relationships. Some have commitment issues, some communication, and some just don't see what's right in front of them. The characters for the most part are all likeable. At times Campbell and Brody were annoying but that's just guys sometimes. This is a continuation/spinoff of The Blackberry Island books. I enjoyed the book and was sad when it ended.
Be open to happiness
Thumbs up graphic, would recommend
All three storylines resonated with me. Ms. Mallory did a great job of developing each of the characters. The stories were real and touching. I cried early and often, but it was a good thing. I realized just how much happiness I denied myself by negative self-talk, not opening myself up to more people in my life and not feeding my soul. I too have a small world and I struggle to go further and where to go. Thanks for writing happy endings to tough stories. It gives me hope that I too can have happiness too.
Must Read
Thumbs up graphic, would recommend
The happiness plan is a book about a group of friends searching for happiness. Heather, Daphne, and Tori are all successful women who are each experiencing their own struggles with their personal life. A successful business owner, Heather is afraid of loving Campbell. Daphne, a successful partner at her law firm, is figuring out how to juggle her personal and professional life while still wanting to have a baby with her husband, Broady. Tori, a hard-working and successful woman, is unaware of her deep feelings for Grant. This book will walk you through heartache, joy, love, and laughter as you navigate through each women's life to find joy and happiness. I love how Susan makes each character relatable and realistic. I finished this book in one sitting because I could not put it down. I love how Susan captures your heart while telling such a romantic story. This is a must-read for everyone! You will not be disappointed.
Emotional
Thumbs up graphic, would recommend
I absolutely loved this book! Take a heartfelt and emotional journal alongside Heather, Daphne, and Tori. "The Happiness Plan" will tug at your heartstrings.
Happiness is a new Susan Mallery book!
Thumbs up graphic, would recommend
Tuesdays are often release day for new books hitting the shelves. I can open my Kindle on many Tuesdays to find much anticipated books have appeared overnight. It's the best kind of magic. Susan Mallery is one of my auto-buys and any Tuesday that begins with a new book by her is a good day. THE HAPPINESS PLAN is the story of Heather, Tori, and Daphne. We met Heather previously in 2020's SISTERS BY CHOICE. She's been damaged by her horribly manipulative mother and believes she's too broken to find love. Daphne is married to Brody, who has two brothers. Heather used to date Campbell, but couldn't make the commitment he needed. Never mind that it's killing her to see him with someone else now. Grant is Tori's next door neighbor, but they become roommates when an accident floods her condo. Daphne is an attorney who works 80 hours a week, but she's committed to Brody and his three kids. And no matter what Brody thinks, she didn't have an affair with a co-worker. I enjoyed this one a lot! Mallery infuses charm and humor in her stories that really resonates with me. Heather's emotional journey was believable. Daphne had a blind spot the size of a Hummer that I occasionally got impatient with, but not enough to set the book aside. I trusted Mallery to open Daphne's eyes eventually, and she did. I'm happy to recommend THE HAPPINESS PLAN! ———- I received a free copy of the book from the publisher, but that did not induce me to read or review it, favorably or not.
Good Read
Thumbs up graphic, would recommend
starsfan79
-
6 months ago
First, thanks to Susan Mallery for choosing me for the Review Crew and the advanced copy. I really enjoyed this. I remember Heather from Sisters by Choice and was very happy to get her story. I will say, with all the issues Heather had with Amber, who I can't stand!, she would have been in therapy. It might have helped her figure things out . I liked that Elliot and Sophie were in the book as well. I liked her friends Daphne and Tori alot. I felt for Tori in regards to the apartment flooding. no floods for me, but a massive hail storm! so scary. I think of the three brothers, Grant was my favorite. This was a good book about relationships and the ups and downs. Heather finding her birth father, but can't commit to a real relationship. Daphne being a step-mom and wanting a child also. Tori just wanting a permanent family. This flowed well and I could have read it in one day, if life hadn't got in the way
The Happiness Plan by Susan Mallery
Thumbs up graphic, would recommend
A Women's Fiction by Susan Mallery follows 3 friends through difficult times. Heather, Daphne, and Tori are always there for one another through life's ups and downs. This novel is three stories in one as it cycles through the relationship issues faced by each of these women. A page-turner beach read featuring somewhat realistic challenges for each of the three friends as they look for happiness in their lives. I enjoyed their journeys and recommend this book.